You are here
Suzuki Alto 800 GLX: Affordable urban run-around
By Ghaith Madadha - Sep 14,2020 - Last updated at Sep 14,2020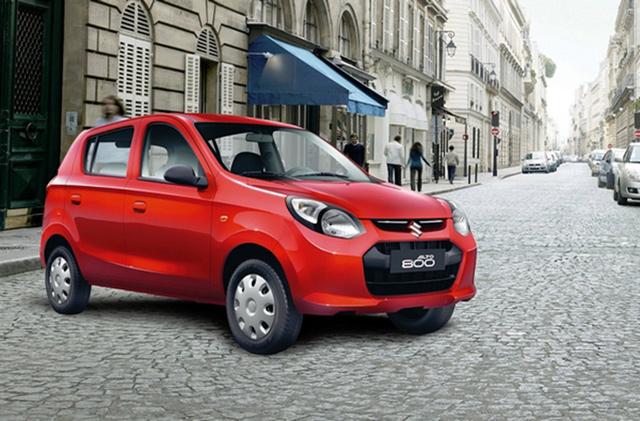 With a shrinking post-lockdown economy, reduced purchasing power, re-focused priorities and other restrictions a reality for many people, the Suzuki Alto and cars of its like, have perhaps never been more relevant.
Highly affordable to own, maintain and run, the Indian-made Alto is the product of another developing nation, as part of Japanese brand's Suzuki-Maruti partnership. A tiny back-to-basics car that regardless features essentials like air conditioning, the Alto is ideally suited as the nimble, frugal and manoeuvrable urban run-around that well covers most needs for most drivers.
Kei-car like convenience
An un-fussed and simply designed 5-door 5-seat hatchback that easily slips through traffic and fits in the tightest parking spots, the Suzuki Alto's small footprint and diminutive dimensions originate from Japan's restrictively-sized low tax urban-oriented "kei car" designs. Its tall, slim and upright design, meanwhile, provides excellent visibility of the road and the Alto's extremities, which in turn makes it easier to place on road and more accurately manoeuvre. Riding with 160mm ground clearance and wheelbase and overhangs, the Alto is also well-paced to cope with tall bumps and broken or unpaved roads.
Weighing just 755kg, the Alto is powered by a proportionally small naturally-aspirated 0.8-litre 3-cylinder engine driving the front wheels. Developing 47BHP at 6,000rpm and 51lb/ft torque at 3,500rpm, the Alto returns frugal 4l/100km/h fuel consumption, and long driving range from its 35-litre fuel tank. Accelerating through 0-100km/h in around 15.2-seconds, the Alto isn't exactly quick, but feels faster with its low weight, slim tyres and little insulation, and is brisk enough for urban speeds. Not ideal for long distance or high speed cruising, the Alto, however, can achieve up to 140km/h on highway duties.
Perky and chirpy
Well keeping up with urban traffic flow, the Alto's eager 3-cylinder is a joy to rev right to its redline, while its slick, quick short throw 5-speed manual gearbox is even more fun and engaging, especially with its close ratios and intuitive clutch biting point. Great fun being worked hard, the Alto's front wheels can even be induced to let out a quick chirp on a well-timed and quick high rev up-shift to second gear. With little weight to carry around, the Alto's progressive tiny engine delivered better mid-range flexibility and top-end confidence than expected.
Tested in recent heatwave conditions, with air conditioning at full blast and two passengers of around 200kg combined, the Alto drove seamlessly, but expectedly required one to shift down to first gear rather than second at very low speed. That said, the Alto proved a lot perkier in low speed second gear driving with the A/C off, and felt gutsier and punchier digging deep and pulling with more confidence, when powering out of hairpin corners. Expectedly eager through such corners, the Alto's body lean was however better controlled despite its narrow and tall shape.
Go-cart like go-getter
Falling under the category of a go-cart like lightweight, small and modestly powered car that is fun to drive briskly and at full tilt, the Alto's low weight and short wheelbase play much in its favour and make it a particularly darty and nimble drive. Turning on the clichéd and proverbial dime, the Alto is tidy, quick and eager changing directions, with taut front grip and effortless manoeuvrability, including a short 9.2-metre turning circle. A fun car to drive through tight and narrow corners, the Alto has an engaging, intuitive and little filtered sense of connected driving charisma.
Well-suited for urban and environments and even less developed locales, the Alto delivers more driving clarity than many heavier, clumsier and more filtered cars. Its power-assisted rack and pinion steering is light, yet, direct, and just about quick enough in its ratio. Front solid disc and rear drum brakes are meanwhile responsive and effective slowing down its small mass, while thin high sidewall 145/70R13 tyres are affordable, durable and comfortable. Ride quality from its MacPherson front and rigid three-link rear axle suspension is, meanwhile, comfortable, supple and stable, if slightly bouncy when easily dispatching lumps and bumps.
Accommodating and affordable
A convenient, practical and well-packaged car with comparatively good 180-litre boot space, even with a full spare tyre, the Alto accommodates much more with the rear seats folded. Accommodating five passengers, the Alto's headroom is generous, but shoulder and leg space is less accommodating for larger rear occupants. Its driving position is upright and offers good visibility and storage spaces, but shoulder room could be better for larger, taller drivers who could need to adjust the seat all the way back and use the seatbelt's full length. Controls are meanwhile simple and within easy reach, including both manually-adjustable mirrors.
Airy, pleasant and user-friendly inside but with no pretentions at luxury, the higher spec version Alto — as imported for Jordan — features air conditioning, electric front windows, two built-in rear head-rests, two three-point rear seatbelts and dealer-fitted remote control USB-enabled CD player. Among the most attainable new cars in Jordan at JD8,900 on-the-road minus insurance, the Alto is also affordable in the long run, with a 60,000km/3-year warranty. Significantly lower than most cars, Alto dealership spare part prices include JD8 spark plugs, JD55 front and JD19 rear lights, JD49 front bumper and mirrors at JD20 apiece.
TECHNICAL SPECIFICATIONS
Engine: 0.8-litre, transverse 3-cylinders
Bore x stroke: 68.5 x 72mm
Compression ratio: 11:1
Valve-train: 12-valve, DOHC, multi-point injection
Gearbox: 5-speed manual, front-wheel-drive
Gear ratios: 1st 3.545; 2nd 1.904; 3rd 1.28; 4th 0.914; 5th 0.756
Reverse/final drive: 3.583/4.47
Power, BHP (PS) [kW]: 47.3 (48) [35.3] @6,000rpm
Specific power: 59.4BHP/litre
Power-to-weight: 62.6BHP/tonne
Torque, lb/ft (Nm): 51 (69) @3,500rpm
Specific torque: 86.6Nm/litre
Torque-to-weight: 91.4Nm/tonne
0-100km/h: under 15.2-seconds (estimate)
Top speed: 140km/h (estimate)
Fuel consumption, combined: 4-litres/100km (estimate)
Fuel capacity: 35-litres
Length: 3,430mm
Width: 1,490mm
Height: 1,475mm
Wheelbase: 2,360mm
Overhang, F/R: 597/473mm
Tread, F/R: 1,295/1,290mm
Ground clearance: 160mm
Kerb weight: 755kg
Gross vehicle weight: 1,185kg
Luggage, minimum: 180-litres
Steering: Power-assisted rack & pinion
Turning circle: 9.2-metres
Suspension: MacPherson struts/three-link rigid axle, trailing arm
Brakes, F/R: Discs/drums
Tyres: 145/70R13
Price, JD8,900 (on the road, excluding insurance)
Newsletter
Get top stories and blog posts emailed to you each day.