You are here
Sweet tunes from India and beyond
By Abeer Numan - Mar 11,2015 - Last updated at Mar 11,2015
AMMAN — A concert featuring classical Indian music was held at the King Hussein Cultural Centre on Tuesday evening for Jordanians to enjoy and get acquainted with India's cultural heritage.
Varsha Agrawal, who played an ancient musical string instrument called the Santoor, accompanied by her veteran teacher Lalit Mahant on the Tabla, and performer Asit Goswami on the sitar, also an Indian stringed instrument, performed several musical pieces.
Briefing the audience about the performance, India's Ambassador to Jordan Anil Trigunayat explained that the santoor is one of the earliest stringed instruments of India that originally came from Kashmir.
Led by Agrawal the Indian musicians performed for one-and-a-half hour non-stop, playing at various tempos to draw the audience's attention, especially as the musicians were diligently playing their tunes.
Through colourful musical compositions, the tempo was seamlessly increased, making the beats louder and faster, evoking different triumphant feelings and emotions of love, happiness and enthusiasm.
At the concluding part of the recital, Mahant and his disciple played sawaal-javaab (question-answer) through which the audience felt a real lively conversation or challenge was taking place, especially between Agrawal on her santoor, and her teacher, now 67, on his tabla, in harmony, accompanied by the sweet tunes of the sitar.
While sitting down, as is the case in most performances of classical Indian music, performers tended to move their head, chest and shoulders, as if they were dancing to musical chants.
At the opening and at the closing of the concert, a Jordanian percussionist band, named "Drum Jam" performed, providing the audience with the chance to also enjoy oriental beats at the event.
Band leader Basher Khries said: "Today we chose to play Indian, oriental and soft Asia colourful compositions to meet various tastes."
Eight young Jordanian musicians, including two ladies, played a variety of percussion instruments, spreading a joyful atmosphere at the event, which was inaugurated by Amman Mayor Aqel Biltaji, who lit the traditional Indian lamp.
In an interview with The Jordan Times before the concert, Agrawal, an artiste of Sufyana Gharana (school of music), said she started learning music at the age of five and music, especially playing the santoor, became the most important thing for her.
"Santoor music is everything to me. The melodies produced through santoor can be cure for insomnia. They give peace of mind. Also, they evoke feelings of romance, love, peace and tranquility," Agrawal said.
"It has a soothing effect," she added.
The concert, part of several Indian cultural activities to be held in Jordan this year to mark 65 of relations between Jordan and India, was attended by scores of Jordanians, several representatives of diplomatic missions and the Indian community in the country.
Rupa Gupta, a young lady whose father is Indian and mother is Jordanian, said she liked the concert, saying it represented "an opportunity for cultural exchange".
Also, Nabil Al Sharif, a former minister of information, who attended the concert, commended the performance of the Indian troupe.
"You can't help but have a great deal of respect for the talents of the musicians," he said.
Agreeing with him, Manal Abu Eisha said the concert brought a different type of music for Jordanians to enjoy, noting that the performance was really difficult as performers have to keep moving their fingers and handle many strings on their musical instruments.
At the beginning of the event, Trigunayat highlighted Drum Jam's participation in the World Percussion Festival that was held in New Delhi in November 2014.
According to Khreis, eight countries took part and Jordan was the only Arab country.
"It was really a good and enriching experience for us. It was an experience that benefited us plenty. Being there with bands from different places allowed us to learn a lot about percussion instruments and beats," Khreis noted.
The event was hosted by the Indian embassy in Amman, the Indian Council for Cultural Relations and Greater Amman Municipality.
Related Articles
Mar 19,2014
A flamenco guitar concert in tribute to Spanish flamenco composer and guitarist Paco de Lucia delighted the audience who came to enjoy the traditional Spanish music with a Jordanian flavour on Tuesday night.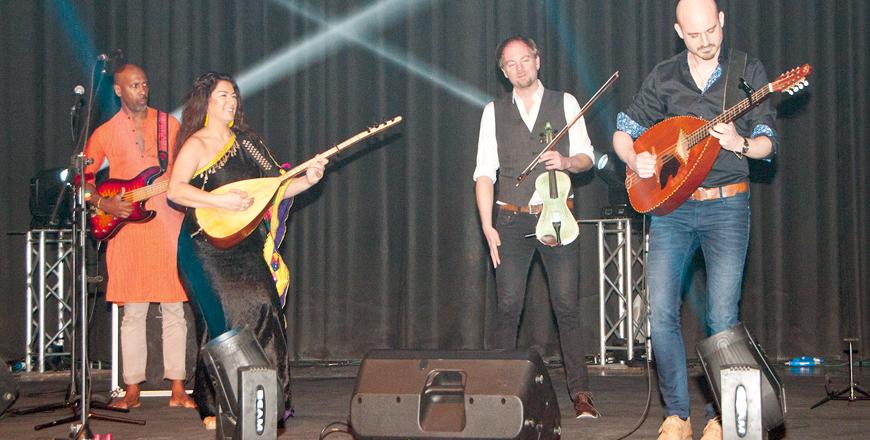 Apr 05,2017
AMMAN — Tarabband concert illustrated the perfect concept of popular music.
Jul 24,2017
JERASH — Jordanian and Chinese musicians and singers on Saturday performed traditional songs of both countries at Jerash Festival 2017.The J
Newsletter
Get top stories and blog posts emailed to you each day.