You are here
A train of thought
By Nickunj Malik - Dec 19,2012 - Last updated at Dec 19,2012
I have a friend working for the Indian railway. His designation now, after a good 20 years on the job, is fancy and important sounding. But you know how it is when one sort of grows up together? I don't take him or his position seriously. But when an Indian train I travel in happens to have any irregularity, I hold him personally responsible, and then it becomes a problem.
Travelling by trains in India is extremely stressful. But comparing the domestic train travel to air travel puts one in a quandary because both can be unpredictable. One makes the uncomfortable choice solely on the basis of one's tight schedule.
I was in India last month and had to make a train journey because the timing was such that air travel could not work out. Considering that there is only one flight out of the city I was visiting, I did not have much choice. So, all over again, after a gap of two decades or so, I took a train in my home country.
It is not as if I had never been on trains in India before. But that was in my student days, when I was younger, both in body and spirit, and monetary worries were predominant in deciding my mode of travel. A good span of time has elapsed since then.
Stepping onto the railway platform brought back a rush of memories. The porters in their red uniforms were the same, but the amount they charged for carrying one's luggage had tripled.
I prepared myself for a lengthy wait because I knew that trains in India never run on time. I was proved wrong when a good 15 minutes before its time of arrival, the train wove its noisy way to the platform.
I am still scared silly watching a winding train approaching on the railway tracks, its massive wheels grinding along, and the never-ending line of carriages whizzing past. I waited for it to halt and paused for some more minutes till it was totally still. Very cautiously, almost gingerly, I made my way into the compartment marking my berth.
I was in for a pleasant surprise. The place was spotlessly clean. The sheets and towels provided were crisp, fresh and almost new. The air-conditioners were functioning, the reading lights were working and wonder of wonders, the bathroom had a newly washed look about it, the water still drying on the mopped floor.
How did this happen? When did this happen? Where was I when it all happened?
Questions of similar nature crowded my mind. Did my friend working for the railway have something to do with it? Was he a railway minister now? Why did I not study his visiting card?
Things had changed, definitely, and changed for the better.
I settled into my seat and made myself comfortable. Suddenly, I heard the voice. It was a voice from my past: the shrill tone of the tea seller calling out. The same nasal twang.
"Chai, Chai," he went.
I sat up in immediate attention. And ten, the continuous eating began. The vegetarian patties dripping in oil, the potato cutlets soaked in ketchup, the chili chicken wrapped in foil, the biryani rice served in packets, and all of it washed down with gallons of sweet tea and sweeter memories.
The more the things change, the more they remain the same.
Related Articles
Dec 02,2011
Young residents in east Amman's Maaniyeh neighbourhood pass by the old railway station and see it as just a trace of the past, but for their fathers and grandfathers, the site evokes many memories.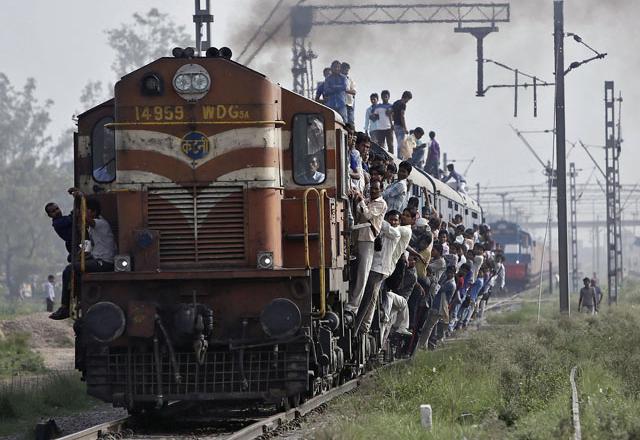 Jul 08,2014
India unveiled plans Tuesday to open up its cash-hungry railways to foreign investment and introduce the first bullet train in a budget closely watched for clues about the new government's economic priorities.
Jan 15,2013
A train derailed in a Cairo suburb on Tuesday, killing 19 young conscripts and injuring 107, Egypt's health ministry spokesperson said, sparking protests outside a main railway station in the capital, Reuters reported.
Newsletter
Get top stories and blog posts emailed to you each day.