You are here
Well-heeled and sure-footed
By Ghaith Madadha - Aug 04,2014 - Last updated at Aug 04,2014
Launched earlier this year the latest incarnation of Mercedes-Benz junior executive C-Class model line is a larger and more luxurious and high tech offering than the car it replaces.
Using extensive aluminium construction and improved aerodynamics, the new model is a lighter and quicker, and more efficient and agile machine. Once dubbed the baby-Benz, the C-Class — and its 190-series predecessor — are now supplemented by a vastly expanded model range including the smaller, tentatively sportier and more affordable CLA-Class saloon, which has allowed Mercedes to focus their attention on consolidating the C-Class elegantly luxurious and high tech credentials — as a baby S-Class if you will — rather than chasing down an overtly 'sporty' interpretations of the junior executive saloon.
Larger but lighter
Given the C-Class is setting its sights at a more refined market segment, that isn't to say it isn't a rewarding or fun car to drive. In fact the new C-Class' lighter weight and first in segment adaptive air suspension contribute to improving agility, body control and performance, while a very sporting high performance version is under development at Mercedes' AMG skunkworks division.
However, in the nearby interim, the Mercedes C400 4Matic AMG will serve as the sportiest and most luxurious top-of-the-range model before the fully-fledged AMG debuts. Driven during the C-Class' global Marseille launch, the 6-cylinder C400 4Matic goes on sale globally later this year, to join several 4-cylinder versions currently available in certain markets.
Constructed with 50 per cent aluminium content compared to its predecessor's 10 per cent, the new C-Class' body is 70kg lighter. Depending on model and specification, it is also up to 100kg lighter, more aerodynamically slippery at CD0.27 and as much as 20 per cent more fuel-efficient.
The lightweight construction allows for larger 40mm wider and 95mm longer dimensions, including an 80mm longer wheelbase for improved rear leg room. Cabin space is generally improved, while luggage volume rises to 480-litres. Stiff and light, the new C-Class benefits in terms of performance, handling ability, crash safety, ride comfort and cabin refinement from noise and harshness, all of which was evidenced by agile, poised and better controlled dynamics along French Riviera back-roads and switchbacks.
Sophisticated snarl
Powered by Mercedes' recently introduced twin-turbocharged direct injection 3-litre V6 engine mated to a 7-speed automatic gearbox, the C400 4Matic is quick and efficient, with 109.5BHP-per-litre. Developing 328BHP at 5250-6000rpm and 354lb/ft torque throughout a broad 1600-4000rpm band, the C400 4Matic can be estimated to cover the 0-100km/h sprint in under 5 seconds and onto an electronically governed 250km/h maximum.
Expected to weigh in at around 1,640kg owing to its four-wheel-drive system and larger V6 engine, the C400 4Matic's estimated 160kg weight gain over the four-cylinder rear-drive C250, is generously offset by increased power and tenacious all-paw traction for brisk and composed off-the-line acceleration. Combined cycle fuel consumption is indicated by currently available figures as 8l/100km or less.
With four-wheel-drive traction and twin-turbochargers spooling quickly, the C400 4Matic bolts off-the-line and swiftly enters its maximum torque mid-range sweet spot, where it delivers effortlessly muscular motivation, for swift over-taking manoeuvres and confident performance on inclines.
With its contralto snarl subdued by high levels of cabin noise isolation, and riding on a wave of torque, the C400's twin-turbo is eager to rev hard to its maximum power band, where on-the-move acceleration is rewardingly brisk. Quick and smooth shifting, the C400's 7-speed gearbox well distributes the engine's torque and power for performance, efficiency and refinement.
The gearbox — and engine — can be set to several progressively sharper and more responsive modes, including a snappy sequential manual gearbox paddle-shift mode.
Refined ride and tenacious traction
Usually a feature reserved for high-end full-size luxury cars, the new Mercedes C-Class is the first in its junior executive segment to be offered with optional adaptive air suspension. Mated to a sophisticated all-round multi-link independent suspension, the C400's self-levelling air suspension delivers a composed experience in straight lines and through corners, as it well-controls body lean, acceleration squat and brake dive. With four variable suspension stiffness levels, one can tailor the C400 to be silky smooth and stable on highways and refined and supple over imperfections. In sportier settings, the C400 is composed, controlled and poised through winding switchbacks, where it feels balanced, reassuring and grippy owing to four-wheel-drive and sticky 225/45R18 front and 245/40R18 rear tyres.
Refined even with low-profile tyres, the C400 4Matic AMG takes lumps and bumps in its stride, with ride only disturbed by the most jagged potholes. Heavier in front than the C250 — and ultimately not as crisp — the C400 4Matic is nonetheless tidy and alert turning in, with its variable electromechanical steering assistance and ratio tightening up for a sportier feel as one turns in. Holding cornering lines reassuringly, the C400 4Matic's four-wheel-drive digs into tarmac as one comes back on power to sling-shot out of an apex. Extensive high tech safety and driver assistance systems include standard collision prevention system, which prevents 40km/h collisions and mitigates severity up to 200km/h, and optional lane keeping and semi-autonomous driving systems.
Elegantly athletic
With an air of confident yet discrete luxury, the C-Class is one of Mercedes best contemporary designs, and features elegant curves, athletic tension, sporty proportions and subtly toned surfacing. Complementing its luxuriously long distance between A-pillar and front wheel-arch the C-Class' subtly muscular shoulders and gently arced roof taper to a pert boot with discreet built-in spoiler.
The AMG spec version's tri-slat grille, grille-mounted emblem, 18-inch alloys and muscular lower bumper and sills bring out the C-Class' sportier side. A wide grille is reflected by a raised bonnet centre complements the wide grille, while a design line flowing from under the grille, along headlight LEDs and through a descending upper side crease line — itself juxtaposed by an ascending lower line.
With refined drive-train and suspension, the C400's luxuriously appointed cabin is airy and comfortable. Along with increased cabin space, the steering column mounted gear selector liberates more centre console space. Ergonomic, supportive and versatile seat and steering adjustments provided ideal driving positions for drivers of extreme size difference.
Well-integrating sporty and elegant design elements the C-Class' richly appointed cabin features a chunky steering and coned dials and upright dashboard with metal-ringed circular air vents, like Mercedes' sports models.
Soft touch textures and leathers are plentiful while the classy wood grain centre console is complemented by an Internet-enabled and smartphone compatible tablet-style infotainment touchscreen. Infotainment and vehicle menus can also be accessed via a centre console rotary selector and touchpad.
TECHNICAL SPECIFICATIONS
Engine: 3-litre, twin-turbo, in-line V6-cylinders
Bore x stroke: 88 x 82.1mm
Compression ratio: 10.5:1
Valve-train: 24-valve, DOHC, direct injection
Gearbox: 7-speed automatic, four-wheel-drive
Power distribution, F/R: 45 per cent/55 per cent
Ratios: 1st 4.38:1 2nd 2.86:1 3rd 1.92:1 4th 1.37:1 5th 1:1 6th 0.82:1 7th 0.73:1
Reverse: 1st 3.42:1/2nd 2.23:1
0-100 km/h: between 4.5 to 5-seconds (est.)
Maximum speed: 250km/h (electronically governed)
Power, BHP (PS) [kW]: 328 (333) [245] @5250-6000rpm
Specific power: 109.5BHP/litre
Torque, lb/ft (Nm): 354 (480) @ 1600-4000rpm
Specific torque: 160.2Nm/litre
Fuel consumption, combined: 8-litres/100km
Fuel tank capacity: 66-litres
Length: 4,686mm
Width: 1,810mm
Height: 1,442mm (est.)
Wheelbase: 2,840mm
Track, F/R: 1,548/1,573mm (est.)
Aerodynamic drag co-efficiency: 0.27
Boot capacity: 480-litres
Kerb weight: 1,640kg (est.)
Steering: Variable power-assisted, rack and pinion
Suspension: Multi-link, adaptive air suspension, anti-roll bars
Brakes, F/R: Ventilated discs/discs
Tyres, F/R: 225/45R18/245/40R18
Related Articles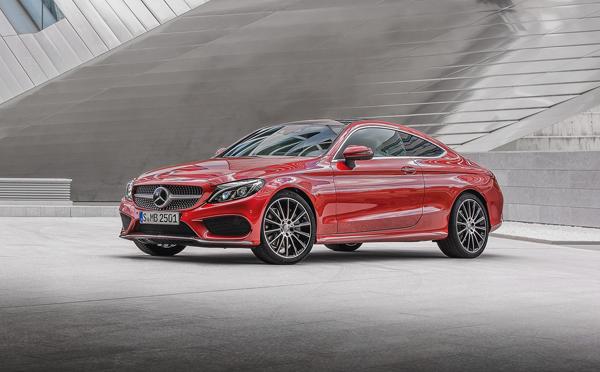 Mar 14,2016
First revealed late last year at the Frankfurt Motor Show and making its regional Middle East debut earlier this month, the Mercedes-Benz C-
Apr 28,2014
Larger and more comfortable, luxurious and advanced, the latest generation Mercedes C-Class however boasts significant weight, fuel consumption and emissions reductions.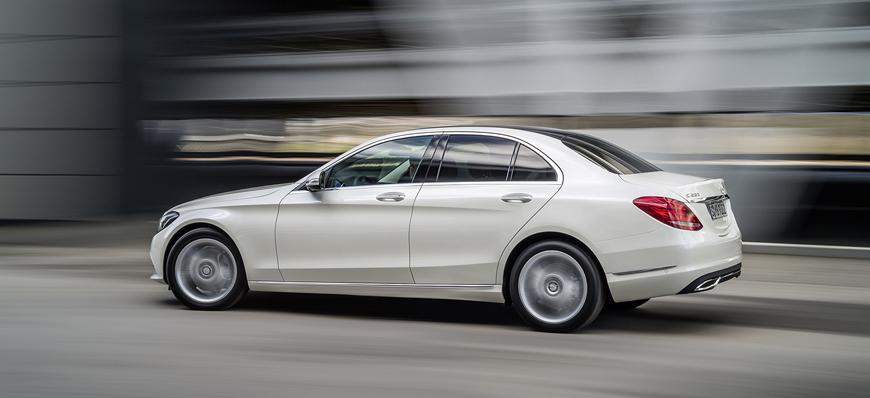 Jul 11,2016
Launched in 2014 as Mercedes' fifth compact executive saloon since the 190 first appeared in the 1980s, the C-Class has become a more luxuri
Newsletter
Get top stories and blog posts emailed to you each day.