You are here
World tallest and shortest men meet on Records Day
By AFP - Nov 13,2014 - Last updated at Nov 13,2014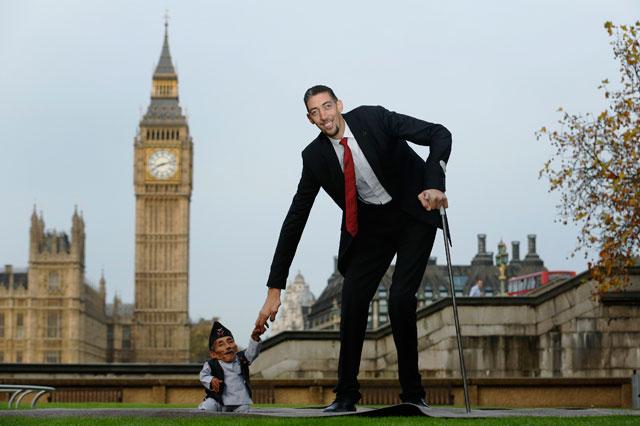 LONDON — The world's tallest and shortest men came face to face — well, face to shin — on Thursday to celebrate the 10th annual Guinness World Records Day.
The little and large act met as people across the globe tried to break all manner of weird and wacky world records, including banging heads, catching spears and throwing thongs.
Turkey's Sultan Kosen, who stands 2.51 metres tall, met with Chandra Bahadur Dangi from Nepal, who measures just 55 centimetres.
Kosen, a 31-year-old farmer, stooped down to shake hands with 74-year-old Dangi opposite the Houses of Parliament in London.
"I was very interested how tall he was going to be, about how far up my legs he would go, and of course once I saw him I realised how tiny he was," Kosen told AFP.
He said meeting Chandra was "amazing", although he admitted bending the long, long way down for photographs was difficult.
"I do have problems with my knees so if I stand too long I do get tired," he said.
Kosen added: "Even though he is short and I am tall, we have had similar struggles throughout our lives and when I look into Chandra's eyes I can see he is a good man."
As well as being the tallest man, Kosen's hands are the biggest in the world — an impressive 28.5 centimetres from the wrist to the tip of his middle finger.
Meanwhile Dangi, a primordial dwarf who makes placemats and head straps for villagers carrying heavy loads, is the shortest adult ever certified by Guinness World Records.
"I was very pleased to see the tallest man in the world, I was curious to meet my extreme opposite," he told AFP.
"I'm so pleased to be a Guinness record holder. Thanks to this I have visited many countries and met many people. I really love it."
Around the planet, participants were having a go at setting new world records.
In Australia, 500 children were trying to crack the "most people head-banging" benchmark, the most people simultaneously throwing thongs (as Australians call flip-flops), and the most spears caught from a spear gun under water in one minute, a record currently standing at seven.
An Australian-held record was under threat in China — the 289-strong benchmark for the most people eating breakfast in bed.
In the Shanghai Pudong Shangri-La Hotel, 388 participants spread across 202 beds were offered a 15-minute in-room breakfast in the hotel's Grand Ballroom.
In Japan, record attempts were on for the fastest 100 metres running on all fours and the largest number of paper aircrafts created in five minutes.
At the Moulin Rouge in Paris, various attempts were on, including the highest number of spinning splits in 30 seconds and "most times to position one leg behind the head in 30 seconds".
The farthest basketball shot backwards, currently 22 metres, was being threatened by the Harlem Globetrotters.
All the record attempts are assessed by adjudicators from the organisation.
Brewing firm Guinness launched their famous records book in 1955 to settle disputes among drinkers.
The books have sold more than 132 million copies in more than 100 countries.
Related Articles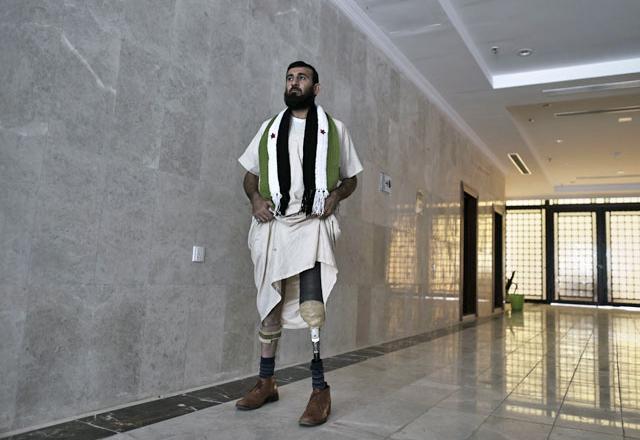 Oct 02,2014
Wounded Syrian rebel Abdulkarim Al Naseef had to be pushed in a wheelbarrow during his long journey to Saudi Arabia, where he will perform the Hajj and hopes to start a new life.
May 24,2015
AMMAN — The historic cohesion between the people and leadership of Jordan has enabled the country to remain faithful to its pan-Arab message
Apr 10,2016
DUBAI — Dubai's Emaar Properties plans to build a new tower in the emirate to surpass the Burj Khalifa, currently the world's tallest
Newsletter
Get top stories and blog posts emailed to you each day.