You are here
Young gardeners eat more greens in first year at college
By Reuters - Dec 27,2017 - Last updated at Dec 28,2017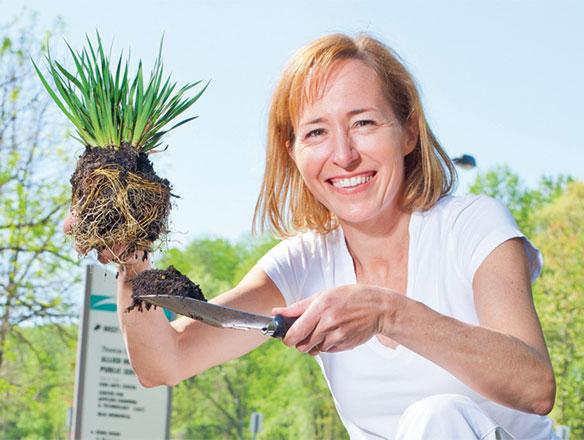 Photo courtesy of wordpress.com
First-year college students who have gardening experience eat more fruits and vegetables while they're away at school compared with peers who do not have green thumbs, US researchers say.
The more gardening experience the college freshmen had, the greater their intake of produce, the study also found. Those who had gardened both during childhood and more recently ate 20 per cent more servings of fruits and vegetables than classmates who had never gardened.
"The first year of college represents a major shift in independence for many young adults," said senior study author Anne Mathews of the University of Florida in Gainesville.
"Most are moving from a home where food is provided and a daily schedule is pretty well set... to a life where they are now in charge of every single decision about food throughout the day," she told Reuters Health by e-mail.
Mathews and colleagues analysed data from more than 1,100 college freshmen at eight US universities. The students answered questionnaires about their fruit and vegetable intake, and also about their gardening experience, including even small plants in pots, such as herbs, that can be grown on a windowsill.
The researchers found that 11 per cent of students had gardened only during childhood, 19 per cent had gardened only more recently, 20 per cent gardened both during childhood and recently and 49 per cent had never gardened.
On average, students who gardened as children and in the 12 months prior to the study ate about 2.5 cups of fruits and vegetables per day versus 1.9 cups for those who had never gardened.
In addition, recent gardeners who reported gardening weekly ate close to 3 cups of greens, while those who gardened monthly averaged 2.4 cups.
Mathews noted that having childhood experience with gardening is not enough. Students needed to carry the practice into their college years to continue good habits.
"We know that overall diet quality worsens when students begin college and that includes eating fewer fruits and vegetables," Mathews said. "We also know that behaviours set during this phase of life tend to carry into adulthood."
While recruiting participants, the study team screened more than 5,000 students and found that 85 per cent of this group did not eat the recommended two fruit and three vegetable servings per day. This indicates that a large majority of high school seniors probably are not meeting the recommendation either, the authors note in Journal of the Academy of Nutrition and Dietetics.
"The first year of college is a very unique time in a person's life," said Mateja Savoie Roskos, a community nutrition researcher at Utah State University in Logan, who was not involved in the study.
"Many first-year college students experience weight gain often stemming from sedentary lifestyles and poor dietary patterns," she told Reuters Health by e-mail.
Future studies should look at additional factors that influence fruit and vegetable habits, she said.
At the eight universities in this study, several include ways for students to get involved with gardening experience on campus, Savoie Roskos noted. For example, the University of Florida has a Field and Fork Garden and Food Pantry, where students can volunteer to grow food, and some of the food is donated to the campus food pantry.
She said she would also like to know how gardening experience can change from childhood through college.
"Getting children involved with gardening at an early age is vital to influencing food choices early in life," she said. "Children enjoy being part of the process from planting, weeding and watering to harvesting and cooking."
Related Articles
Apr 16,2015
Children just hate all vegetables, no matter how tasty you make them, right?
Apr 05,2016
Watching videos of kids eating vegetables may encourage small children to follow suit, a new study suggests.Preschoolers who watched a
Feb 19,2015
There may be more fruit, vegetables and healthy options available than ever before, but the world is mostly hungry for junk food, according to a study of eating habits in nearly 190 countries.
Newsletter
Get top stories and blog posts emailed to you each day.