You are here
Mideast and Trump
Feb 22,2017 - Last updated at Feb 22,2017
Authoritarian leaders across the world must have welcomed the Trump presidency. But with Daesh in the region, an oil hub in the Gulf, three major wars and the relatively recent Iran deal, how will the Middle East be affected?
Middle Eastern countries more likely to be affected by Trump's presidency would be Saudi Arabia, Syria, Iran, Israel and Palestine.
Trump, being big on coal and oil, and against spending on renewable energy, is bound to build fruitful relations with Saudi Arabia, and this would serve the interests of both countries.
When it comes to Syria, so far Trump seems to have good relations with Russian President Vladimir Putin who is against removing President Bashar Assad from power and believes in fighting Daesh, while keeping Assad in power.
Trump seems to share the same position. He is against fighting Assad and Daesh at the same time, an approach that differs from that of former president Barack Obama.
Trump called the nuclear deal signed by the US and four European countries with Iran terrible. The deal, reached in 2015, ensures that Iran's nuclear programme is and remains peaceful.
If Trump reneges on the deal, the US will be off to a rocky relation with Iran.
As far as the Israeli-Palestinian conflict is concerned, Trump wavers between the one-state and the two-state solutions.
But both he and his vice president, Mike Pence, declared solid support for Israel.
Trump is unpredictable. Some of his declared positions may change, so one can only wait and see what happens.
Lynn Malkawi,
Amman
Related Articles
May 08,2018
WASHINGTON — President Donald Trump said on Tuesday he was reimposing economic sanctions on Iran and pulling the United States out of an int
Jan 15,2017
TEHRAN — A year after its nuclear deal took effect, Iran is increasingly concerned over the arrival of US President-elect Donald Trump, who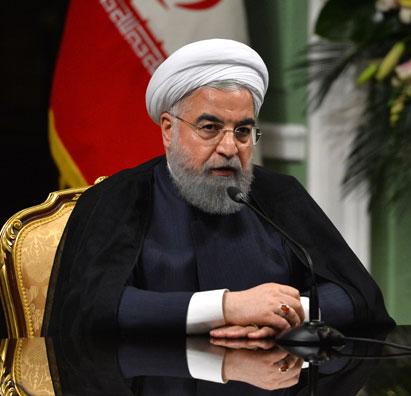 Oct 10,2017
LONDON — Iran promised on Monday to give a "crushing" response if the United States designated its elite Revolutionary Guards as a terrorist
Newsletter
Get top stories and blog posts emailed to you each day.