You are here
Nice, but with issues
May 20,2017 - Last updated at Jul 10,2017
Despite the turmoil in the Middle East region and last year's attack in Karak, we decided to visit Jordan as independent tourists, crossing overland from Israel.
Five days was not much, but we hoped to have a great time.
Jordan is truly amazing. The number and the condition of the sites are incredible. We managed to visit Jerash, Amman, the desert castles, Karak, Shobak, Petra, Wadi Rum and briefly Aqaba.
But, at the same time, from the beginning, there was not a day that we did not encounter one issue or another we had to solve.
For example, information is hard to find or not given at all, and many other hitches, starting with the visa.
The official Jordan tourism site gives information about visa that we thought was relevant.
But the situation at the border was totally different. Visa was JD10 if one spent several days and it was free if one bought the Jordan Pass.
We did not know that at the tourism office at the border one could not buy the pass on the spot.
So, we paid JD20 extra (for two of us) based on the wrong information.
We bought the Jordan Pass that same day at a café in Jerash that allowed us to use their Wi-Fi, but it was too late for the visa.
If only the staff at the tourism office could have helped us buy the pass there, since we anyhow waited for a long, long time...
When travelling around, we were stopped once by a police officer who did not speak any English. We were not speeding, he only checked our rental papers, but still asked me to come to his car where he did nothing but return my papers to me. It was not pleasant at all.
Most of the accommodation is not up to Western standards, and that would not be the problem if prices were low. But accommodation was rather expensive, especially in downtown Amman.
What you get there for 50 euros does not even begin to compare with what one can get in Europe or Eastern Asia for the same amount.
We had a rental agreement with full to full fuel policy. This was the only country where the contracted policy was not respected, even by the well-known rental car names.
We were given some benefits afterwards, but had to complain first.
There is no baggage storage in Jerash. Thanks to the local restaurant, we were able to enjoy the site on our way to Amman with all our luggage.
To get to the Israeli border, we agreed on a price, but once the driver started driving, he told us we had to pay JD6 extra for another taxi to take us to the border that is 2 km away from the checkpoint.
Once we complained because he had not told us this in advance, he transferred us to another car and asked for JD3 more. In the middle of nowhere, we had to accept. And then we found out that the checkpoint is maximum 200 metres from the border, and we could have easily walked.
We still recommend a visit to Jordan to our friends, but warn them to be patient and ready for various issues that will unfortunately emerge sooner or later.
I hope this letter will be a positive encouragement to improving the tourism situation, not only in the public but also in the private sector.
Antonija Perkovic Prpa,
Germany
Related Articles
Mar 20,2018
JERASH — The Second Jerash Tourism Conference kicked off on Tuesday under the title "Tourism in Jerash, opportunities and challenges", aimin
Apr 27,2016
AMMAN — The Cabinet on Wednesday approved tax exemptions for businesses in the tourism sector.The decision includes hotel, tourist restauran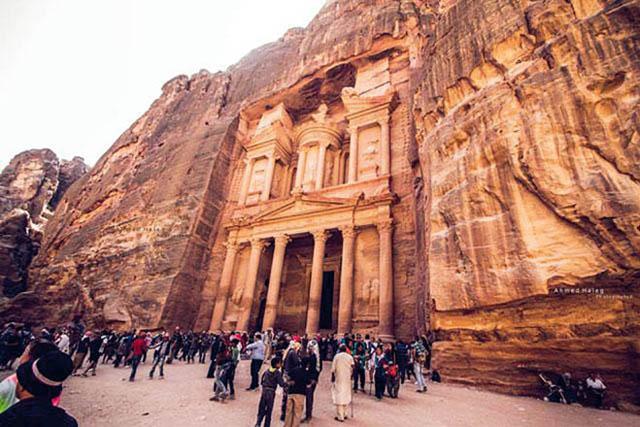 Aug 27,2017
AMMAN — Most archaeological sites in Jordan are inaccessible for people with disabilities and facilitating the access to those locations is
Newsletter
Get top stories and blog posts emailed to you each day.