You are here
1,000 waste containers handed out to parks, forests
By Hana Namrouqa - Apr 12,2018 - Last updated at Apr 12,2018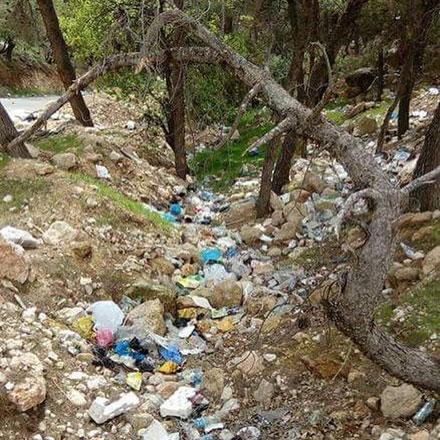 In the summer, forests and parks receive large numbers of picknickers who leave their rubbish behind them (Photo courtesy of ECO Hikers)
AMMAN — The Ministry of Environment on Thursday completed the distribution of 1,000 waste containers across the country's forests and public parks in a step seeking to deter picnickers from leaving their trash behind them.
"Distribution of waste containers started on Tuesday and was completed on Thursday. The Kingdom's 99 municipalities received 500 waste containers allocated for their public parks, while the remaining 500 containers were distributed to forests," ministry's assistant secretary general, Isa Shboul, told The Jordan Times.
The distribution of the trash containers is part of the ministry's continuous efforts to stop the littering phenomenon by providing public parks and forests that attract large numbers of picnickers with the required "infrastructure" that assists visitors in leaving picnicking areas clean.
"Fighting this phenomenon of littering has been among the ministry's priorities since its establishment because the uncivilised practice pollutes the environment and harms the animals, let alone consuming the efforts of municipal employees," Shboul highlighted, noting that the waste containers were distributed under the ministry's nationwide clean-up campaign, which will kick off on Saturday.
"Up to 80,000 people from all walks of life will sweep through 16 locations in different parts of the country to remove waste from parks, forests, main streets and tourist destinations," he said.
Launched for the first time last year, the campaign was turned into an annual event that coincides with the start of spring, when parks and forests start receiving thousands of visitors each day.
"We are sending a message here, that it is not okay to throw your trash wherever you please, nor is it okay to pollute Jordan's beautiful nature," Shboul said.
Dubbed "Cry of a Homeland: Our Environment is Our Life", the previous campaign attracted thousands of people who cleaned up 60 locations across the Kingdom, including parks, streets, touristic sites, forests and nature reserves, according to Shboul.
Forests are a major attraction for visitors over summer, particularly on weekends, resulting in rubbish piling up at the sites and occasional fires starting due to improper and negligent use of barbeques, according to the Ministry of Agriculture.
Related Articles
Apr 20,2019
AMMAN — Several thousands of people from all walks of life joined a cross-country clean-up campaign to curb littering and spread the word on
Apr 02,2018
AMMAN — The Ministry of Environment has announced plans to turn the Kingdom's largest ever clean-up campaign into an annual effort to rid pa
Mar 30,2017
AMMAN — Sixty locations across the Kingdom will be cleaned up next week in a one-day national campaign to remove litter, a government offici