You are here
15 suspected drug dealers arrested in Sahab raids — PSD
By JT - Aug 17,2016 - Last updated at Aug 17,2016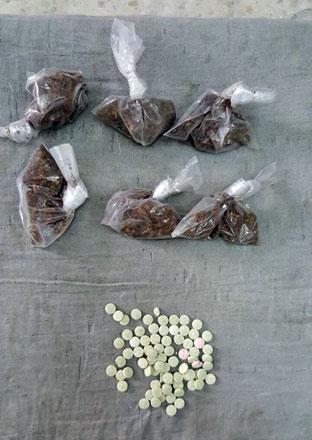 Narcotics seized by police during raids in Sahab on Wednesday (Petra photo)
AMMAN — Anti-Narcotics Department (AND) personnel on Wednesday arrested 15 suspected drug dealers as part of a campaign in Sahab, the Public Security Department (PSD) said.
AND cadres raided several houses in the district after receiving information that they were being used to store and deal drugs, the PSD said in a statement.
During the raids, forces arrested 15 suspects and seized 3kg of synthetic cannabis (known locally as joker), 2kg of powder used to make the drug, and a number of illegal pills.
Meanwhile, AND personnel in Amman conducted a sting operation to catch a suspect in possession of 20 small bags of joker.
The anti-drug police then raided the suspect's house, where they seized 250 bags of joker, illegal pills, a firearm and ammunition, the PSD said, adding that an investigation is ongoing.
In Maan, two suspected drug dealers were arrested while allegedly selling narcotic pills, the PSD said, and in Zarqa, a suspect was arrested in possession of 75 illegal pills and six bags of joker.
All suspects were referred to the State Security Court prosecutor general after initial investigations, the PSD added.
Related Articles
Apr 02,2016
AMMAN — Anti-Narcotics Department (AND) personnel arrested 122 suspects in drug dealing cases during the second half of March, a Public Secu
Oct 03,2016
AMMAN — Anti-narcotics police have arrested 33 suspects in relation to 14 drug dealing cases over the last week, the Public Security Departm
Feb 16,2016
AMMAN — Anti-Narcotics Department (AND) personnel have arrested 83 suspects involved in 57 drug cases since the beginning of February, a Pub
Newsletter
Get top stories and blog posts emailed to you each day.