You are here
1,500 refugee families receive aid vouchers by IOM, Japanese NGO
Coupons, worth JD70, were distributed to vulnerable Syrian female-headed households in Zarqa
By Ana V. Ibáñez Prieto - Jan 10,2018 - Last updated at Jan 10,2018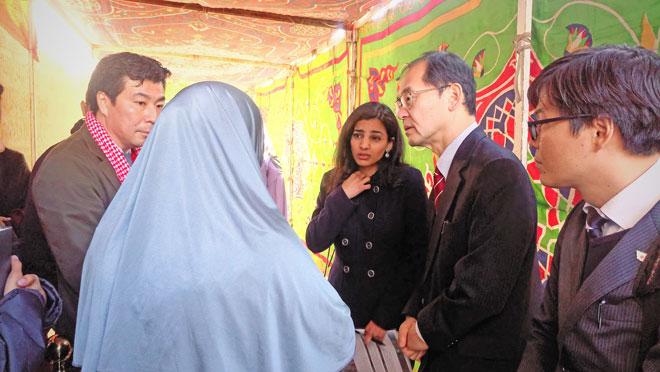 Japanese Ambassador Hidenao Yanagi speaks to Syrian refugees in the presence of IOM and NICCOD officials in Zarqa on Wednesday (Photo by Ana V. Ibáñez Prieto)
ZARQA — The International Organisation for Migration (IOM) on Wednesday distributed vouchers to a total of 1,500 vulnerable Syrian female-headed households in Zarqa, with the aim of complementing the winterisation assistance provided by other non-governmental organisations and UN agencies.
The distribution, which was held in cooperation with the Japanese NGO Nippon International Cooperation for Community Development (NICCOD), provided each family with two vouchers amounting to a total of JD70 to be redeemed at supermarkets.
The distribution of the coupons comes under the project "Providing Humanitarian Support to Refugees and Strengthening the Border Management Capacity of the Government of Jordan to Enhance Border Security", implemented by the IOM and funded by the Japanese government through a $612,650 grant.
During the distribution, Japanese Ambassador Hidenao Yanagi and IOM Chief of Mission Enrico Ponziani visited the NICCOD centre in Zarqa, where they monitored the progress of the project and met the initiative's beneficiaries.
"Being a host community is a big burden for Jordan, and that is why we [the Japanese government] wanted to help the Jordanian government and its people by providing the grant to fund this project," Yanagi told The Jordan Times during the visit, adding that "the Syrian crisis is a very difficult issue that the international community must tackle, and we truly appreciate the readiness and the generosity of the Jordanian people in receiving and assisting so many refugees".
"I am very happy to see that our financial assistance has reached the people from Syria, satisfying their needs and helping on providing them with a better life," the ambassador added.
Representative of NICCOD Yuiko Isoda thanked the ambassador for the donation, noting that Zarqa is currently hosting over 50,000 refugees.
Communications officer at IOM Laura Sisniega highlighted that this activity is the first collaboration with NICCOD for the UN agency, announcing a partnership aimed at providing direct assistance to the refugees in the Zarqa community.
"In addition to the vouchers, we have created a monitoring system to check that the prices in the supermarket are correct and the cashiers are asking for the proper documentation," she explained, noting that IOM "will also run home visits to measure the level of satisfaction, and provide the refugees with the means to complain in the event of any problem".
Related Articles
Feb 06,2014
For Um Mohammad, getting food supplies from the scattered vendors at the Zaatari Refugees Camp was a cumbersome daily task. 
Jan 28,2018
AMMAN — CARE International in Jordan ended its 2017/2018 distribution of winter aid campaign, the Jordan News Agency, Petra, reported on Sun
Apr 04,2018
AMMAN — Japan on Wednesday delivered the first batch of equipment and machinery to the Ministry of Water and Irrigation in support for the w
Newsletter
Get top stories and blog posts emailed to you each day.