You are here
'16 press freedom violations in four cases registered in July'
Violations included preventing journalists from covering specific topics, media content being deleted, threats, among others — media watchdog
By JT - Aug 09,2017 - Last updated at Aug 09,2017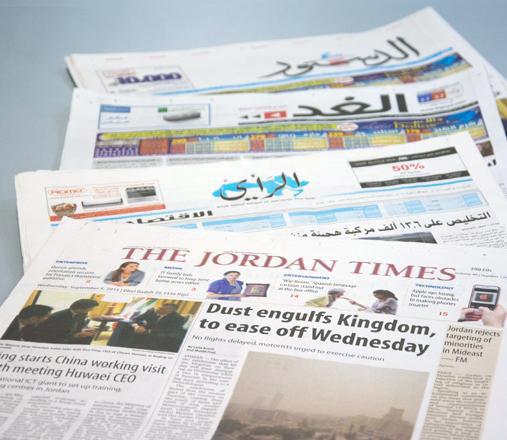 Sixteen press freedom violations in four cases were registered in July, involving five journalists, according to the Centre for Defending Freedom of Journalists (JT file photo)
AMMAN — Sixteen press freedom violations in four cases were registered in July, involving five journalists, the Centre for Defending Freedom of Journalists (CDFJ) said on Wednesday.
According to the CDFJ monthly report, violations included journalists being prevented from covering specific issues, content of their cameras being deleted, threats, journalists being denied entry to the Kingdom, being incited against, pre-monitoring and prevention to publish or distribute media content.
The monthly report indicated that the violations were carried out by police in two cases, a newspaper editor-in-chief, and residents in the other cases.
The first case entailed refusing to publish a column by writer Oraib Rintawi in Ad-Dustour daily, the second and third violations were related to security agencies, which denied entry of the Kingdom for an Egyptian journalist and prevented correspondents of Al Sabeel newspaper and 7iber website from covering a sit-in related to the accident of the Israeli embassy in Amman, and further deleted photos journalists had taken en-site.
The fourth case involved incitement and threats against journalist Farah Maraqa after the publication of a press item.
The report, prepared by CDFJ's programme "Ayn" aimed at detecting violations against the press in Jordan, stated that the violations were committed against rights of opinion and press freedom, possession, personal freedom and safety, residency and movement, and indiscriminative treatment.
CDFJ was established in 1998 as a civil society organisation working to defend media freedom in Jordan.
It was established after a series of major setbacks to press freedom at a local level, which started with the issuing of the temporary press and publications law of 1997, which increased restrictions on the media and caused many newspapers to shut down, according to the centre's website.
Related Articles
Dec 05,2017
AMMAN — A report from the Centre for Defending Freedom of Journalists (CDFJ) said it recorded seven violations against four journalists in N
Jul 10,2017
AMMAN — A professional, independent press has played a significant role in educating citizens and addressing shortcomings in previous munici
Sep 25,2016
AMMAN — The Centre for Defending Freedom of Journalists (CDFJ) documented 50 violations against 28 journalists covering the Lower House elec
Newsletter
Get top stories and blog posts emailed to you each day.