You are here
$1m raised by UNHCR Zakat Refugee Initiative for Syrians in Jordan, Lebanon
By Ana V. Ibáñez Prieto - Jun 10,2018 - Last updated at Jun 10,2018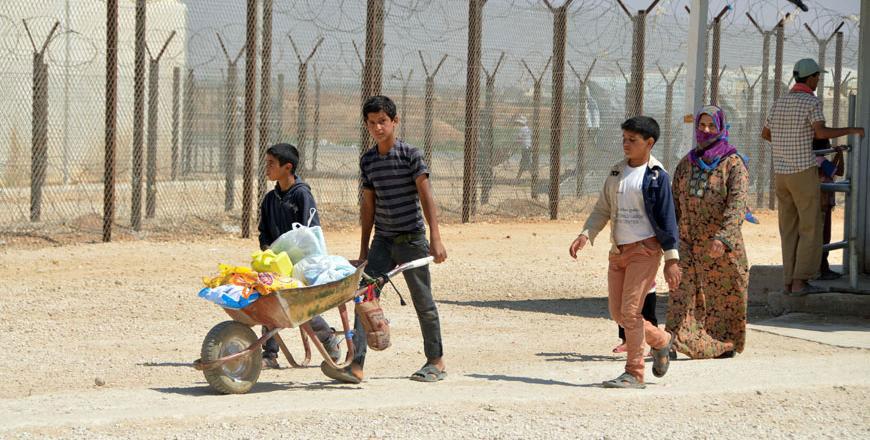 Syrian refugees carry food items at the Zaatari refugee camp, some 90km northeast of Amman (File photo)
AMMAN — A total of 1,152 refugee families in Jordan and Lebanon have been financially supported through the Zakat Fund raised by the United Nations High Commissioner for Refugees (UNHCR) since the beginning of Ramadan, the UN agency said in a statement issued on Thursday.
However, 5,465 Syrian refugee families remain in dire need of financial assistance, the statement said, calling on all Muslims to donate their Zakat to refugee families before the end of the holy month.
A previous report by the agency showed that the bulk of cash assistance to refugee families in Jordan is spent on rent, food, healthcare and debt repayments, while in Lebanon, families prioritise food, healthcare, utility bills and transportation.
In Jordan, $2,160 can provide a total of 12 families with enough cash to cover rent, food, healthcare and debt repayment for one month, the study showed, while in Lebanon, $2,100 are enough to cover the food, rent, healthcare and utility bills of 12 families for one month.
Up to this point, UNHCR has been able to raise $1 million through its Zakat Refugee Initiative, a project launched in partnership with the UAE-based Tabah Foundation to "provide a reliable and effective way of allocating Zakat funds to eligible refugees".
Houssam Chahine, head of private sector partnerships for the UNHCR in the MENA region, expressed that the UNHCR is "very grateful" for all the donations received so far, stressing that "these funds help us [UNHCR] to save families that are fully dependent on monthly cash assistance to survive and get out of the grip of extreme poverty".
For his part, Tabah Foundation CEO Noureddin Harthi noted: "There are many refugee families in need in the region, and the Zakat initiative comes as a lifeline for the most vulnerable of them," adding that Tabah's cooperation with the UNHCR is "built on the two organisations' shared values and mission to help humanity".
The Zakat Refugee Initiative is fully Sharia [Islamic law] compliant and is backed by a total of five fatwas issued by leading Muslim scholars and institutions, UNHCR sources stated, noting that the project is "subject to strict governance standards that guarantee the transparency in the distribution of the Zakat to the beneficiaries".
Sheikh Ali Gomaa, former grand mufti of Egypt and professor of Islamic jurisprudence at Al Azhar University; Sheikh Abdullah Bin Bayyah of King Abdulaziz University in Jeddah; the Fatwa Council of Tarim, Hadramaut Yemen, the Senior Scholars' Council of Morocco and Dar al-Ifta Al Missriyah are the scholars and institutions that have issued fatwas supporting the the UNHCR Zakat initiative.
Related Articles
Jul 13,2017
AMMAN — Zakat revenues during last Ramadan reached JD1 million, of which JD954, 000 were distributed to beneficiaries, an official sai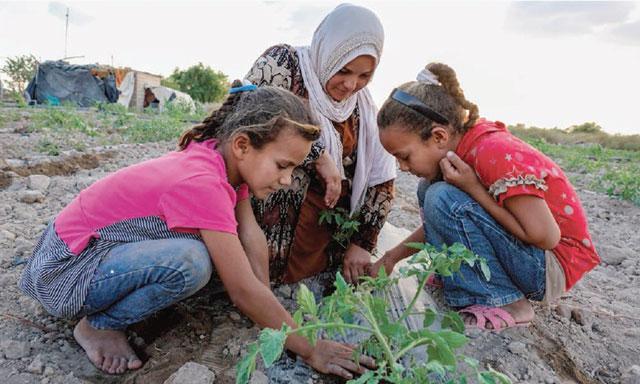 Nov 15,2017
AMMAN — UNHCR and UNICEF on Wednesday launched the joint research study "A Promise of Tomorrow: The Effects of UNHCR and UNICEF Cash Assista
Jun 30,2015
AMMAN — Around 80 per cent of Syrian refugee families living among host communities across the Kingdom said their main concern is paying ren
Newsletter
Get top stories and blog posts emailed to you each day.