You are here
24 sectors most affected by virus crisis — Labour Ministry
By Maram Kayed - Aug 23,2020 - Last updated at Aug 23,2020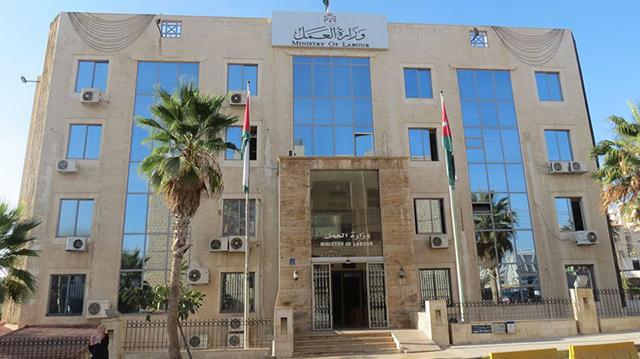 Labour Minister Nidal Bataineh has announced the list of 24 sectors that are most affected by repercussions of the ongoing coronavirus crisis in August (Photo courtesy of Labour Ministry Facebook page)
AMMAN — Labour Minister Nidal Bataineh has announced the list of 24 sectors that are most affected by repercussions of the ongoing coronavirus crisis in August.
"According to Defence Order 6, [which aims to protect the rights of workers in various economic sectors] the ministry is obliged to make a list of the most affected sectors," Batayneh said in a statement made available to The Jordan Times.
In August, new sectors and economic activities were added to the list of those affected, including the Dead Sea products' sector, university service bureaus, money exchanges at airports and border crossings as well as visa issuance offices.
The reevaluation process of the affected sectors is carried out periodically through a joint committee between the Ministry of Labour and the Ministry of Industry, Trade and Supply based on "fixed criteria".
Among the 24 affected sectors, the three most affected are tourist establishments, employment bureaus and recruitment bureaus for domestic workers.
Mohammad Daas, owner of a domestic worker recruitment bureau, said his family business has been "badly hit" since the outbreak of the pandemic.
Daas said that "not only it is hard for other partners and I to travel where we sign agreements with our counterparts there, but it is also has become impossible to bring domestic workers into the Kingdom."
Citizens who signed with Daas' bureau have now cancelled their contracts either due to the long wait or to a change in their financial situation that can no longer allow them to hire a domestic worker.
The three least affected sectors are university service bureaus, money exchanges and visa issuing offices.
"It was only natural that money exchanges would be affected with the little or no air travel currently," Ahmad Yasin, a worker at an exchange in Jabal Al Hussein, told The Jordan Times over the phone.
Yasin said that "even though the sector is at the bottom of the most affected list, it is still among those that are affected. The best of the worst is still bad."
He also pointed out that "if it weren't for Jordanian students either coming back to the Kingdom or going back to their universities abroad, the sector's activity would almost come to a complete stop".
Wedding halls, other event venues, the clothing and fitness sectors are among the affected, according to the statement.
Newsletter
Get top stories and blog posts emailed to you each day.