You are here
'3,000 tonnes of melon, watermelon exported this month'
By Hana Namrouqa - Apr 28,2016 - Last updated at Apr 28,2016
Watermelons are planted in land stretching over 3,200 dunums in the Jordan Valley, according to official figures (Photo by Amjad Ghsoun)
AMMAN — The Kingdom has exported around 3,000 tonnes of melon and watermelon since the start of this month, the majority of which was to Gulf Arab countries, according to an official at the Agriculture Ministry.
The amount is expected to increase as the weather warms up and the production season peaks, the ministry's spokesperson, Nimer Haddadin, said on Thursday, noting that melon and watermelon, which are cultivated in December in the Jordan Valley, ripen in April when temperatures rise.
"The country has exported since the start of the production season 1,000 tonnes of watermelon and 1,700 tonnes of melon to Gulf countries and Lebanon," Haddadin told The Jordan Times.
The terrain planted with watermelons increased this year, according to the ministry's figures, with 3,200 dunums in the Jordan Valley planted with the crop, compared with 2,800 dunums last year.
Meanwhile, melons were planted on 3,200 dunums this year, according to the ministry, while the number stood at 3,400 dunums last year.
"Production of melon and watermelon continues until the end of May," Haddadin said.
Each dunum of watermelon produces around five tonnes, while each dunum of melon produces four tonnes, according to the ministry.
Haddadin underscored that the ministry issued in March guidelines to farmers growing melon and watermelon, under which it urged them to delay picking both crops until they are fully ripe.
Abu Omar, owner of a fruits and vegetables showroom in the Sports City area in Amman, said he started selling watermelon in late March for 0.75 fils per kilogramme.
"I am aware that the fruit doesn't taste as sweet as it should if I sell it this early in the season, but many customers are requesting watermelons as the weather is warming up," Abu Omar told The Jordan Times.
Haddadin said that unlike previous years, the ministry did not confiscate watermelons from the central market because the farmers adhered to its instructions.
The ministry withdraws watermelons and melons from the central market if they were white from the inside and unripe.
Related Articles
Apr 21,2015
The Ministry of Agriculture has destroyed five tonnes of watermelon in the central market for not meeting local standards, a government official said Tuesday.
May 05,2015
The Kingdom is exporting 300 tonnes of watermelon daily to Gulf countries, a government official said on Tuesday, expecting the amount to increase as demand is growing.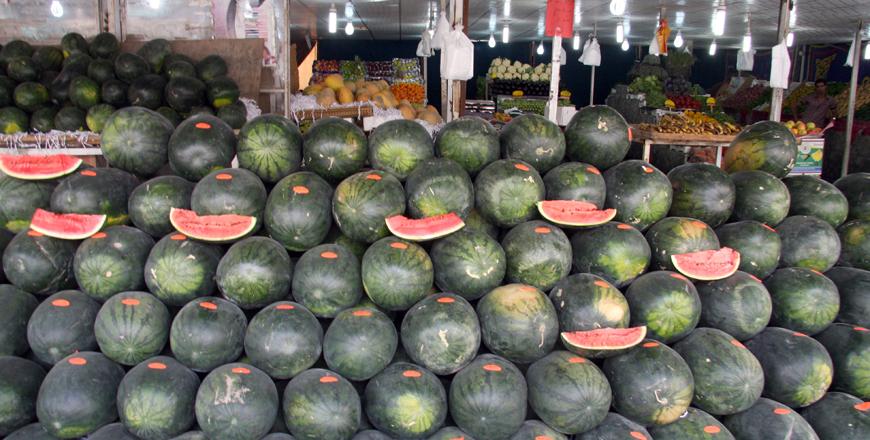 Jun 04,2015
AMMAN — The Kingdom is exporting 400 tonnes of watermelon and melon daily to several countries, mainly the Gulf states, a government officia
Newsletter
Get top stories and blog posts emailed to you each day.