You are here
63 nations to discuss security cooperation at Jordan-hosted event
By JT - Oct 19,2015 - Last updated at Oct 19,2015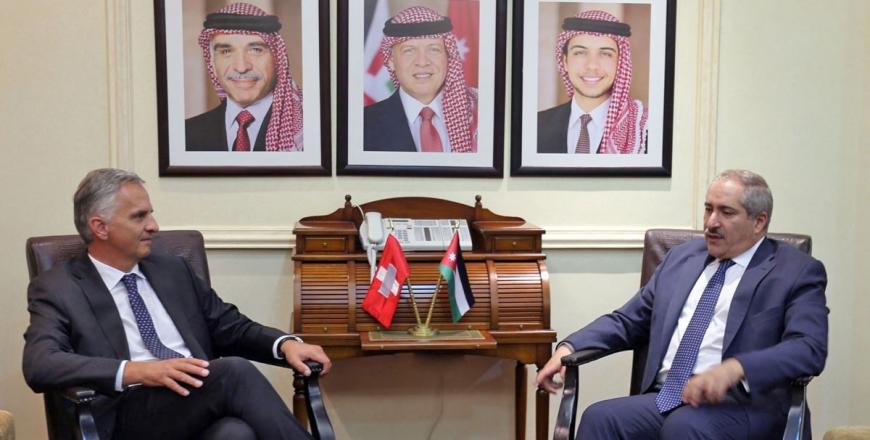 Deputy Prime Minister and Foreign Minister Nasser Judeh meets with Swiss Federal Councillor Didier Burkhalter in Amman on Monday (Petra photo)
AMMAN — Deputy Prime Minister and Foreign Minister Nasser Judeh on Monday discussed bilateral relations with Swiss Federal Councillor Didier Burkhalter.
The meeting reviewed the most significant issues that will be discussed during the 2015 Organisation for Security and Cooperation in Europe (OSCE) Mediterranean Conference, to be held on Tuesday and Wednesday at the Dead Sea, the Jordan News Agency, Petra, reported.
Representatives from 57 OSCE and six Mediterranean countries will participate in the conference, in addition to several international organisations.
Participants will discuss security opportunities and challenges in the Mediterranean region.
Judeh and Burkhalter stressed strong ties between both nations and agreed on the importance of continuing coordination and dialogue at different levels, especially since the two sides see eye-to-eye on issues of mutual concern, Petra said.
The two officials discussed international efforts to combat terrorism and extremism and reviewed updates and developments in Palestine, where Judeh stressed the importance of immediately stopping all recurrent Israeli assaults that are in violation of international law.
They highlighted the importance of reviving peace negotiations that lead to the establishment of an independent Palestinian state within the 1967 lines with East Jerusalem as its capital, based on relevant international resolutions and the Arab Peace Initiative.
The two officials also discussed developments in Syria, Yemen, Iraq and Libya, stressing the importance of dialogue and political solutions that ensure the stability of these countries and the unity of their lands and people.
Judeh emphasised the "huge burden" borne by the Kingdom as a result of hosting so many Syrian refugees and providing them with services despite limited resources, adding that it is important the international community shoulders its responsibilities in helping Jordan to continue its humanitarian role.
Burkhalter, who is the head of the Swiss federal department of foreign affairs, highlighted Jordan's role under the leadership of His Majesty King Abdullah and voiced the respect and support of his country for the Kingdom's role in achieving peace and security in the region.
Related Articles
Oct 18,2015
Amman — Didier Burkhalter, Swiss federal councillor, will travel to the Kingdom on Monday to take part in the Organisation for Security and
Oct 18,2015
AMMAN — The 2015 Organisation for Security and Cooperation in Europe (OSCE) Mediterranean Conference is scheduled to take place on Tuesday a
Jul 10,2014
HRH Prince Hassan met with Austrian President Heinz Fischer earlier this week and discussed Arab-European cooperation.
Newsletter
Get top stories and blog posts emailed to you each day.