You are here
'90% in need of palliative care in Kingdom do not receive it '
By Dana Al Emam - Apr 18,2017 - Last updated at Apr 18,2017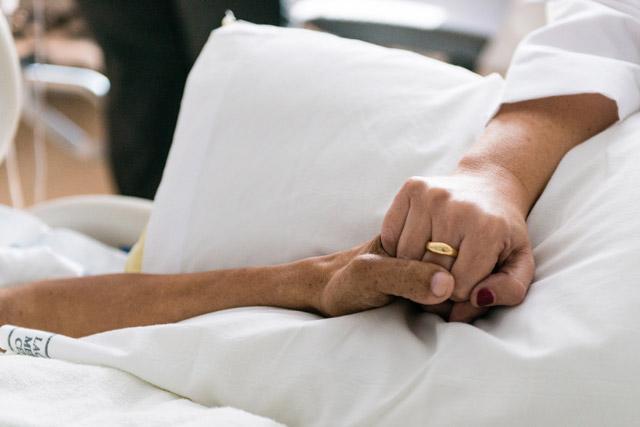 Improving access to palliative medical and home care services helps reduce hospital bills and emergency room visits, and helps lessen the pain felt by patients of chronic diseases, according to a health expert (Photo by MCT)
AMMAN — Around 90 per cent of people in Jordan in need of palliative care, which addresses the physical and psychological needs of patients with serious or life-limiting illnesses, do not receive it, a health expert said on Tuesday.
Additionally, around 80 per cent of Jordanians in need of opioid analgesics, which are prescribed medications for the relief of moderate to severe pain, do not have access to them, said Omar Shamieh, chairman of the National Palliative Care Committee.
Speaking at a workshop organised by the King Hussein Cancer Centre (KHCC) to set up the National Palliative and Home Care Strategic Framework, Shamieh said there is a growing need for concerned stakeholders to work on further promoting a culture of palliative and home care.
The workshop is part of the Palliative and Home Care Education Programme for healthcare professionals, implemented through the National Home Care Initiative Project, launched in June 2016 and funded by USAID.
The programme offers a wide range of educational and training opportunities designed for healthcare professionals, as well as for family caregivers and volunteers, at different skill levels, according to organisers, who added that the programme has so far trained around 500 healthcare professionals.
Shamieh noted that some challenges still need to be addressed, such as the lack of public awareness of the advantages of palliative care, social misconceptions about pain relief, overly restrictive regulations for opioid pain relief and the insufficient skills and capacities of some health workers.
Improving access to palliative medical and home care services helps reduce hospital bills and emergency room visits, and helps lessen the pain felt by patients of chronic diseases and cancer, while reducing the suffering of their families, added Shamieh, who also chairs the KHCC's Hospice and Palliative Care Department.
Meanwhile, strengthening palliative care policies, improving the capacities of workers in the field, providing support to families and community volunteers, as well as coordinating with private and public health insurance programmes to cover palliative care costs, could help Jordan realise its international commitments to enhance its provision of palliative care, he said.
Health Minister Mahmoud Sheyyab acknowledged Jordan's need to advance comprehensive palliative and home care services, noting that the ministry will do "everything possible to further the spread of palliative care".
KHCC Director General Asem Mansour highlighted the role of palliative and home care in providing comfort for patients and their families as those with terminal and chronic diseases receive medical care at home, an issue that decreases pressure on hospitals.
For her part, World Health Organisation Representative to Jordan Maria Cristina Profili said there are around 40 million people in need for palliative care around the world, with only 14 per cent of them able to access these health services.
USAID Deputy Mission Director Lewis Tatem commended KHCC's efforts in providing professional with training on palliative care and assigning two new teams for the purpose of providing these services to patients.
The educational curriculum of the programme is designed and reviewed by well-trained and experienced health professionals from the field, and is delivered through a variety of proven effective methods in education and training, including many practical and clinical elements, the organisers said.
The main objective of the programme is to develop a critical mass of health care professionals and care givers who can effectively manage patients, particularly those with disabilities or in advanced stages of disease in different healthcare settings, especially at home, in order to alleviate suffering and improve the quality of life of patients and their families.
Related Articles
Feb 20,2014
Only 50 to 60 per cent of all cancer patients in Jordan receive palliative care, experts said on Thursday, calling for expanding programmes to provide this care for all patients.
May 23,2016
AMMAN — With support from the USAID Jordan Competitiveness Programme, the King Hussein Cancer Foundation (KHCF) and King Hussein Cancer Cent
Dec 07,2016
AMMAN — Medical experts and religious scholars from around the world met in Amman on Wednesday to share their views and expertise in healing
Newsletter
Get top stories and blog posts emailed to you each day.