You are here
Activists discuss UN resolution on women's safety in times of war
By Rana Husseini - Mar 08,2016 - Last updated at Mar 08,2016
HRH Princess Basma speaks at a ceremony to celebrate Jordan's role in reactivating UN Resolution 1325 in Amman, on Tuesday (Petra photo)
AMMAN — HRH Princess Basma on Tuesday said the development and implementation of Resolution 1325 gives Jordan greater immunity against the dangerous conditions in the region.
"Peace and security are vital and indispensable for all humanity, women and men alike, and we all have a responsibility to sustain both," Princess Basma said at an event to celebrate Jordan's role in reactivating UN Resolution 1325 (women, peace and security).
The UN resolution addresses women's safety and security in times of war and conflicts, considering women as an active factor in peace and war, and committing UN member states to take measures to implement the decision.
When the UN Security Council Resolution 1325 was adopted in 2000, it was a major milestone for women the world over, the princess told the gathering.
"It was the first Security Council resolution to acknowledge that war affects women and men differently, and that peace is inextricably tied to gender equality, and the first to emphasise women's participation in conflict resolution," she added.
However, despite all the good intentions and efforts put forth since then, the requirements of Resolution 1325 have not been met, Princess Basma said.
"There is still a prevailing impression that women, in situations of warfare, are only seen as victims. Yet many countries' experiences have shown that when women are involved in peace negotiations, their contributions and perspectives can often guarantee that demands for equality will be incorporated into new constitutional, judicial and electoral structures," she stressed.
Princess Basma warned that the Arab world is witnessing immense conflicts, "which have led to forms of violence and suffering that were unheard of before".
"Our region now has the largest forcibly displaced population in the world, and the situation threatens to deteriorate further.
"We can anticipate even greater suffering for women in particular, who will be more vulnerable to rape, human trafficking, and other forms of violence that undermine their human rights, including rights to health, education, employment and participation in public life," she said.
Giuseppe Belsito, UN Women country representative, who also spoke at the event, commended Jordan's commitment towards UN Resolution 1325 "because of its importance in relation to the current regional conflicts".
"Jordan is one of the top 10 peacekeeping troop providers globally, and has long been a leader in providing security expertise and support regionally and globally," Belsito said.
It is time for Jordan to make its mark as a regional leader also in the inclusion of women in its activities related to peace and security, he added.
The government's commitment to accelerating the adoption of the National Action Plan (NAP), made in September 2015, was an important step towards this, according to the UN official.
"The ongoing NAP development process is very promising, and I am looking forward to seeing Jordan adopt the national action plan in December 2016," Belsito added.
Salma Nims, secretary general of the Jordanian National Commission for Women, said International Women's Day celebrations came this year to reaffirm the effects of military conflicts, which affect women, children and immigrants the most.
"Women are known to be creators of peace, and while men meet to split the authority, women meet to share the authority," Nims told the gathering.
Turning to UN Resolution 1325, she said the JNCW is carrying out consultations to prepare a national action plan to implement the resolution and document progress.
"We are carrying out activities, but without a plan you cannot monitor progress, assess different needs or change course," Nims explained.
"The importance of these [consultations] is to build consensus at the local and national levels over the priorities that we need to adopt when we prepare our national action plans," she asserted.
Some of the priorities based on the consultations, Nims maintained, are to deal with refugee women and girls, prevent gender based violence, confront radicalisation and increase women's participation in peacekeeping missions.
During the two-hour event, the organisers showed several videos highlighting Jordanian female security officers' role in various peacekeeping missions and the Kingdom's role in implementing Resolution 1325.
The event was organised by the JNCW in coordination with a local coalition and UN Women and supported by the government of Japan.
Related Articles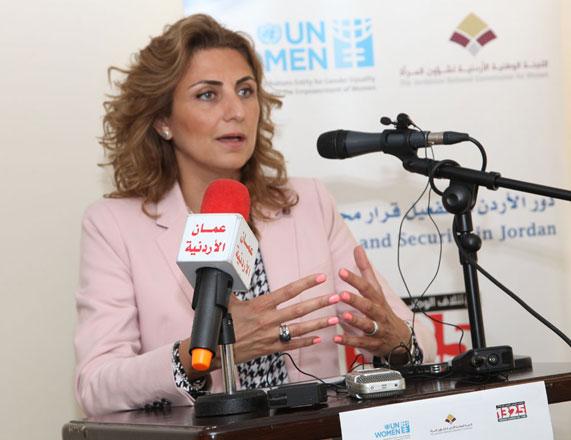 May 23,2016
AMMAN — The Jordanian coalition on UN Resolution 1325 on Monday highlighted the Kingdom's efforts in reactivating the decision that focuses
Sep 10,2015
AMMAN — HRH Princess Basma, chairperson of the Jordanian National Commission for Women (JNCW), on Tuesday affirmed the importance of creatin
May 26,2015
AMMAN — The Cabinet has approved the appointment of 19 new members in the Jordanian National Commission for Women (JNCW), according to a sta
Newsletter
Get top stories and blog posts emailed to you each day.