You are here
After earning praise from Bocelli, local choir raises tempo
By Andrea Celeste - Oct 01,2017 - Last updated at Oct 01,2017
The choir's founder and conductor Tomah Jbarah (middle) poses for a group photo with the choir members outside a church in Spain in July (Photo courtesy of Tomah Jbarah)
AMMAN — The Jordanian choir "The Fountain of Love" that performed alongside world famous Italian tenor Andrea Bocelli in Jerash last month is planning to expand through TV programmes and music classes, hoping to reach a wide array of people with their hymns.
The choir, which consists of 80 singers and musicians from Jordan, Syria, Lebanon, Iraq and France of all ages and religions, performs hymns that cover genres such as Western and Eastern classical music and Byzantine and modern songs, according to its founder Tomah Jbarah.
Before Bocelli's concert, they performed in France, Germany, Lebanon and Belgium, among others. They recorded a number of CDs and held regular events to raise funds for charitable causes, Jbarah said.
Jbarah, who is also the conductor of the choir, attributes the choir's success to the diversity of its members. During an interview with The Jordan Times at the choir's centre in Jabal Luweibdeh, Jbarah noted: "We are the only choir that includes people from different churches and areas. That is why the choir is growing; because we welcome members regardless of whether they are Catholic, Protestant, Othodox or Muslim, we consider all of them our friends."
The idea came to Jbarah around Christmas time in 2002, as he was performing carols with five other people. A year later, he realised his dream of establishing an inclusive choir group in Jordan.
Their debut was not easy, especially as the idea of a choir "wasn't very popular", he recalled, saying, "We didn't have money to buy a piano, many members, myself included, paid from our own pockets to buy the piano second hand."
The group realised they needed to improve their musical skills to keep their dream alive, so they decided to shift from music-enthusiasts to professionals. "In 2008, we released our first CD and started to focus on studying music. With the new songs, the CD was the first to be played in all apostolic churches," Jbarah said, adding "now, we write the songs, we compose the music, we go to the studio to record".
In September, after performing nine songs alongside Bocelli in Jerash, the Italian maestro "acknowledged and appreciated" the choir's work, which was a "great reward" after all their early challenges, Jbarah recalled.
"We presented him with the songs backstage and he seemed so happy. He congratulated us and it was a very important moment for the singers," he added.
The choir now seeks to continue expanding. Their next stage is to perform an oratorio which is a large-scale musical work for orchestra and voices
"The Middle East has unfortunately become a place most often linked with violence and war, but this oratorio has proven that it can also be a place of musical creativity and innovation," Jbarah said.
"My vision was to have a big group of singers, to draw smiles on the faces of the audience, to pray with good music, and to improve the church's melodies and songs," he added.
The choir recently started incorporating acting in its performances and plans to collaborate with Faris Haddadeen —a Jordanian Christian actor — to start filming episodes of a Bible programme for children.
Jbarah expressed his gratitude to all the "organisations, churches, bishops, priests and friends inside and outside Jordan" that supported his choir and his dream.
Related Articles
Aug 27,2016
AMMAN — A Jordanian choir recently performed across Europe to promote the Kingdom's religious sites and to "convey the message of peace and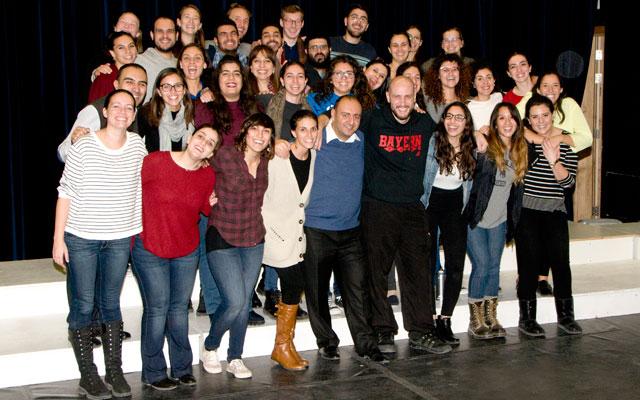 Dec 13,2016
AMMAN — It is not every day that a Jordanian choir reaps two gold medals at an international competition in which more than 12,000 singers f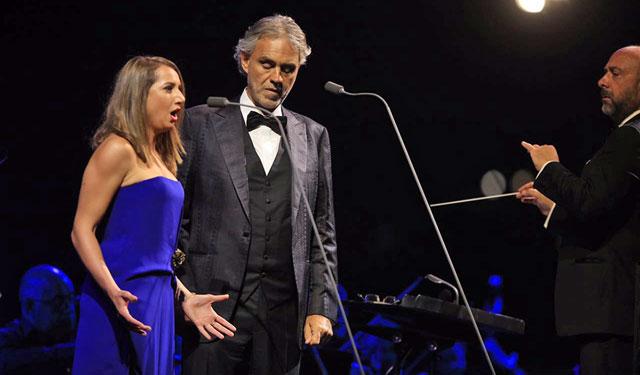 Sep 20,2017
JERASH – Andrea Bocelli, the world's "most beloved tenor", added to the ecstatic audience's euphoria when he, responding to the cheers of th
Newsletter
Get top stories and blog posts emailed to you each day.