You are here
Agreements signed to establish youth employment centres in agriculture sector
By JT - Jun 03,2020 - Last updated at Jun 03,2020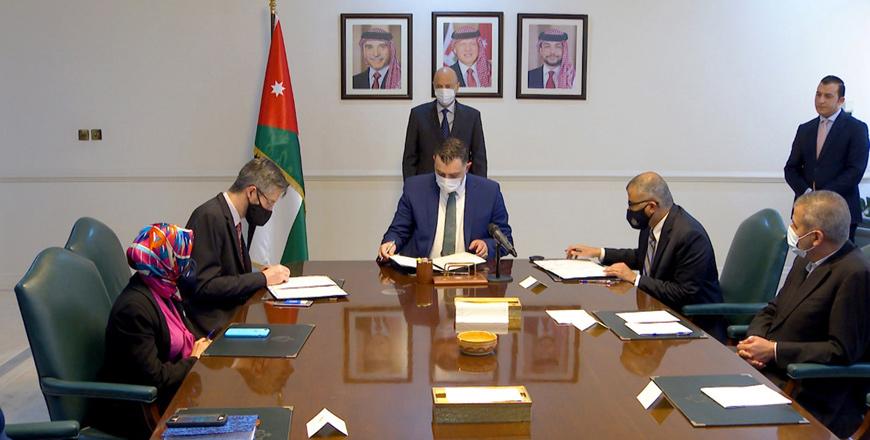 Prime Minister and Minister of Defence Omar Razzaz attends the signing ceremony of memoranda of understanding between the Labour Ministry, the International Labour Organisation and the Technical and Vocational Skills Development Commission on Wednesday (Petra photo)
AMMAN — Prime Minister and Minister of Defence Omar Razzaz on Wednesday attended the signing ceremony of memoranda of understanding between the Labour Ministry, the International Labour Organisation (ILO) and the Technical and Vocational Skills Development Commission to establish six employment, guidance and support centres for youth in the agriculture sector.
Under the agreements, six centres will be established in four governorates, where 500 young graduates of the National Service programme will be employed when they complete their training, the Jordan News Agency, Petra, reported.
ILO, through a Netherlands-funded project, will be responsible for supporting the administrative and technical aspects, the employees and the experts at these centres, while the commission's employment fund will oversee employees' registration for social security and health insurance in "a decent work environment".
Following the signing ceremony, Razzaz referred to His Majesty King Abdullah's remarks during his visit on Tuesday to agricultural stations in Maan and Aqaba, where His Majesty highlighted the importance of advancing agricultural projects.
The prime minister stressed that the government "works intensively to implement these directives" as the agricultural sector has "proven its importance to the national economy" during the COVID-19 pandemic.
He also referred to the added value of the agricultural sector to Jordan, noting that this value is "higher than that of most other sectors", especially if the sector heads to manufacturing, exporting and employing Jordanian workforce.
Razzaz stressed that these agreements are considered an "important step" towards developing the agriculture sector through the efficient use of water and agricultural inputs.
Also attending the ceremony, Labour Minister Nidal Bataineh pointed to the presence of a social protection network in the agricultural sector for Jordanian labourers for the first time.
Environment Minister and acting Minister of Agriculture Saleh Kharabsheh said that the agricultural sector is "a main driver for economic development and growth", referring to studies that show the possibility of providing a "large number" of jobs in the sector over five years if the sector is developed and organised.
ILO's country coordinator in Jordan, Patrick Daru, expressed appreciation for the government's concern for the agricultural sector, which has "shown resilience" during the COVID-19 pandemic, adding that it is "normal to invest in such a sector and enhance its added value".
Qais Safasfeh, head of the commission, said that it is the "first time in Jordan" to have an idea of establishing centres that will constitute the core of support for the sector in several governorates.
up
26 users have voted, including you.
Newsletter
Get top stories and blog posts emailed to you each day.