You are here
Agriculture Ministry launches national food systems consultations
By JT - Jun 14,2021 - Last updated at Jun 14,2021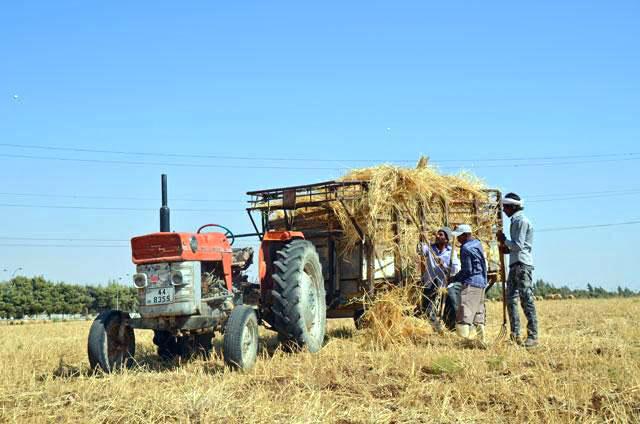 Dialogues will discuss enhancing food systems resilience, promoting equitable livelihoods and access to safe food for all, according to a statement from the organisers (JT file photo)
AMMAN — The Ministry of Agriculture in cooperation with the United Nations on Monday, embarked on a series of national consultations on Jordan's food system ahead of the UN Food Systems Summit scheduled to take place this year.
The first dialogue, held on Monday in Irbid Governorate, will be followed by two sub-regional dialogues in Balqa and Karak, and a national summit in Amman, which are designed to provide an opportunity for all stakeholders, from producers to consumers, to discuss the sustainability of food systems in the Kingdom, according to a statement made available to The Jordan Times.
"The COVID-19 outbreak emphasised the importance and need for world countries to work together not only to combat the pandemic, but also to address and reduce its economic, social and environmental impacts. Jordan, like other countries in the world, has committed itself to achieving the 2030 Sustainable Development Goals [the 17 goals and their multiple goals] that are directly related to the issue of food security, hunger and nutrition, and we are aware that in order to achieve our goals and meet our commitments by 2030, we must develop plans and strategies to transform food systems to ensure the adoption of healthy and affordable diets as part of the efforts required to put an end to hunger and all forms of malnutrition alike," said Minister of Agriculture Khaled Hneifat.
Organised in collaboration with the UN Resident Coordinator Office, Food and Agriculture Organisation (FAO), World Food Programme (WFP) and ESCWA, the dialogues will discuss enhancing food systems resilience, promoting equitable livelihoods and access to safe food for all.
"Our food systems should be transformed to be more inclusive, resilient and sustainable. This will be one of the key topics of the Food Systems Summit, hosted by the UN Secretary General Antonio Guterres in September this year. We are glad to collaborate with the government of Jordan in conducting these consultations at the national and local levels to identify challenges and solutions and bring voices of Jordanians to the global conversation on food systems in the global summit," said Anders Pedersen, the UN Resident and Humanitarian Coordinator in Jordan.
In 2015, the UN adopted 17 Sustainable Development Goals (SDGs) to be achieved before 2030. Goal two of those 17 goals is to end hunger by 2030 and reduce malnutrition and double agricultural productions.
FAO Representative in Jordan Nabil Assaf said: "2021 marks the beginning of the Decade of Action to achieve the Sustainable Development Goals (SDGs) by 2030, and working towards healthier, more sustainable and equitable food systems. Dialogues are a key opportunity for fully recognising the potential of local food systems stakeholders to play a catalytic role in accelerating actions towards sustainable agriculture and food systems at all levels. It is important that the views of all stakeholders are captured and reflected when shaping the principles on global food systems that will guide actions in the next decade and beyond."
Jonathan Campbell, WFP's deputy country director in Jordan, said: "Any country needs strong and efficient food systems, producing and transforming food as well as delivering to consumers with maximum efficiency and minimal losses. Many factors are involved in sustainable food systems including agriculture, water management, supply chains, food waste, climate change issues, employment and social welfare systems. All of these have to function well to ensure people have access to adequate food and nutrition. WFP looks forward to supporting the Government of Jordan in these consultations, fostering national dialogue with various stakeholders around sustainable food systems. Ultimately, this should not only benefit the economy and the livelihoods of people involved in these food systems but improve the efficiency of putting food on our tables and ensure better nutrition for everyone in Jordan."
The UN secretary general will convene this year a Food Systems Summit with the aim of maximising the co-benefits of a food systems approach across the entire 2030 Agenda and meeting the challenges of climate change. The summit aims to provide a platform for ambitious new actions, innovative solutions, and plans to transform food systems and leverage these shifts to deliver progress across all of the SDGs. It is envisioned that the summit will have objectives and outcomes including to:
— Raise awareness of food systems' centrality to the entire sustainable development agenda, and the urgency of transforming food systems, particularly in the wake of a global pandemic;
— Align stakeholders around a common understanding and narrative of a food system framework as a foundation for concerted action, making food and food systems a more widespread issue for advocacy and action to achieve the 2030 Agenda;
— Recognise the need for inclusivity and innovation in food systems governance and action;
— Motivate and empower stakeholders who support food systems transformation through the development of improved tools, measurement, and analysis; and
— Catalyse, accelerate, and enlarge bold action for the transformation of food systems by all communities, including countries, cities, companies, civil society, citizens, and food producers, concluded the statement.
Newsletter
Get top stories and blog posts emailed to you each day.