You are here
Al Rai's management, employees sign deal, end crisis
By JT - Feb 23,2018 - Last updated at Feb 23,2018
AMMAN — The management and representatives of the employees at the Jordan Press Foundation (JPF) on Thursday reached an agreement that ended a crisis as the staff threatened full strike.
The board Chairperson Ramadan Rawashdeh signed the deal with the protest leaders, agreeing to the majority of the conditions set by the employees, including paying overdue bonus salaries for the past two years according to a fixed schedule.
The only condition removed from a list of seven demands presented to the management the day was the expulsion of board member and lawmaker Khalid Fanatseh, who a day earlier went into a heated argument with protesting employees and made remarks that were deemed "insulting", according to the protest's leaders.
Under the deal, the JPF, which publishes Al Rai and the Jordan Times, promised to restructure the salaries in a way that the four bonus salaries be distributed over 12 months as of the beginning of 2019.
The foundation also pledged to look into the situation of staff members who work for fixed monthly allowances without any other benefits, and consider appointing on the payroll those among them whose skills are needed.
In a last-minute decision, the protestors decided late Wednesday to produce a skeleton issue of Al Rai after negotiations collapsed.
Also on Thursday, Jordan Press Association (JPA) hailed the deal, which was co-signed by the syndicate's Deputy President Yanal Barmawi.
The JPA Board commended the positivity attitude of JPF staff members in pursuing their demands in a "civilised manner accompanied with concern for the newspaper's future".
The JPA also praised Al Rai's Board of Directors Chairman Ramadan Rawashdeh for responding to employees and the continuous coordination with the association until the deal was concluded.
The union also praised Minister of State for Media Affairs Mohammad Momani and concerned authorities for supporting the association's efforts to reach this agreement.
Leading the print media market and circulation chart, Al Rai was established in 1971 to become the key component of JPF, a public shareholding company where the Social Security Investment Fund holds the dominating share of 55 per cent.
Related Articles
Feb 02,2014
Jordan Nurses and Midwives Association President Mohammad Hatamleh will start staging a solo sit-in near the Prime Ministry as of Monday to demand an increase in public sector nurses' technical and overtime allowances.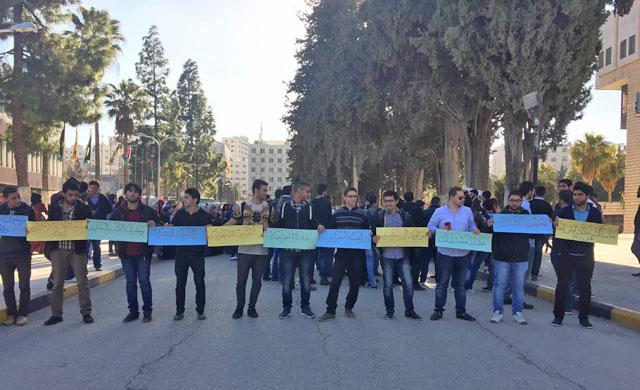 Feb 28,2016
AMMAN — Almost three years after the University of Jordan's (UJ) decision to raise tuition fees for its parallel and postgraduate programmes
Feb 22,2018
AMMAN — Jordan's leading newspaper, Al Rai, was set to produce a skeleton issue after a tentative labour agreement collapsed when the admini
Newsletter
Get top stories and blog posts emailed to you each day.