You are here
Al Rai due to print skeleton issue as labour agreement collapses
By JT - Feb 22,2018 - Last updated at Feb 22,2018
Jordan Press Foundation's Chairperson Ramadan Rawashdeh (centre) speaks to protesting employees at the premises of the organisation on Wednesday (Photo by Osama Aqarbeh)
AMMAN — Jordan's leading newspaper, Al Rai, was set to produce a skeleton issue after a tentative labour agreement collapsed when the administration rejected a list of seven demands employees raised, threatening a full strike if they are not met.
According to the list circulated among employees, representatives of the staff called on the management to release delayed bonus salaries for the year 2016 on Thursday, while the rest of the overdue six-and-a-half monthly pays should be paid on fixed dates during the current year upon a written pledge by the board of the Jordan Press Foundation (JPF), which also issues The Jordan Times along with the Arabic daily.
The list also includes a condition that the board sacks its member Khalid Fanatseh, who earlier in the day went into a heated argument with protesting employees and made remarks that were deemed "insulting", according to the protest's leaders.
They also asked for a restructuring of the salaries in a way that the four bonus salaries be distributed over 12 months.
The foundation was also requested to look into the situation of staff members who work for allowances without any other benefits and consider officially appointing those whose skills are needed on the payroll.
The deal was also supposed to be printed on the first page of Al Rai before negotiations broke down and the team made a last-minute decision to publish the main news on the front page, along with commercial advertisements and obituaries.
Leading the print media market and circulation chart, Al Rai was established in 1971 to become the key component of JPF, a public shareholding company where the Social Security Investment Fund holds the dominating share of 55 per cent.
Related Articles
Feb 23,2018
AMMAN — The management and representatives of the employees at the Jordan Press Foundation (JPF) on Thursday reached an agreement that ended
Feb 02,2014
Jordan Nurses and Midwives Association President Mohammad Hatamleh will start staging a solo sit-in near the Prime Ministry as of Monday to demand an increase in public sector nurses' technical and overtime allowances.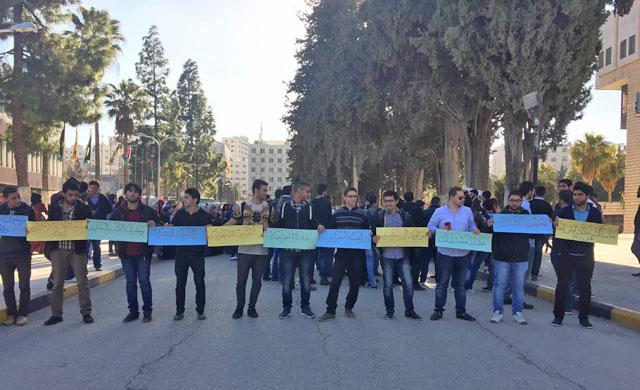 Feb 28,2016
AMMAN — Almost three years after the University of Jordan's (UJ) decision to raise tuition fees for its parallel and postgraduate programmes
Newsletter
Get top stories and blog posts emailed to you each day.