You are here
'Amateur' weather forecasters blamed for creating confusion, panic every winter
By Hana Namrouqa - Feb 08,2015 - Last updated at Feb 08,2015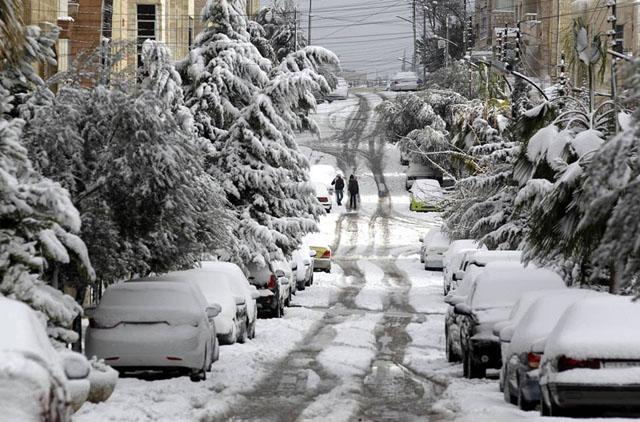 AMMAN — Rumours of extreme weather conditions and snowstorms flood social media networks every winter, creating confusion among the public and government agencies alike, Amman residents and a meteorologist said on Sunday.
People are increasingly following weather forecasts from social media sites and online news outlets that are not specialised in meteorological sciences, they said, highlighting that such websites warn of approaching blizzards and freezing temperatures which has caused "unnecessary panic" on several occasions.
Mazen Rahal, an engineer, said he closely follows the weather forecast during winter, because it affects his work progress.
"I have a mobile application that tells the forecast for 10 days ahead, but it is not always accurate. Therefore, I check news websites because I work in the construction field and must be informed about the expected weather conditions to take precautions," Rahal added.
Conflicting news reports on impending blizzards, which end up being wrong, prompted the 42-year-old to suspend work on some of his project several times this winter.
Meanwhile, Amal Al Shaikh, a housewife, said she checks the weather forecast via her smartphone.
"I plan many activities depending on the weather, especially during winter. Therefore, I check a certain local weather website which I found to be consistent in providing accurate forecasts," the mother of five told The Jordan Times.
During the past month, Shaikh said she received warnings via WhatsApp of a "historical storm" that would bring over one metre of snow to Amman.
"I neither believe nor spread such rumours unless I check the weather forecast website, which I trust now," she added.
Nour Abu Sitah, a 35-year-old banker, said she always goes by the official weather forecast.
"I prefer not to be dragged into news websites and weather forecast sites, which I believe exaggerate the impact of a depression just to receive more hits," Abu Sitah told The Jordan Times.
Jordan Meteorological Department (JMD) Director Mohammad Samawi said forecasts and weather-related warnings play an important role in people's daily lives and affect the work of different sectors, such as aviation, maritime transportation and agriculture.
He noted that a reliable source for weather forecasts should be an official institution that is licensed and specialised in meteorology.
"News outlets create a state of confusion every winter; they spread contradictory news about the weather and this phenomenon has increased this year with the emergence of several outlets that give weather forecasts, some of which are professional, while the others are amateur," Samawi told The Jordan Times.
He underscored that weather forecasts which are not based on scientific studies harm the public interest by creating a state of confusion and panic.
Noting that the JMD is obliged to provide the public and concerned authorities with the weather forecast and warnings to take precautionary measures, Samawi explained that the accuracy of climate predictions drops as they exceed a week.
Late last week, the JMD said a very cold air mass and a depression were expected to affect the country on February 11, but urged the public to follow its daily weather reports as the forecast was 70 per cent accurate since it was a week ahead.
"If the JMD, a state institution, is subject to accountability from the government, Parliament and the people, then I wonder who holds amateur weather forecasters accountable," Samawi asked.
up
44 users have voted, including you.
Related Articles
Mar 23,2014
Dozens of young Jordanians will receive training on weather forecasting and climate systems under an initiative to boost their contribution and action in combating climate change.
Jan 26,2016
AMMAN — The polar front that started affecting the Kingdom this week was accompanied by contradictory weather forecasts that caused confusio
Nov 26,2016
AMMAN — To date, the current winter, 2016/2017, has witnessed the longest period on record with no rain in Jordan, followed by the 1998/1999
Newsletter
Get top stories and blog posts emailed to you each day.