You are here
Amman, Ankara to boost cooperation in face of common challenges
By JT - Mar 28,2016 - Last updated at Mar 28,2016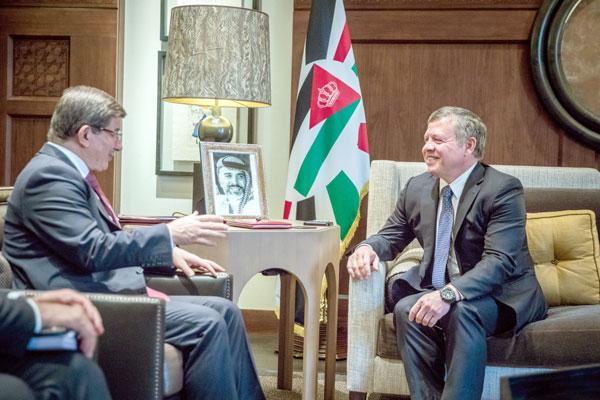 His Majesty King Abdullah holds talks with Turkish Prime Minister Ahmet Davutoğlu in Amman on Sunday (Photo courtesy of Royal Court)
AMMAN — His Majesty King Abdullah on Sunday said that Jordan and Turkey face similar challenges, including the repercussions of the Syrian crisis and the terror threat.
At a meeting with Turkish Prime Minister Ahmet Davutoğlu His Majesty underlined that such challenges necessitate constant cooperation and coordination to safeguard mutual interests and preserve the security and stability of the region and its people, a Royal Court statement said.
The talks, held at Al Husseiniya Palace, addressed regional crises, especially in Syria, endeavours to reach a comprehensive political solution to the conflict and means to ease its repercussions on neighbouring countries, mainly those related to the millions of Syrian refugees hosted by the two countries.
In this regard, King Abdullah and Davutoğlu urged the international community to commit to its responsibilities towards host countries and help them address the burdens ensuing from the refugee crisis.
On the threat terrorism poses to the Middle East and the rest of the world, they stressed the importance of intensifying efforts to eradicate terror groups in line with a holistic approach and effective coordination among regional and international players.
During a one-on-one encounter, which was followed by an extended meeting, His Majesty renewed Jordan's condemnation of the recent terrorist attacks which targeted Turkey, expressing his condolences to Turkish President Recep Tayyip Erdogan and the Turkish people over the loss of innocent lives.
The Monarch and the Turkish premier also highlighted the "strong Jordanian-Turkish" relations and expressed joint keenness to boost them at all levels, especially in the transport, water and infrastructure sectors.
The two sides reviewed ways to enhance joint economic partnerships and benefit from opportunities available in each country, highlighting the unique geographical location of the Aqaba Special Economic Zone, which can serve as a hub and gateway for Turkish industries into regional markets.
In this regard, the King underlined investment opportunities available in Jordan and encouraged the Turkish private sector to invest in mega projects in Jordan, urging exchanged visits by businesspeople and economic delegations, according to the statement.
For his part, Davutoğlu voiced his country's keenness to enhance bilateral ties at all levels and sustain coordination and consultation over regional developments in a way that safeguards mutual interests.
Also on Sunday, Prime Minister Abdullah Ensour and Davutoğlu held talks that focussed on means to enhance bilateral relations in various fields.
During the meeting, which was attended by senior officials from both countries, Ensour and Davutoğlu also discussed the latest regional developments and international counter-terrorism efforts, the Jordan News Agency, Petra, reported.
Noting that the Jordanian-Turkish diplomatic relations date back to 1937, Ensour stressed that it is among the Kingdom's top priorities to enhance its economic and political ties with Ankara.
Ensour added that the "unprecedented" challenges the region is facing, especially the rising terrorism, require intensified cooperation and coordination between Jordan and Turkey, along with the rest of the international community, according to Petra.
The premier underlined the "fruitful" economic cooperation between the two countries, especially after 2011 when the free trade agreement they signed went into effect.
"The Jordanian-Turkish free trade agreement has increased the volume of trade exchange from $57 million in 2010 to $170 million in 2014," Ensour said, adding that Jordan's imports from Turkey increased from $560 million to $850 million between 2011 and 2014.
He noted, however, that Jordanian exports to Turkey went down by around 43 per cent in 2015 as a result of the Syrian crisis and the closure of border crossings.
Ensour also called on the Turkish businessmen and investors to take advantage of Jordan's strategic location and the free trade agreement it has entered with several economic powers.
Stressing the need for stronger coordination and cooperation between Amman and Ankara, Davutoğlu pointed out that a secure and stable Jordan is an integral component of the entire region's stability and security, underlining the Kingdom's effective role in protecting Jerusalem's holy sites, according to Petra.
In the presence of Ensour and Davutoğlu, Jordan and Turkey signed a draft agreement between the Jordan Hijaz Railway Corporation and the Turkish International Cooperation and Development Agency (TIKA), and a bilateral agreement to protect and encourage investments in the two countries.
Both countries also signed a memorandum of understanding for industrial cooperation, and another for cooperation in meteorology, among other deals.
Ensour also noted that Turkish investments in the Kingdom are estimated at around $300 million.
Related Articles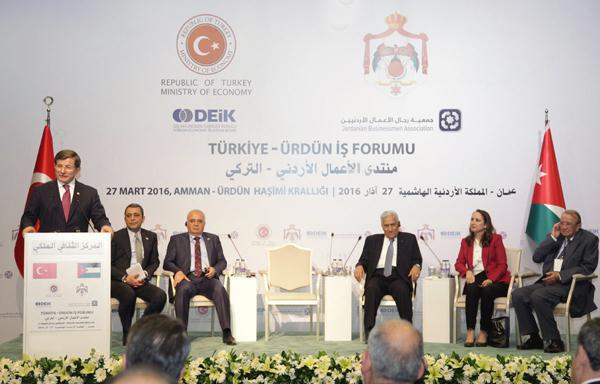 Mar 27,2016
AMMAN — The government on Sunday encouraged Turkish businesspeople to implement investment projects in Jordan that entitle them to benefit f
Mar 26,2016
AMMAN — Turkish Prime Minister Ahmet Davutoğlu was due to arrive in Amman late on Saturday after postponing an earlier plan to visit the Kin
Mar 06,2017
AMMAN — Prime Minister Hani Mulki's one-day visit to Ankara on Tuesday will include bilateral discussions on several political and economic
Newsletter
Get top stories and blog posts emailed to you each day.