You are here
Amman municipality designates 88 containers for electronic waste
By Hana Namrouqa - Feb 26,2015 - Last updated at Feb 26,2015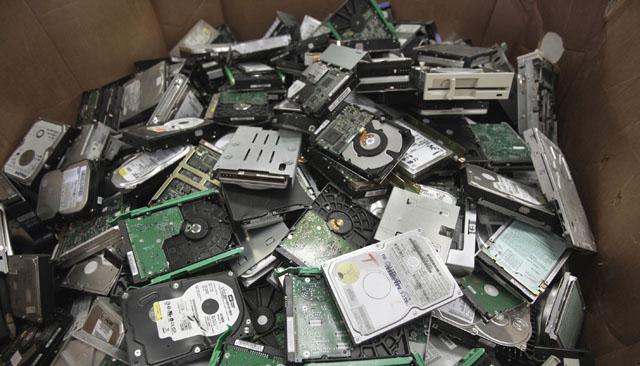 AMMAN — Starting next week, Amman residents can dispose of their unwanted electronic devices in containers designated for the collection of electronic waste, an official at the Greater Amman Municipality (GAM) said on Thursday.
A total of 88 containers will be distributed to the headquarters of GAM's 22 districts, said Yazan Rifai, director of GAM's electronic waste sorting project.
"Four containers will be placed at each of GAM's district buildings starting March 1," Rifai told The Jordan Times.
The containers at every municipal building will be designated for the disposal of TVs and computer monitors, dry batteries, light bulbs and mobiles, he noted.
"To prevent scavengers from tampering with electronic waste, the containers will be placed inside the premises... A GAM official at every building will be tasked with checking on the containers and alerting us once they are full," Rifai said.
GAM will initially collect the electronic waste at a unit in a park in the Wadi Al Seer area, where they will be sorted before being shipped to the Swaqa Landfill for hazardous waste, which is 160 kilometres south of Amman.
Once the collected waste reaches an amount that is economically feasible, GAM will either extract valuable chemical materials and sell them or export the collected waste, according to Rifai.
Next week, GAM will start an awareness campaign via radio to inform the public of the hazards of keeping electronic waste in their homes or disposing of them along with domestic waste, the GAM official said.
In addition, GAM will distribute 25,000 brochures on electronic waste hazards and ways to handle them.
"It is imperative for everyone to know that it is not OK to leave unwanted mobile phones, batteries or TVs in some corner of your house, because they can explode or leak very poisonous materials," Rifai underscored.
The improper disposal or processing of electronic waste causes serious health and pollution problems, as some electronic scrap components contain contaminants such as lead, cadmium, beryllium, mercury and brominated flame retardants, according to web sources.
Environment experts believe that the absence of sound electronic waste management threatens the environment and public health.
Official figures indicate that 94 per cent of Jordanians own at least one cell phone and two-fifths of households own PCs, which are often discarded with the regular garbage when outdated.
In Jordan, the average age of PCs ranges between two to five years, while it is eight to 10 years for TV sets and fridges, and two to three years for most cell phones, according to official figures.
Statistics indicate that at least one million Jordanian households are linked to the electricity network and thus each has a minimum of one electrical device.
Related Articles
Mar 30,2015
The Ministry of Environment has completed distributing the second batch of bins and containers across the country to collect electronic waste, a government official said Monday.
Feb 27,2014
The Ministry of Environment will launch a campaign within a week to raise public awareness on ways of handling electronic waste, according to officials.
Mar 25,2014
The Ministry of Environment on Tuesday launched a campaign to collect electronic waste and guide the public on ways of handling it.
Newsletter
Get top stories and blog posts emailed to you each day.