You are here
Amnesty urges long-term solution to issue of Syrians stranded in no-man's-land
By JT - Oct 10,2016 - Last updated at Oct 10,2016
AMMAN — Reports about the resumption of humanitarian aid to at least 75,000 displaced Syrians stranded in the no-man's-land along the Jordanian-Syrian border called "the berm" are "a long-awaited glimmer of hope that should be followed by a sustainable, long-term solution", Amnesty International said on Monday.
The news comes as the UN and the Jordanian authorities continue negotiations to open a humanitarian lifeline to the Syrians who have been stranded there since the Kingdom sealed the border following an armed attack in June that killed seven troops and injured 13 at an outpost dedicated to serving refugees.
"News that humanitarian assistance will be resumed to tens of thousands of refugees stranded at the berm comes as a welcome relief," a statement quoted Audrey Gaughran, the director of global issues and research at the Amnesty International, as saying.
"However… unfettered humanitarian access and a managed multi-sector humanitarian response in line with international standards is what is urgently required," Gaughran added.
"Aid organisations must have unfettered access to provide food aid, lifesaving medical treatment and other support. Anything less is just a band aid that will do little in the long run," she noted.
Gaughran said Jordan, with the support of the international community, should provide the displaced Syrians with safety and sanctuary by allowing refugees into the country, "while carrying out the necessary security checks in line with international law and standards".
Officials have said that the vast majority of the displaced Syrians have come from areas that were under Daesh control, suggesting that some of them may still be loyal to the terror group.
"The international community must also share responsibility with Jordan by providing significantly more resettlement places to alleviate the pressure on Jordan as one of the largest refugee-hosting countries in the world," Gaughran added.
Related Articles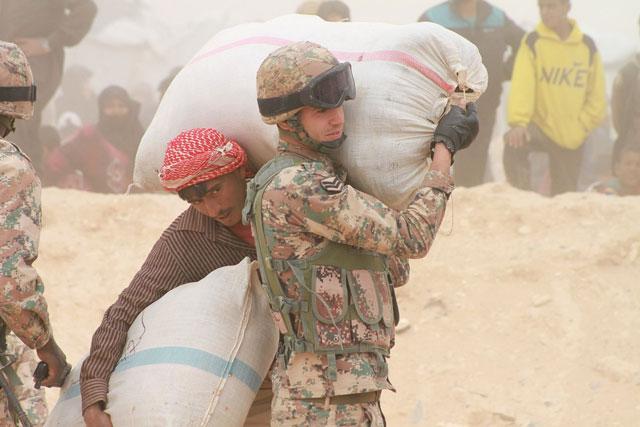 Oct 09,2016
AMMAN — Based on recent developments and upon further discussions with international agencies, Jordan will allow the delivery of aid to the
Jul 13,2016
AMMAN — Jordan has allowed the entry of food and water to refugees stranded across Jordan's border with Syria in the no-man's-land, an offic
Aug 03,2016
AMMAN — Syrian refugees at the Rakban camp in the no-man's-land between the Syrian and Jordanian borders received a new batch of aid on Wedn