You are here
Amputees receive new prosthetics in Amman
By Dana Al Emam - Aug 18,2016 - Last updated at Aug 18,2016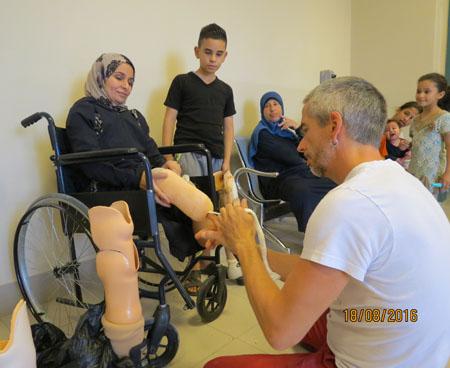 A technician helps an amputee with her prosthetic limbs during a workshop at Al Bashir Hospital in Amman this week (Photo courtesy of SwissLeg)
AMMAN — Adnan Miqbel says his new prosthetic limbs are comfortable and he is looking forward to going back to school in them soon.
The 14-year-old, who was born without limbs above the knees, said his old prosthetics were too small and too heavy.
"The new ones fit me perfectly," he told The Jordan times as technicians adjusted his prosthetic limbs at a workshop on Wednesday held by SwissLeg.
Ahmad Haj Hassan, the father of a three-year-old born with a missing limb, said his son Aboud disliked his old artificial leg and would often take it off.
"He got the new prosthetic on Tuesday, started walking on it and did not take it off," the father told The Jordan Times.
Miqbel and Haj Hassan are among 21 amputees who received monolimb prosthetics this week from SwissLeg through a partnership with the National Committee for Demining and Rehabilitation and the Ministry of Health.
During a workshop at Al Bashir Hospital, amputees received artificial lower limbs, as part of the company's humanitarian mission to Jordan.
Under the partnership, SwissLeg has so far provided 37 prosthetic limbs at the hospital in two workshops, and has worked with several hundred amputees across the country, said Roberto Agosta, SwissLeg co-founder and CEO.
He added that the company seeks to work closer to the border with Syria to provide prosthetic limbs to war-wounded amputees.
The company does not only offer prosthetic limbs, but also provides the know-how and training to local technicians on the latest monolimb technology.
Filippo Nishino, who works on the marketing team at SwissLeg, said the prosthetics have one of the best quality to cost ratios, adding that due to the materials used, they are 20 per cent cheaper than similar products using the same technology.
Meanwhile, Nishino highlighted the company's willingness for long-term cooperation with Al Bashir Hospital.
Al Bashir Hospital Director Khaled Adwan said the hospital's rehabilitation department receives 400 to 500 patients every month, noting that the department provides prosthetics to amputees, supportive devices and splints for children with cerebral palsy and medical shoes.
The hospital secures 35 to 40 amputees with new artificial limbs every month, he added, noting that car accidents and work injuries cause most cases.
Meanwhile, Adwan highlighted the Health Ministry's policy to partner with the private sector, as they are both concerned with patients.
"[Amputees] should get all possible support that can minimise the physical and psychological impact of their injuries," he told The Jordan Times in an interview on the sidelines of the workshop.
The potential global market for lower limb prosthetic devices is estimated at over 10 million people, while the World Health Organisation estimates that only 10 per cent of lower limb amputees in developing countries have access to appropriate prosthetic services, according to SwissLeg.
With his new prosthetic limbs, Miqbel, like many other amputees, hopes he can enjoy his favourite hobbies: football and swimming.
up
58 users have voted, including you.
Related Articles
Jul 04,2016
AMMAN — SwissLeg, a social enterprise based in Lugano, Switzerland, that develops "high-tech" prosthetic limbs for amputees, recently organi
Feb 09,2015
His Majesty King Abdullah, the Supreme Commander of the Jordan Armed Forces-Arab Army (JAF), on Monday paid a visit to Al Hussein Medical Centre's National Centre for the Rehabilitation of Amputees.
Jan 31,2018
AMMAN — Muhammad Nasser Kennan wanted to be a football coach after finishing school, but in the summer of his 10th grade, his dreams were pu
Newsletter
Get top stories and blog posts emailed to you each day.