You are here
Aqaba five-star hotels fully booked for Eid holiday
By JT - Jul 14,2015 - Last updated at Jul 14,2015
Standard rooms with basic facilities in Aqaba's five-star hotels are priced at JD140 per night, while rooms that have a view of the sea or pool can cost up to JD190-JD220 per night (File photo)
AMMAN — Five-star hotels in Aqaba are fully booked for the Eid Al Fitr holiday, while 80 per cent of rooms at four-star hotels and lower are reserved, Salahiddin Bitar, the president of the Aqaba Hotels Society, said Monday.
Bitar also noted that all Aqaba hotels are ready to provide tourists and visitors with the best services, the Jordan News Agency, Petra, reported.
The holiday for the Muslim feast marking the end of Ramadan starts on Friday and concludes on Monday evening.
Aqaba Special Economic Zone Authority (ASEZA) Chief Commissioner Hani Mulki said the authority has prepared a special programme to receive visitors to the Red Sea resort during the holiday, and improved its personnel's preparedness to present quality services.
ASEZA has also launched an operations room that will work around-the-clock to provide tourists with the services they need in cooperation with all stakeholders, Mulki said.
The plan includes the health, administrative, tourist and logistic sectors in a way that guarantees providing comfort and security to the port city's visitors, the chief commissioner said, noting that ASEZA increased its monitoring on restaurants, food shops and bakeries, according to Petra.
He also called on Aqaba visitors to maintain the city's cleanliness and order by committing to specialised locations for camping, noting that ASEZA has already prepared appropriate sites on the southern beach for this purpose.
Mulki praised the levels of cooperation and coordination among all relevant institutions in Aqaba, some 330km south of Amman, including the Aqaba Governorate headquarters, the Civil Defence Department (CDD), and the Aqaba Police Department.
Aqaba Governor Fawaz Irsheidat stressed the readiness of the CDD and police personnel to deal with all emergency cases and provide ambulances and fire engines in different areas of the city.
He added that the Royal Naval Force has also expressed its readiness to cooperate with authorities through providing equipped rescue boats, and watching over glass boats and jet skis at the central and southern beaches to avoid any accidents, Petra added.
In previous remarks to The Jordan Times, ASEZA Commissioner for Economic Development and Investment Affairs Sharhabeel Madi said hotels in the port city offer several options at various prices.
Madi noted that standard rooms with basic facilities in five-star hotels are priced at JD140 per night; rooms that have a view of the sea or pool can cost up to JD190-JD220 per night, while luxury suites could cost over JD1,000 per night.
"Early reservation allows visitors to choose the room they find suitable," he said, adding that cheaper rooms are usually booked first.
Prices greatly depend on demand, according to Madi, especially with only 4,000 hotel rooms currently available in Aqaba.
Related Articles
Sep 17,2016
AMMAN — Occupancy rates in Aqaba hotels, especially in the five-star hotels overlooking the beach, stood at around 95 per cent during Eid Al
Sep 19,2016
AMMAN — Over 60,000 visitors headed to Aqaba over Eid Al Adha, as folk bands, cultural shows and bazaars created a "joyful atmosphere" in th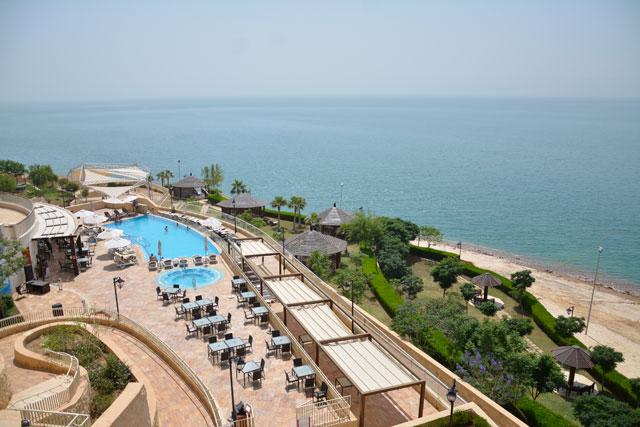 Jul 10,2016
AMMAN — Hotels in coastal resorts were full during Eid Al Fitr as many Jordanians chose to spend the holiday in the Kingdom and tourists flo
Newsletter
Get top stories and blog posts emailed to you each day.