You are here
Arab Bank trial over alleged support to Hamas begins Monday in US
By Omar Obeidat - Aug 09,2014 - Last updated at Aug 09,2014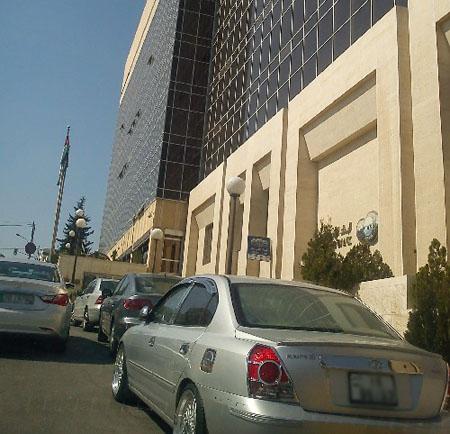 AMMAN — A civil trial involving Arab Bank over claims it provided material support to the Palestinian group Hamas will start in New York on Monday, according to the law firm representing the bank.
Global law firm DLA Piper said jury selection for the trial — known as Linde vs. Arab Bank, the lead case for the claims remaining against the bank — is scheduled on Monday.
The law firm made the announcement on a special website (arabbankfacts.com) it maintains on behalf of the Amman-headquartered bank to share information about the civil litigation.
Hundreds of Israelis have filed lawsuits in a New York federal court against Arab Bank for allegedly holding accounts that financed attacks which killed members of their families in Israel and the Palestinian territories between 2001 and 2004.
Arab Bank, Jordan's largest financial institution with branches throughout the Middle East and elsewhere in the world, denied the charges, saying it would exercise all legal options to disprove the accusations.
Under the Anti-terrorism Act of 1990, plaintiffs allege that the bank "knowingly and purposefully supported foreign terrorist organisations between 1995 and 2004 by providing financial services to such organisations", according to the US Justice Department.
Specifically, they allege that Arab Bank has helped administer a "death and dismemberment benefit plan" in which the Saudi Committee for the Support of the Intifada Al Quds made payments to "terrorists" and their families.
They also accuse the bank of performing financial services for people affiliated with Hamas and other designated foreign terrorist organisations.
Arab Bank has always insisted that it had never caused or provided material support for the attacks.
In 2005, plaintiffs requested that Arab Bank produce records of specified accounts maintained at its branches, primarily concerning organisations designated by the US as foreign terrorist organisations and their alleged affiliates.
Arab Bank objected, arguing that producing the requested documents would violate bank secrecy laws and that it could face criminal sanctions if it gave US lawyers the confidential records of its customers.
On July 12, US District Court Judge Nina Gershon sanctioned the bank for failing to turn over requested documents proving it had no links to terrorist groups.
In November 2012, a federal judge threw out a lawsuit brought by a US man wounded in the Middle East who sought to hold Arab Bank liable for providing material support to Hamas. US District Judge Jack Weinstein in Brooklyn, New York, held that Mati Gill could not prove Arab Bank was responsible for injuries he sustained in 2008 from gunshots fired from Gaza into Israel.
In separate cases, on August 23, 2013, Eastern District Court Judge Brian M. Cogan ordered the dismissal of claims filed against Arab Bank by more than 6,000 plaintiffs. The decision dismissed more than 90 per cent of the claims pending against the bank.
According to Reuters, Cogan, who is presiding over the case in Brooklyn federal court, has said the trial could last up to 60 days.
Arab Bank, as part of the Arab Bank Group, operates more than 600 offices across 30 countries on five continents.
Related Articles
Dec 11,2014
Arab Bank Plc. will face a trial in May to determine how much it owes for providing material support to Hamas in three of two dozen attacks attributed to the Islamic group in Israel and the Palestinian territories, according to a court order.
Dec 09,2015
NEW YORK – A US appeals court ruled on Tuesday that thousands of non-US citizens could not pursue claims against Arab Bank Plc for providing
Sep 18,2014
A lawyer for Arab Bank Plc urged US jurors to find that it never provided material support for the Palestinian group Hamas, as closing arguments began on Thursday in a closely-watched terrorism financing trial.