You are here
ArabiaWeather named 'Best Daily Helper' app by Google
By Ana V. Ibáñez Prieto - Jan 16,2018 - Last updated at Jan 16,2018
AMMAN — The smartphone application ArabiaWeather has been singled out by Google as one of the top applications of the past year in its "Best of 2017" awards, where thousands of applications added to the web giant's Play Store competed for the accolade.
Developed by the Jordanian company ArabiaWeather Co., the app was awarded the global "Best Daily Helper" after a year maintaining its ranking as the first application in the "Weather" and "Travel" categories in Jordan and Saudi Arabia. ​
Asked about the reasons behind such recognition, ArabiaWeather CEO Mohammed Al Shaker told The Jordan Times that the company's aim is "to provide the users with relevant information, rather than just an accurate weather forecast".
"We strive to make a difference in their lives," Shaker continued, noting that "the app goes far beyond informing users about the temperature outside, providing tips on outdoor activities or the best clothing for the day".
"Part of the success is also in our ability to be hyper local, in the sense that we provide forecasts not only for entire cities, but for specific areas and landmarks," he added.
In addition, the CEO highlighted the benefits of having in-house product engineering and consumer teams, praising their "constant work to move forward and provide users with a better experience".
The teams were responsible for several new app features introduced over the past year, including the clothing recommendations section based on the expected weather conditions and a section with information on whether schools will be operating regularly or not due to adverse weather conditions.
Most recently, the application introduced its latest crowdsourcing feature allowing users to share text, photo and video posts directly on the ArabiaWeather app.
The company is now looking forward a heavier reliance on video content for the dispersion of weather reports and updates, aiming at widening its reach and increasing the consumer engagement and satisfaction.
"We hope to continue to be the weather app that people in the region go to find relevant information, and to keep on making a difference in their day-to-day lives," Al Shaker said, expressing that "ArabiaWeather is very proud and thankful for this award, because it means that people rely on us."
Related Articles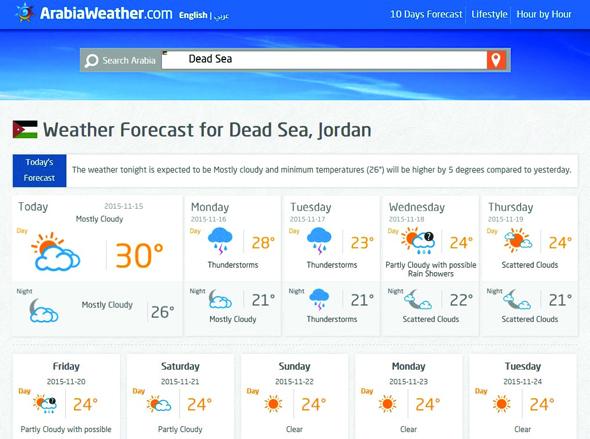 Nov 16,2015
AMMAN – ArabiaWeather Inc., a leading weather company in the Middle East, has announced a new round of funding totaling $5 million, followin
Nov 29,2017
AMMAN — The Jordan Meteorological Department (JMD) has launched a mobile application providing users of smartphones with a four-day forecast
Jun 17,2015
SINGAPORE — Security researchers have uncovered a flaw in the way thousands of popular mobile applications store data online, leaving users'
Newsletter
Get top stories and blog posts emailed to you each day.