You are here
'Around half of all cancer patients do not receive palliative care'
By Khetam Malkawi - Feb 20,2014 - Last updated at Feb 20,2014
AMMAN — Only 50 to 60 per cent of all cancer patients in Jordan receive palliative care, experts said on Thursday, calling for expanding programmes to provide this care for all patients.
Omar Shamieh, chairman of the palliative care department at King Hussein Cancer Centre (KHCC), said the centre treats 50 to 60 per cent of cancer patients in the country, and they receive the palliative care they need.
However, the other 40 per cent to 50 per cent cancer patients who do not have access to another programmme "need to be able to access physicians who are able to deliver palliative care".
"We cannot just concentrate on having an extra programme at the [KHCC] and leave the community aside. We need a palliative care programme for all patients in Jordan," Shamieh told The Jordan Times in an interview on Thursday.
"We have to professionally develop our team and improve the care we have; although we are doing very well…at the same time we have an obligation to propagate this excellent care which patients have here to the community," he said.
Shamieh noted that he is advocating for the creation of a specialised palliative care programme, which needs the support of the ministries of health and higher education.
An international expert who is currently visiting the KHCC shares Shamieh's views on the need to create a nationwide palliative care programme.
David Hui — an American physician board-certified in internal medicine, oncology, hospice and palliative medicine — said the creation of a fellowship programme for palliative medicine for the country will be a major step forward as "it will allow us to prepare the next generation of doctors and improve the quality of life and care for patients."
"Patients here [at the KHCC] are getting very good care because of this amazing network, and I would say the programme in Jordan is outstanding and this is just a beginning," Hui told The Jordan Times, adding that this model of care can be used to benefit many other patients through a home care programme.
The US expert, who is visiting the KHCC to examine the situation of its palliative care department, explained that the patients who develop advanced cancer have tremendous symptom concerns, pain and depression.
"In order to address these issues, you need a very comprehensive team to work on it, and the team here [at KHCC] is one of the leaders in this region," Hui said, adding that it has the potential to become one of the leaders on the international scene.
He voiced optimism over the future of palliative care in Jordan, but called for having policies to allow more patients to access opioid drugs, which are used in pain relief.
Hui noted that access to opioids in Jordan is partly limited by healthcare policy.
Shamieh agreed with the US expert, noting that having wider access to opioids under the supervision of medics should be considered.
Related Articles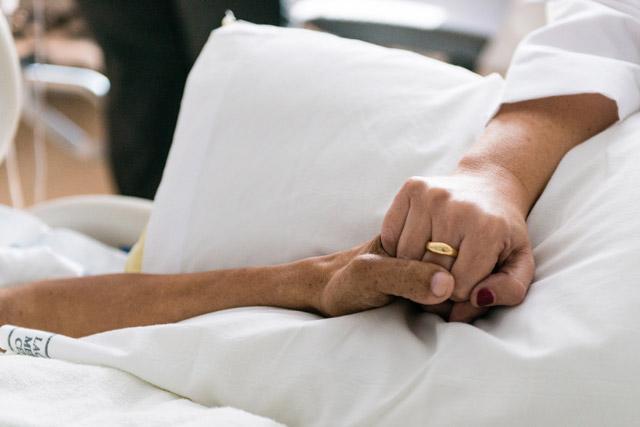 Apr 18,2017
AMMAN — Around 90 per cent of people in Jordan in need of palliative care, which addresses the physical and psychological needs of patients
May 23,2016
AMMAN — With support from the USAID Jordan Competitiveness Programme, the King Hussein Cancer Foundation (KHCF) and King Hussein Cancer Cent
Dec 07,2016
AMMAN — Medical experts and religious scholars from around the world met in Amman on Wednesday to share their views and expertise in healing
Newsletter
Get top stories and blog posts emailed to you each day.