You are here
Art auction raises funds for injured Gazans
By Dana Al Emam - Nov 23,2014 - Last updated at Nov 23,2014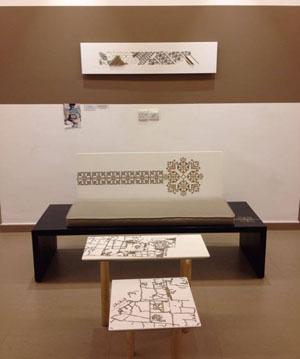 AMMAN — Two art pieces among several displayed at the "Naqsh in Tiraz" exhibition were auctioned on Saturday to raise funds for injured Gazans.
Designed by architect Nisreen Abu Dail, and her sisters Shireen and Nermeen, the artworks include engravings of traditional embroidery patterns on Corian and wood along with copper inlay.
The money raised by the auction will go to the Jordan Hashemite Charity Organisation's (JHCO) Awn Campaign for supporting Gazans with amputated limbs, according to organisers.
"This is the first time we are selling pieces in an auction at Naqsh, but our visitors liked the idea of linking their passion for art with such a good cause," Nisreen told The Jordan Times on the sidelines of the auction, held at "Tiraz", Widad Kawar's home for Arab Dress.
A source at JHCO said Saturday's auction raised JD5,800.
As the average cost of treatment for each patient is around JD1,000; the money collected from the auction is expected to provide artificial limbs for six patients, the source told The Jordan Times.
The JHCO's Awn Campaign aims to provide artificial limbs for 2,000 injured Gazans as well as the needed physiotherapy and mental healthcare.
Nisreen noted that the "Naqsh in Tiraz" collection combines traditional embroidery units from Mediterranean heritage with modern designs and materials, adding that people appreciate the modern representation of traditional embroidery.
The three sisters, who established Naqsh Design House in 2010, used an oriental theme in their first project, inspired by Arabic poetry and proverbs.
"Our second collection was released during the Arab Spring and was inspired by the notion of the rebellion, therefore it was dubbed 'A rebellion of a heritage'," Nisreen said.
The collection featured combined maps of some old cities like Jerusalem, Jaffa and Nablus as well as embroidery patterns engraved on metal, she added.
Meanwhile, the current collection revolves around the "unit".
"A unit is the single piece of the repeated form in traditional embroidery, yet it is also the unity that brings people together," she said, explaining that each unit has a different story behind it as every embroidery pattern or colour symbolises a certain geographical area or historical event.
She noted that the designs are based on the Atlas of Palestine by Salman Abu Setteh and Widad Kawar's books.
Related Articles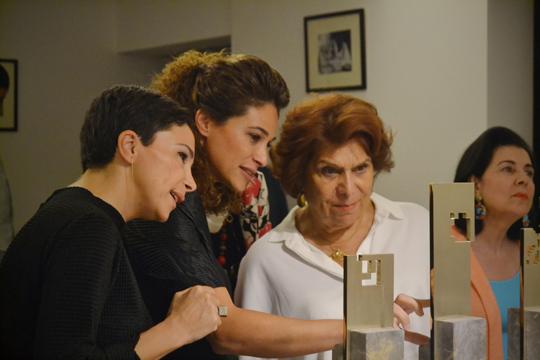 Aug 23,2017
AMMAN — A new exhibition at the Widad Kawar Home for Arab Dress is showcasing the artwork of the Naqsh Collective, which combines traditiona
Jan 24,2015
An exhibition that opens Sunday will showcase a collection of traditional dresses and jewellery items, in a step to document and revive the region's heritage, according to organisers.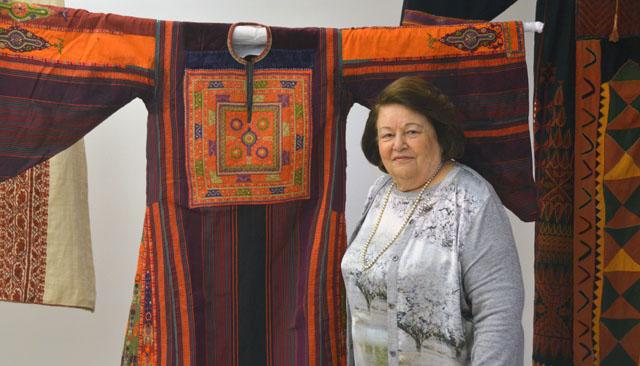 Apr 16,2015
When conflict began to flare up in Palestine, Widad Kawar felt the need to safeguard the country's heritage in any way she could.
Newsletter
Get top stories and blog posts emailed to you each day.