You are here
Artist paints children's war trauma
By Camille Dupire - Feb 21,2018 - Last updated at Feb 21,2018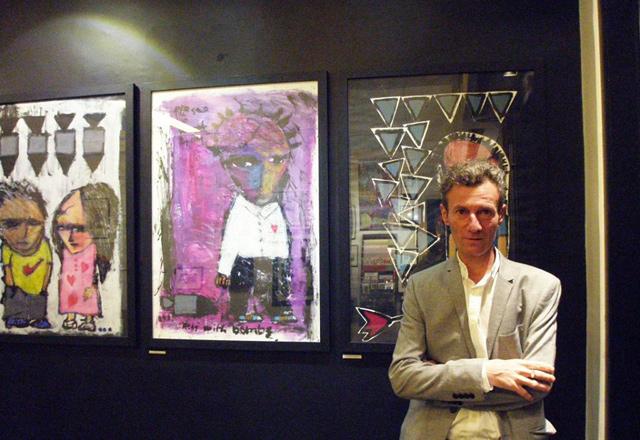 Rafik Majzoub poses in front of his paintings at Jacaranda Images gallery in Amman on Tuesday (Photo courtesy of Jacaranda Images)
AMMAN — The multiplication of conflicts around the world and the devastating impact they have on younger generations pushed Jordanian painter Rafik Majzoub to portray the experiences of these young victims of war.
"This exhibition is kind of a kid's diary from the Middle East," the artist said, adding that he tries to convey children's feelings towards the sounds and visions of war.
"Now that they do not remember what is silence, how can their dreams be without the sound of bombing?" he questioned.
In his exhibition "Kids Of Bombs — The World is Watching…" held at Jacaranda Images gallery, the artist explores children's helplessness and anger in the face of war, and their confusion towards events they can not control.
Through grossly painted human forms, Majzoub forces the visitor into a world of brutality and suffering, where the child is surrounded by a striking mix of bombs and flowers, reflecting blurry internal emotions.
Often looking unfinished, the artist's canvases reflect the confusion of his subjects, who do not seem to understand their fate. A powerful reflection of the tragedy these victims of war are facing, the paintings
"Millions of children around the world are being displaced, travelling dangerously by land and sea, as their families try to find a safe destination. Their innocence is not lost, it is ripped from them as the media regularly reminds us," said Barbara Rowell, owner of Jacaranda.
"The images we see also remind us to question our humanity — does it still exist after seeing so many images of children facing such dire conditions," she asked.
Born in Amman in 1971, self taught artist Majzoub, who describes himself as "an outsider artist", is known for his raw and frank style, portraying personal and societal issues in a sarcastic and fearless manner.
"His art often gives the impression of a work in progress, leaving it open, unfinished and unaccomplished, echoing the essential incapacity of the human being to accomplish in a world of imperfection, fracture and fragmentation," the artist's biography read.
The exhibition, which was inaugurated on Tuesday in the presence of the artist, will run through March 17.
up
55 users have voted, including you.
Related Articles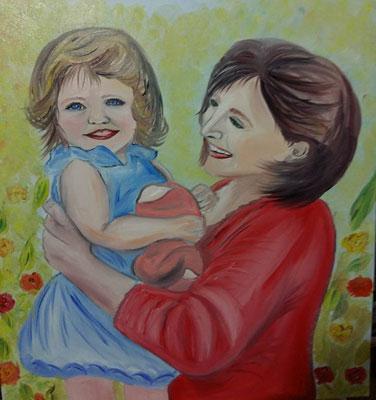 Jun 16,2016
ZAATARI, Mafraq — Determined to change the image of her fellow Syrians in the Zaatari Refugee Camp as "uneducated and unskilled", one woman
Nov 09,2017
AMMAN — An artist's preliminary drawings give an insight into how they perceive a painting — the composition, shadows and forms develop in s
May 03,2015
They say the eyes are the mirror of the soul. The eyes of the children painted by Rana Sunaij might be the best illustration of this saying.
Newsletter
Get top stories and blog posts emailed to you each day.