You are here
Artists beautify Sweifieh to celebrate U-17 Women's World Cup
By Suzanna Goussous - Oct 07,2016 - Last updated at Oct 07,2016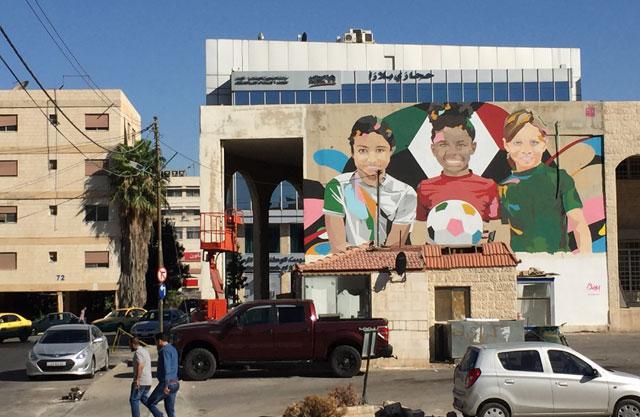 Murals are seen in Sweifieh within the 'Open Art Museum' project (Photo courtesy of Getty Images, FIFA and OAM)
AMMAN — With the FIFA U-17 Women's World Cup 2016 currently under way in Amman and other cities, artists worked on a project to empower women in sports and add colour to the city.
The "Open Art Museum" (OAM) project aims at creating a hub for local, regional and international street artists and to provide a space for them to exchange ideas and experiences, the project coordinator, Tariq Nazzal, said.
In addition to Nazzal, the team also includes Clara Al Sidawi as artistic director, and curator Ivana Panizzi from Brazil.
Artists started working on the project in Amman's Sweifieh on September 15, prior to the opening match of the World Cup, he said, concluding their work on September 29.
"The idea for the project started around three months ago, when Clara and I were discussing street art, graffiti and urban art, which are booming all around the world," Nazzal told The Jordan Times.
"It's beginning to bloom in Middle Eastern countries; we have [many] street artists from Lebanon, Iran, and Saudi Arabia… So why not put Jordan on the map? The Middle East is still kind of untouched in that respect," he added.
"Our initial idea was for every participating country in the FIFA tournament to bring in a street artist… but due to lack of funding, we had to reduce it to a much smaller scale," Nazzal explained.
The project is sponsored by the Brazilian embassy, the US embassy and the Jordan Tourism Board, he said.
"We brought in an artist from the US [DAAS] and Brazil [Tarsila Schubert], and we worked with two local artists, Suhaib Attar and Yazan Mismar," he added.
While the team worked on walls in Sweifieh area, artists and organisers realised there are many large and empty spaces, which stimulated their interest in beautifying the area with more colourful street art, Nazzal said.
"For our future projects, we want to just focus on Sweifieh to create [an] area of street art, so a person can go walk from wall to wall to check them all out," he added.
The coordinator said the project paved the way for local artists to interact with international artists from the same field and shed light on an important international tournament taking place in the Kingdom.
"The idea for this project is that we want to… create a hub for street artists in the Middle East, to bring in international artists to Jordan and the region, and, at the same time, support our local artists by giving them the chance to meet other artists and exchange ideas," he added.
"We received very different reactions. People were mostly curious; we [received] positive feedback; people stopped to look, take pictures and ask what we were doing and why, and what the [murals] mean," he added.
For more information on the project, the organisers can be reached via Instagram and Twitter on the handle @openartmuseum and on Facebook (www.facebook.com/OpenArtMuseumOAM).
Related Articles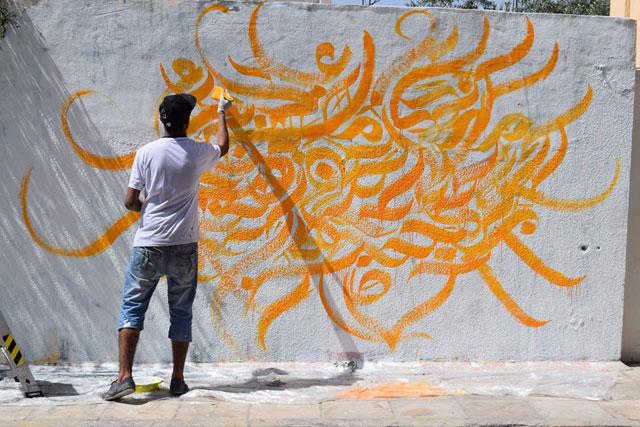 Feb 27,2018
AMMAN — Foreign visitors to Amman often recalled being mesmerised by the colourful works of art covering the walls of the capital, designed
Jun 03,2018
AMMAN — Using art to beautify the city's infrastructure and bring colours to citizens' daily lives is one of the purposes behind Baladak Str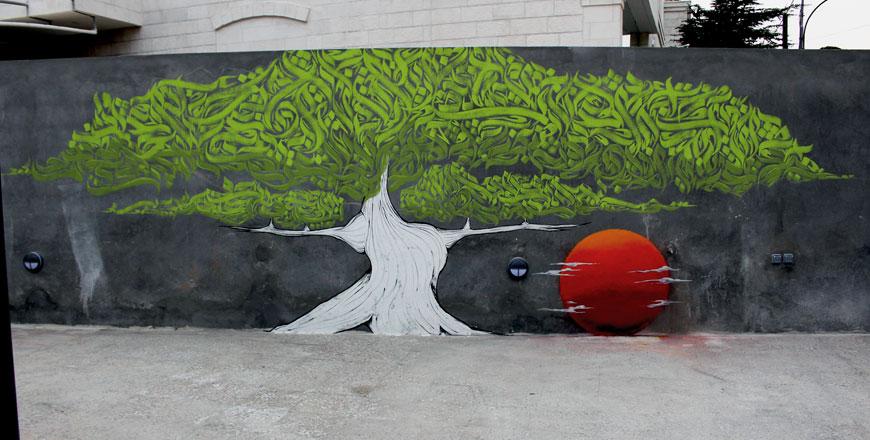 Aug 21,2016
AMMAN — On a mission to introduce Amman residents to art in all its forms, Wesam Shadid has been among the pioneers of graffiti in the capit
Newsletter
Get top stories and blog posts emailed to you each day.