You are here
Banks lend JD363m to car buyers in 2013
By Omar Obeidat - Dec 13,2014 - Last updated at Dec 13,2014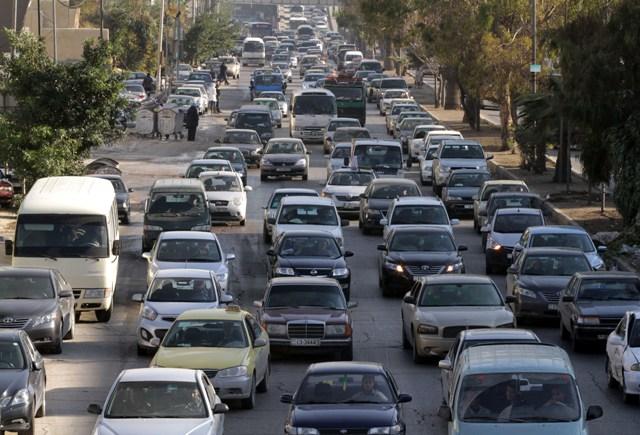 AMMAN — Jordanians borrowed JD363 million from commercial banks in 2013 to buy cars, according to banks' figures.
Adli Qandah, director general of the Association of Banks in Jordan (ABJ), told The Jordan Times that auto loans in Jordan are increasing due to the lack of a proper public transport system in the Kingdom.
In 2012 local banks extended auto loans worth JD321 million, Qandah said, adding that last year loans grew by nearly 13 per cent to reach JD363 million.
The loans financed the purchase of around 36,000 cars.
Around 70 per cent of the cars that hit the streets of the Kingdom were bought via loans, as Jordan Customs Department figures show that a total of 51,845 cars entered the domestic market in 2013.
The uptrend in auto financing is a problem for the Greater Amman Municipality.
At a meeting with ABJ board of directors late last week, Amman Mayor Aqel Biltaji asked banks to tighten credit facilities for car buyers as the capital suffers severe traffic jams due to the large number of vehicles.
Qandah said banks should not be blamed for the rising number of cars in Jordan, adding that authorities should offer a decent public transportation system to provide alternatives for the public.
"The volume of auto loans represented less than 2 per cent of an overall JD20 billion in credit facilities extended by banks last year. It is not a big figure at all," the ABJ director said.
Biltaji was unavailable to comment despite several attempts by The Jordan Times.
A recent study prepared by the Central Traffic Department showed that one in every five Jordanians owns a car.
The number of private cars in the Kingdom has doubled over the past decade, with an annual increase of 8.4 per cent, according to the study.
Jordanians owned 612,330 private cars in 2004, while in 2013 the number exceeded 1.2 million vehicles.
Middle class clients
Qasem Samarneh, owner of car dealerships in the cities of Zarqa and Irbid, said most of his clients are middle class employees, who mostly purchase cars via bank loans.
"The majority of consumers do not have enough cash to buy cars without resorting to banks," he told The Jordan Times, indicating that the prices of the automobiles displayed at his showrooms range between JD9,000 and JD15,000.
Mohammad Farra, a private sector engineer, owns two cars, one for him and the other for his employed wife.
"If there was a good public transportation system, I would not have bought two vehicles," Farra told The Jordan Times, adding that fuel and maintenance costs of the cars are eating away at the household's income.
Related Articles
Dec 14,2014
Jordanians borrowed JD363 million from commercial banks in 2013 to buy cars, according to banks' figures. 
Jun 19,2017
AMMAN — Banks channelled JD261.3 million income tax to the state coffers in 2016 compared with JD280.16 million in 2015, the Association of
Dec 22,2015
AMMAN – The number of Jordanian individuals who borrowed from commercial banks was around 565,000 by the end of last year, according to Adli
Newsletter
Get top stories and blog posts emailed to you each day.