You are here
Be the catalyst for positive change, Princess Basma tells youths
By Rana Husseini - Dec 10,2014 - Last updated at Dec 10,2014
AMMAN — HRH Princess Basma on Wednesday urged young Jordanians to be leaders, never accept that violence against women can provide a solution, and never become either its instigators or its victims.
"I would like to say a few words to young Jordanian men and women, for it is you, the youth of our country, on whom His Majesty King Abdullah, our dynamic leader, is counting, to build a more promising future," Princess Basma said.
"Seize opportunities as they present themselves to you, do not wait to take up the roles that you must play to uphold human dignity, freedom from violence, discrimination and cruelty," the princess added.
She was speaking at the conclusion of the annual international campaign 16 Days of Activism Against Gender-Based Violence, which began on November 25.
Addressing an audience that mainly included young Jordanians at the Palace of Culture, Princess Basma added: "Be the builders of your homes, your communities and your country. Play your part in working for a society that safeguards human rights: From there, the rest is bound to follow."
"Keep your dignity; allow your actions to exemplify a responsible and intelligent sense of commitment. Be the voice of change. Be the catalyst for the change that you seek," the princess, chairperson of the Jordanian National Commission of Women (JNCW), said.
Turning to the 16 days' activities on gender-based violence, Princess Basma touched on the campaign's slogan with its orange signature colour "From Peace in the Home to Peace in the World" saying "it should encourage us to reflect and to ask ourselves how we can sustain the momentum created by the campaign beyond these 16 days."
In order to achieve this, she added, a great deal needs to be done.
"Our stand must remain resolute and strong in the face of serious challenges. Violence against women knows no boundaries of geography, politics, class or religion," the princess, who acted as patron of the event, stressed.
Women are still subjected to all forms of oppression, whether in the public or private sphere, she noted.
Running from November 25 (International Day for the Elimination of Violence Against Women) to December 10 (Human Rights Day), the campaign aims at raising awareness on the recognition of women's rights as basic human rights, while triggering global attention to end discrimination and violations against women.
Also addressing the gathering was JNCW Secretary General Salma Nims, who stressed that there are several laws that reinforce discrimination against women such as Article 308 of the Penal Code.
The provision stipulates that rapists are spared from punishment or legal prosecution if they marry their victims and stay with them for five years.
Activists have been lobbying against the article, calling on the government to scrap it because it is unjust towards rape victims and unacceptable from a religious and social perspective.
Nims said the JNCW decided to involve youths in the debate on Article 308 because "they are the driving force for change."
"I call on you the youth to use your energy and dreams to become ambassadors of justice and peace in your societies and at home," Nims said.
"Do not accept wrongful actions and consider it as the status quo; you are the change that we want to create and you are the dream that we have worked hard to accomplish," Nims told the gathering.
During the two-hour event, dozens of youths performed live or appeared in TV sketches or short documentaries to denounce Article 308.
A group of youths performed a sketch whereby gender roles were switched. Four men narrated the abuse they are subjected to by their wives in a comedy performance.
Three youths, two women and a man, appeared on stage to demand the cancelling of Article 308 because "it is a humiliation to women and allows men to rape their wives on a daily basis."
One young woman said Article 308 contradicts Sharia (Islamic law) because "it forces the woman into a business deal between her family and the rapist by marrying someone she does not want."
"Our legislators claim that they marry the raped women to preserve their honour, but in reality it is the rapists who are without any honour or dignity," shouted the young woman who received rounds of applause from the audience.
A young man took the stage afterwards condoning what his colleague said and asked the Jordanian legislators: "What if more than one man raped a woman, who would end up marrying her? If the rapist is a Christian and he raped a Muslim woman what would happen here? If a father raped his daughter or a man raped his mother or sister what would happen in this situation?"
"We ask you our dear legislators to give us answers. We demand that you cancel this article because it is a humiliation to the women of Jordan," the young man said.
During the closing ceremony, Princess Basma awarded the winners of the poster design competition for the annual international 16 Days of Activism Against Gender-Based Violence, which was announced by JNCW before the start of the campaign.
The campaign, which encompassed a wide array of activities, was organised by JNCW in cooperation with the Shamaa Network to Combat Violence Against Women — which includes several civil society organisations — in partnership with UN Women and other UN agencies in Jordan, and with the support of USAID and the Dutch embassy.
Related Articles
Dec 10,2014
HRH Princess Basma on Wednesday urged the local media to raise the level of debate on the controversial Article 308 of the Penal Code that allows rapists to escape punishment if they marry their victims.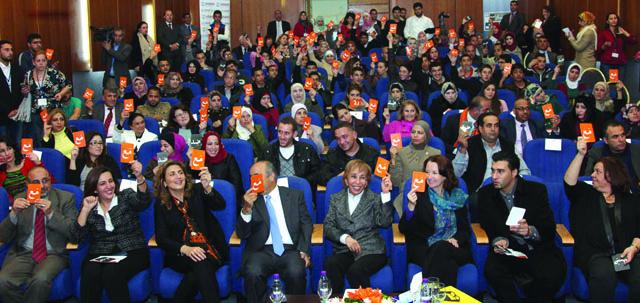 Dec 09,2014
Gender-based violence leads to widespread social violence, which negatively affects the security and safety of the community, HRH Princess Basma said Tuesday.
Nov 26,2014
The Jordanian National Commission for Women (JNCW) on Tuesday announced the launch of its activities for the "16 Days of Activism Against Gender Violence" campaign.
Newsletter
Get top stories and blog posts emailed to you each day.