You are here
Belarusian DJ combines art with music in night of diverse tunes
By Camille Dupire - Nov 18,2017 - Last updated at Nov 19,2017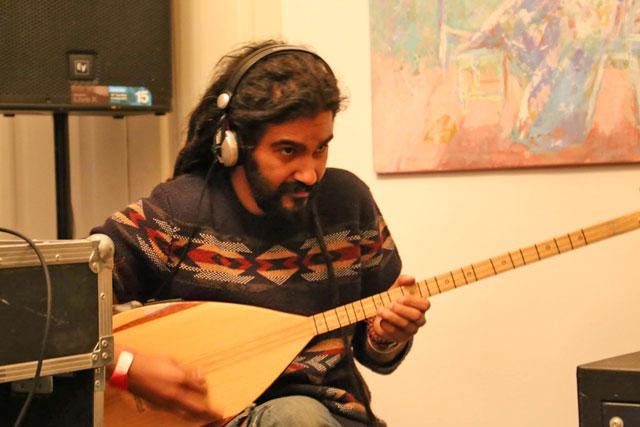 Yazan Sarayrah (Saz) performs at NOFA Creative Space on Friday (Photo by Abood Swaid)
AMMAN — "There are no limits in art," said Ghada Khalil, manager at NOFA Creative Space, where a six-hour long performance took place on Friday, combining music, live shows and art displays.
"This is a new concept of combining art with music," said YuliRa, a Belarusian DJ who came from Moscow to organise the event.
It is the second time the young woman sets up this original project, titled "ArthitectuRa", in honour of the blend of artistic concepts into one place.
"Just like this show, ArthitecuRa combines a lot of different meanings in one word," she told The Jordan Times after the event.
The young artist said she aims to "show the power of cultural collaboration between local artists and European ones through the event".
"I fell in love with Amman. The Arab world is something new to me, and it completely amazed me," she said, noting that "only in Arab countries can I hear those music, witness this kind of original art. This is why I wanted to share the Arab art with the rest of the world."
Starting on Friday afternoon, the sounds of electronic music resonated throughout the night in the century old house located in Jabal Amman, along with live performances of local and international artists.
The evening started out with a performance by Dzeonis, an artist from Belarus living in Moscow, who played live with Amman artist Yazan Sarayrah (Saz).
Palestinian ODDZ from Ramallah and Belarusian Sheva from Minsk went on to offer the audience a taste of various electronic mixes, followed by yuliRA's experimental musical show.
A live performance by local artist GhaemJozi concluded the 6-hour show, giving the public a taste of "Indietronica", a combination of electronic ambient sounds and indie rock music.
Asked why she decided to combine live performances with other art forms including the art exhibition, YuliRa said: "I believe in the power of open collaboration, of open thought. When you set up that kind of collaboration, the atmosphere is different. You show more to people, you present them with all the sensory information at the same time."
"When I first visited NOFA, I saw the artists exhibited and I was struck by their work. This is why I decided to organise my event here," she explained, noting that, although she usually works with light installations to fill the stage with mesmerising colours, NOFA was "captivating enough in itself".
With over 200 people attending and many more on the waiting list, the night was "a great success", according to Khalil.
"The young generation knows these European DJs very well, and it was great to see the mix of influences in one place," she told The Jordan Times.
"People really felt happy because they had one venue which combined all the artistic elements that appealed to them," said YuliRa, noting that they also set up an open space for discussion in the garden.
"There were discussions where people could exchange about what they saw, felt, or heard, they could learn directly from the artists and give their live impressions," she said, noting that the attendees included people from all walks of life who shared their personal interpretations of the event.
"Being able to hear so many different genres at the same time was truly unusual," said Lama, a 26-year-old designer who attended the event. "I don't usually listen to that kind of music and it was a great new experience for me," she added.
Jordanian and Iraqi artists showcased at the event included Dalia Ali, Molet, Mohammed abdel Hadi, Widad Nasser, Nour Abu Joud and Rana Al Saadi.
The Belarusian DJ now plans to hold similar events in Moscow and London next year, while keeping on traveling to "feed herself" with many different influences.
Related Articles
Jul 06,2017
AMMAN — An interactive outdoor event will take place in Amman's Jabal Luweibdeh on Friday, bringing together the local community with member
Sep 01,2016
AMMAN — A trio of Jordanian musicians on Wednesday performed an eclectic programme at Amman's NOFA Creative Space, offering a repertoire spa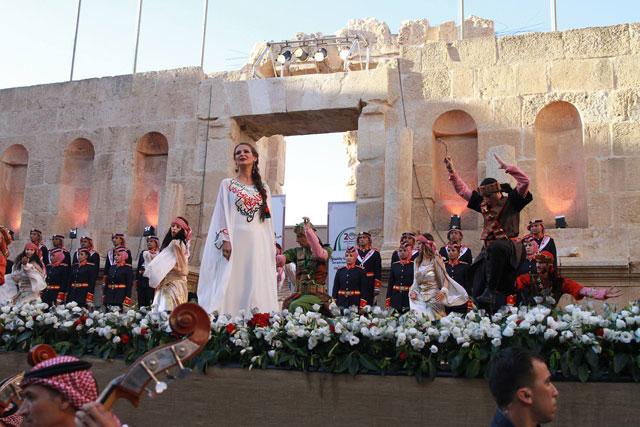 Jul 22,2016
JERASH — At the opening ceremony of the Jerash Festival for Culture and Arts, audiences enjoyed an evening of musical performances and poetr
Newsletter
Get top stories and blog posts emailed to you each day.