You are here
British ambassador calls for building on Jordan's tourism promotion in UK
By Dana Al Emam - Nov 30,2015 - Last updated at Nov 30,2015
A Jordan Tourism Board advertisement promoting Wadi Rum is seen on a London bus (Photo courtesy of JTB Facebook page)
AMMAN — Further innovative UK-targeted campaigns to promote tourism in Jordan can encourage more British tourists to experience the country's "rich" tourist attractions, British Ambassador to Jordan Edward Oakden said Monday.
Speaking at a session on tourism ties with the UK market, the ambassador noted that the Jordan Tourism Board's (JTB) recent campaign targeting the British, German and French markets has been "very successful", as it focused on central public areas and public transport.
Travel writers and active social media campaigns are two "effective" tools to attract British visitors, he said, adding that UK media outlets should ensure a "balanced" view when reporting news about this region.
While regional conditions may contribute to a decline in the performance of the tourism sector, Britons do not have a negative image of Jordan security wise, the ambassador said at the event, organised by the Jordan Inbound Tour Operators Association (JITOA).
Emphasising his country's interest in the prosperity of Jordan's tourism sector, as it enhances the country's resilience, Oakden added that British embassies are required to post "factual statements" on their websites to serve as "travel advice" and provide an accurate picture of the countries they serve in.
Although British tourists usually visit Jordan for religious and archaeological purposes, there is a need to increase the number of tourists visiting resorts in Aqaba and the Dead Sea, he said, citing Jordan as a regional and international hub for medical tourism.
"Jordan can appeal to all age groups," Oakden said, explaining that pensioners seeking quality time and younger individuals seeking adventures find what they are looking for in the Kingdom.
For his part, Tourism Minister Nayef Fayez said further cooperation is required to provide incentive packages for low-cost air carriers, in order to increase and diversify local destinations for tourists.
Describing the UK as a "main traditional market for Jordan's tourism sector", the minister said all stakeholders must collaborate to spread the word on Jordan's safety and eliminate misperceptions that often originate from reporting on regional issues from Amman.
Also speaking at the meeting, Amman Mayor Aqel Biltaji highlighted Jordan's capability to enhance its resiliency against the regional unrest, which caused a 40 per cent drop in the number of tourists visiting Jordan in the first seven months of this year.
He said the sector should build on the popularity of His Majesty King Abdullah in the international arena, as well as the efforts of Her Majesty Queen Rania to promote the real image of Jordan.
Jordanians should look forward to making their country a hub for the reconstruction of the region once political stability prevails, added Biltaji, a former tourism minister, citing emerging businesses and security as major assets for the country.
Foreign embassies can help the tourism sector by revising and softening the wording on their travel alerts, to help minimise the negative effect created by the media, JITOA Chairman Ghada Najjar said.
Stakeholders must also address other challenges facing the sector, such as bringing new airlines to Jordan, which will decrease the travel cost from various destinations, she added.
Najjar also called for using social media as a "very effective" tool in reaching a greater number of people.
"We should understand the quickly evolving travel trends, and adjust our strategies and programmes to be able to fit within the many competitive destinations worldwide."
Related Articles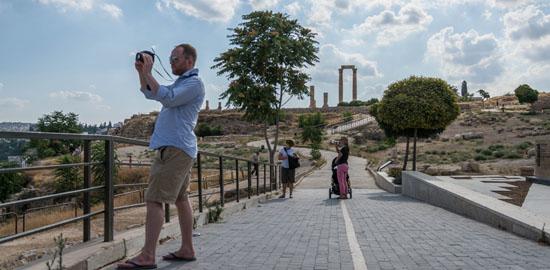 Aug 31,2015
AMMAN — The government's recent measures to support the tourism sector will help build an environment that can "stimulate and foster" Jordan
Oct 06,2016
AMMAN — Partnerships between public and private tourism institutions in setting and implementing clear plans are key to boosting the sector'
Dec 23,2015
AMMAN — The government supports the tourism sector to enable it to overcome the negative impact of regional conditions, Tourism Minister Nay
Newsletter
Get top stories and blog posts emailed to you each day.