You are here
Cabinet gives green light to executive plan for comprehensive health insurance
By JT - Feb 18,2020 - Last updated at Feb 18,2020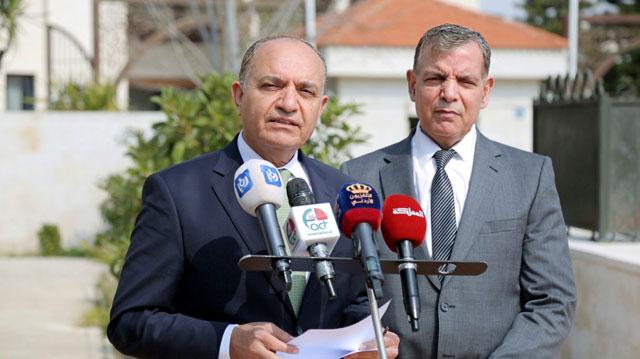 Minister of State for Media Affairs Amjad Adaileh (left) and Health Minister Saad Jaber hold a media briefing on decisions made during the Cabinet session on Tuesday (Petra photo)
AMMAN — The Council of Ministers has approved the executive plan for comprehensive health insurance, Health Minister Saad Jaber said on Tuesday.
During a media briefing following a Cabinet session earlier in the day, Jaber said that the plan will be implemented gradually, expecting that all citizens in the Kingdom will have health insurance by 2024, the Jordan News Agency, Petra, reported.
However, some items in the health insurance by-law must be amended to allow non-subscribers to benefit from health insurance, he said.
After amending relevant laws, every citizen whose monthly income is less than JD300 will be fully covered by health insurance, the minister noted, adding that studies will be implemented in cooperation with the Ministry of Social Development and the National Aid Fund.
Those whose monthly salaries range between JD300 and JD1,000 will receive government subsidies on insurance premiums ranging from 30 to 90 per cent according to their incomes, Jaber said, adding that those with monthly salaries exceeding JD1,000 will be required to pay the premiums.
Also during the briefing, Minister of State for Media Affairs Amjad Adaileh said that the Council of Ministers highlighted the importance of activating legal texts in the income tax and general sales tax laws to alleviate pressure on taxpayers and solve problems related to precautionary attachment.
According to Adaileh, the value of precautionary attachment will equal double the tax value, fines and other amounts in case the attachment is imposed on non-financial assets.
The attachment will equal 100 per cent of financial claims, the minister added.
According to Adaileh, the Cabinet also approved a memorandum of understanding in the ICT sector and a health cooperation protocol with Palestine during its session.
up
9 users have voted, including you.
Newsletter
Get top stories and blog posts emailed to you each day.