You are here
A call for renewed collective commitment to end worst forms of child labour by 2025 
By JT - Jun 13,2021 - Last updated at Jun 13,2021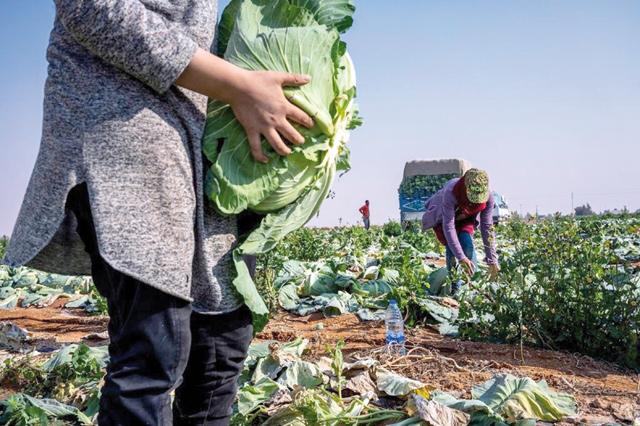 A global report by UNICEF and ILO showed that nine million additional children are at risk of being pushed into child labour by the end of 2022 as a result of the pandemic (Photo courtesy of UNICEF)
AMMAN — On the World Day Against Child Labour, UNICEF, International Labour Organisation (ILO), Food and Agriculture Organisation (FAO) and Save the Children call for renewed collective commitment to ending worst forms of child labour in Jordan by 2025.
A global report by UNICEF and ILO showed that nine million additional children are at risk of being pushed into child labour by the end of 2022 as a result of the pandemic, according to a UNICEF statement sent to The Jordan Times.
A simulation model shows this number could rise to 46 million if they don't have access to critical social protection coverage.
"2021 has been declared as the International Year for the Elimination of Child Labour. In Jordan, we will continue to work closely with our partners to find durable solutions that support children and members of their families, who are in or at risk of child labour, to ensure they are given the chance they deserve to better education, protection and future. In recent years, ILO and UNICEF have strengthened coordination at the field-level, particularly in the agriculture sector, where a considerable number of Jordanian and Syrian child labourers are found," said Frida Khan, Country Coordinator, ILO Jordan.
The report points to a significant global rise in the number of children aged five to 17 years in hazardous work, that is likely to harm their health, safety or morals, has risen by 6.5 million to 79 million since 2016.
"The consequences of worse forms of child labour are shocking. It undermines children's physical, mental and psychosocial well-being, and jeopardises their lives and their futures," said Tanya Chapuisat, UNICEF Jordan representative.
"Worldwide, the majority of child labour is found in the agriculture sector [71 per cent]. Today, 108 million boys and girls are engaged in child labour in crop production, livestock, forestry, fisheries or aquaculture, often working long hours and facing occupational hazards. It violates the rights of children by endangering the health and education of the young, it also forms an obstacle to sustainable agriculture development and food security. To remedy this, FAO works to address its root causes, such as rural poverty and lack of social protection," said Nabil Assaf, FAO Jordan representative.
In Jordan and as the COVID-19 pandemic further exacerbated the child labour phenomena, UNICEF and Save the Children will jointly implement the "Work: No Child's Business' programme. The programme aims to protect every child and youth in Jordan from worse forms of child labour and enjoy their rights to quality education and future decent work.
"UNICEF Jordan remains committed to working with the government of Jordan and partners to eliminate child labour by embedding area-based interventions in broader social protection, education, justice and labour market policies and programmes," added Chapuisat.
The "Work: No Child's Business" programme addresses the root causes of child labour and its pervasive impact on children, youth, their families and communities. The programme adopts an area-based approach, targeting children up to the age of 18 years old, getting them out of child labour and integrating them back into school. It also creates a protective environment for children, with increased access to social services.
"Save The Children Jordan believes that every child has the right to thrive and develop to their fullest potential. Through "Work: No Child Business" we address the complexity of a children's work through a holistic and integrated approach this approach combines our expertise in child protection, economic strengthening social protection and in health and education to create opportunities for children to become healthy educated and empowered citizens" said Diala Al Khamra, chief executive officer, Save the Children Jordan.
The support to this "Work: No Child's Business" programme is part of the government of the Netherlands' commitment to invest in combating child labour. This programme contributes to Sustainable Development Goal 8.7, to end all forms of child labour by end of 2025, the statement said.
Newsletter
Get top stories and blog posts emailed to you each day.