You are here
Canadian scholar highlights Nasrallah's contributions to Palestinian national identity
By Saeb Rawashdeh - Nov 20,2015 - Last updated at Nov 20,2015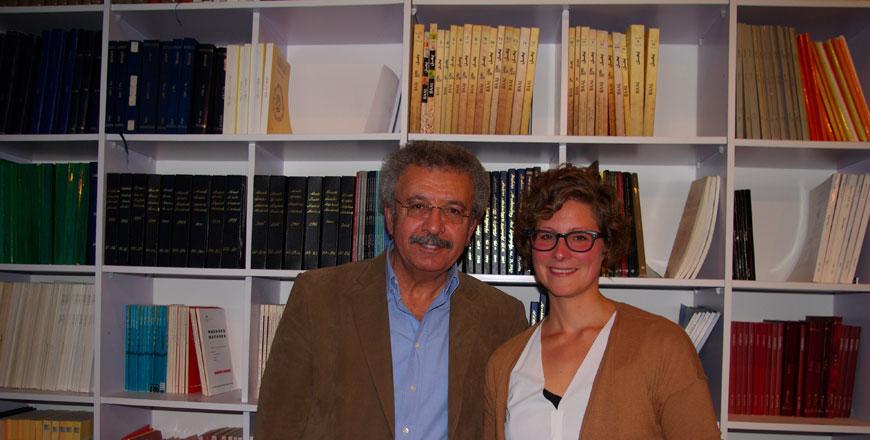 Canadian scholar Nora Parr (right) with Jordanian-Palestinian writer Ibrahim Nasrallah earlier this week (Photo courtesy of French Institute)
AMMAN —"I have lived in your imagination for the past four years," Canadian scholar Nora Parr told Jordanian-Palestinian writer Ibrahim Nasrallah as she began a lecture based on his works at the French Institute (IFPO) this week.
The 61-year-old Wihdat-born poet and novelist was the main subject of Parr's lecture on contemporary Palestinian literature, titled "Nation Constellation: Novel imaginings of Palestinian community in the works of Ibrahim Nasrallah".
The research fellow at the Council for British Research in the Levant (CBRL), used the author's works as an avenue through which to rethink the idea of a national community during her lecture, which formed part of a joint CBRL-IFPO "Insight Series" on "Perspectives on the Modern and Contemporary Arab World".
The researcher focused on two series of novels published by Nasrallah between 1991 and 2015: "The Palestinian Comedies" (eight novels) and "Balconies" (now amounting to four novels).
"The Palestinian Comedies" covers 250 years of Palestinian history, from the early Ottoman period to Intifada-era Gaza, and spans as far as the Gulf and the camps in Lebanon, Parr explained.
"If the early modern European novel offers a 'precise analogue' of the European nation-state," she said in her lecture, "then the question driving this project is, what is the precise analogue that can be drawn from contemporary Palestinian fiction?"
The academic suggested it was time to rethink the model of the nation-state, understood as a "bounded and sovereign" entity, and to look to the Palestinian experience as an alternative that might help spur a change in calcified thinking.
"The contemporary Palestinian nation must somehow be simultaneously imagined with its roots in the geographical area around which the British mandate over Palestine drew its borders, and include the multiple locations of de facto 'home' that span the globe," she said.
According to Parr, Nasrallah's works imagine a concept of a nation "that is flexible, open-ended and which makes room for multiply-located, complex and non-linear realities of the Palestinian people", and which showcases not only "places and people" but also "structures of power".
The academic, who has worked as a managing editor of the Middle Eastern Literature journal, recently finished her PhD thesis at the School of Oriental and African Studies, University of London, where she taught modern Palestinian and Arabic literature.
Related Articles
May 19,2016
AMMAN — Not so long ago it was common to hear that "the golden age" of Palestinian literature ended with Mahmoud Darwish, said Nora Parr, a
May 22,2017
AMMAN — The Council for British Research in the Levant (CBRL), also known as The British Institute in Amman, inspires and supports high-qual
Feb 15,2014
Only three Chinese novels were translated into English in 2012, while Arabs translated 30 of their fictional works into what is widely regarded as the world's "universal language", a scholar and translator has said.
Newsletter
Get top stories and blog posts emailed to you each day.