You are here
'Changing approach to job generation imperative'
By Omar Obeidat - Aug 23,2016 - Last updated at Aug 23,2016
AMMAN – Policymakers must look at other options for generating jobs as economic growth rates forecast for the medium term would not be enough to absorb more labour, a top government official and experts agreed.
In separate interviews with The Jordan Times Sunday, they stressed on the need to implement solutions to address rising unemployment as the "diagnosis for the challenges has been made."
Deputy Prime Minister for Economic Affairs Jawad Anani said Jordan's economy grew at a range of 3 per cent over the past five years but had a slight impact on the livelihood of Jordanians because population growth was faster as it reached around 7 per cent due to refugee influx from unstable neighbouring countries.
Anani, who is also minister of industry, trade and supply, said he was optimistic that economic performance would pick up in the medium and long terms with the 10-year vision for economic and social development, Jordan 2025, which puts growth rate at 6.5 per cent in 2021 and 7.5 per cent in 2025. Unemployment rate is envisioned to stand at only 8 per cent in 2025, while it is currently estimated at 14.6 per cent.
"We are in the first phase of 2016-2018 of implementing the goals of the blueprint," he added, indicating that the government is working to implement a new approach in dealing with economic challenges that would focus on investment and self-employment.
"Available financial resources are not sufficient to stimulate high growth rates. We need to implement a solution as diagnosis has been done," he said.
According to Anani, Jordanians are depositing and investing hundreds of millions of dinars abroad, and the government is working on redirecting such investments to Jordan.
In regards to self-employment, he said the government is preparing new measures to boost entrepreneurship across the Kingdom by promoting financing tools to unemployed young people in addition to providing them with technical assistance on how to build a sustainable and profitable business.
"We need to help beneficiaries by educating them on how to deal with banks and how to manage the business and market products," he noted.
Informal economy
Anani said sound government measures tackling employment should show results in the short and medium term as many people escape to the informal economy.
But economists Omar Razzaz, who is chairman of the Jordan Strategy Forum, said the informal economy, known also as grey economy, could hold an opportunity for growth and reducing unemployment.
"It could be an important sector that could create jobs," Razzaz said, adding restrictions on work from home and other professions should be removed and that policymakers should work on supporting several professions in this segment of the economy to grow and move from informal to small businesses.
"You can find women make their living from cooking at home and marketing the meals," he said, adding there are other businesses such as IT and home tutoring that can generate income away from conventional jobs.
If tapped well, the informal economy, he said, can be seen as a training ground for skills development and will ultimately enable workers or entrepreneurs to enter the formal economy at a later stage.
Razzaz said that Jordan needs to achieve at least 7 per cent growth rate to be able to absorb larger numbers of labour force, a rate unlikely to be reached in the coming years due to regional instability.
He said that replacing guest workers with Jordanians is not a tough mission if Jordanians find decent work benefits and social security.
Around 120,000 Jordanians qualify to enter the labour market annually, only 40,000 of whom are absorbed by the market, while nearly double this figure of guest workers find jobs easily.
Razzaz said Jordan needs to attract large investments in strategic job-generating sectors such as infrastructure, energy and industries and services that export their goods to regional and international markets.
"Jordanians would accept to replace guest workers if the social infrastructure is available in terms of social security, transportation and crèches for working women," he added.
Another suggestion made by Razzaz was to gradually wean the private sector from depending on guest workers, particularly in the sectors of agriculture and construction.
Ahmad Awad, director of the Phenix Centre for Economic and Informatics Studies, said it is time to invest in large schemes in order to properly create jobs, recommending the sector of agriculture, renewable energy and process manufacturing.
"You may spend JD100 million on an IT project to employ 20 people, but a JD20-million investment in a manufacturing project may create jobs for 100 people," he said.
Between 2004 and 2008, Awad said, Jordan's economy grew at 7-8 per cent and unemployment remained relatively high because growth came from the banking and real estate sectors.
Related Articles
Feb 15,2017
AMMAN — The social and economic repercussions of hosting refugees in Jordan requires all stakeholders to enhance cooperation in addressing c
Jun 01,2015
AMMAN — Despite the spillover of regional chaos, including the Syrian refugee crisis, the Egypt gas disruption, and security threats, Jordan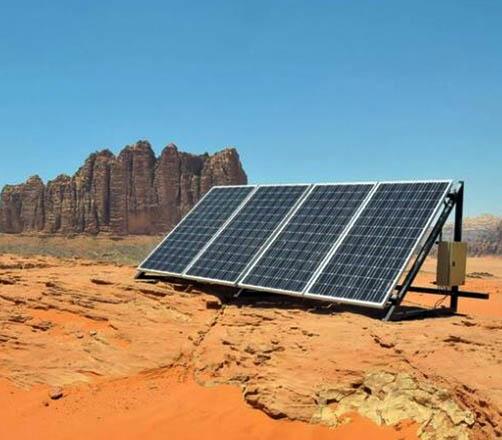 Jun 20,2017
AMMAN — Jordan has embarked on a package of measures to encourage "green growth in the environment" aimed at benefiting from local energies
Newsletter
Get top stories and blog posts emailed to you each day.