You are here
Citizen and state: forces of change in the Arab world
By Saeb Rawashdeh - May 31,2018 - Last updated at May 31,2018
Egyptian scholar Tarek Osman talks about political and economic trends within the Arab World recently (Photo courtesy of Columbia Global Centres)
AMMAN — The Arab world today is marked by a sense of disillusionment felt by young Arabs and evidenced by record-low turnout during elections, explained Tarek Osman in his talk "The Two Futures of the Arab World".
The presentation by the Egyptian author, essayist and broadcaster was held recently at Columbia Global Centres in Amman.
"I personally think that the politics of the Arab world in the next five to ten years [at least] will not improve much," Osman stressed.
According to the author of the book "Islamism: A History of Political Islam", Arabs failed in the last decades to create an efficient political system while "the system which appeared after the fall of the Ottomans — the political order of the last 100 years — has collapsed", meaning it will take significant time to devise a replacement for that social order.
"Right now in North Africa, there are several attempts to evolve the social contract; we do see economic and political reforms in Egypt and Morocco," he elaborated, adding, "We are starting to see some economic reforms in Algeria. [But] I don't see that the fundamental issue is about fuel subsidies, or electricity prices."
Instead, he argued, the fundamental problem facing those nations lies in changing the relationship between citizens and state.
For example, transformations in Saudi Arabia and the UAE that may represent this "new social contract" are under way, Osman said.
Another issue that remains intertwined with the role of the citizen is represented by the force of religion (both Islam and Christianity) in the Arab world, according to Osman.
Osman, who is also the senior political counsellor for the Arab world at the European Bank for Reconstruction and Development, believes that political and economic changes will be articulated by non-traditional actors that conflict with the traditional top-down model of Arab world politics.
"The region will witness lots of challenges in top-down dimensions, and the catalyst of the change will not come from politics and traditional solutions, but [from] businesses that are not politically connected with the economy of the country," he noted.
According to the political scientist, the merger between business and social entrepreneurship illustrates a significant trend witnessed in the last decade.
"Some charitable activities which started ten years ago to help vulnerable segments of society and communities in need grew bit by bit into philanthropic businesses revolving around the idea 'Don't feed me with wish but teach me how to fish'," he underlined.
Another character of the bottom-up trend for social change is exemplified by artists: "We have seen a lot of artistic movements in the last ten years that tried to build industries around museums, which started as small initiatives but built communities around these ideas that are commercially viable", Osman explained.
Despite the survival of the traditional top-down politics that mark the Arab world, philanthropic societies and artistic projects will gain importance and grow economically, he predicted.
"There is a speculation that at one point in time these businesses — independent from the state — will become politically articulated and these 'green shoots' [a term used to describe signs of economic recovery during an economic downturn] will try to represent themselves by entering into the political arena," Osman concluded.
Related Articles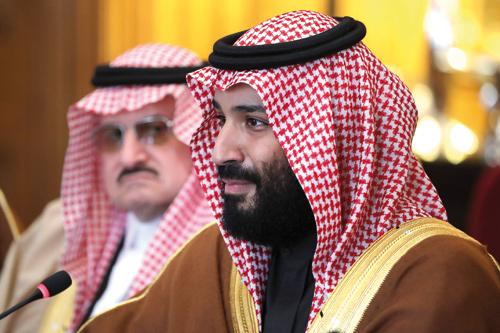 Mar 15,2018
WASHINGTON — Saudi Crown Prince Mohammed Bin Salman has said if Iran develops a nuclear weapon, Riyadh will follow suit — just days before h
Sep 27,2015
UNITED NATIONS – As world leaders brandish a hard-fought new set of global goals designed to improve lives in all countries, the question of
Aug 24,2016
AMMAN — Journalists in the Arab world need to be more courageous in exposing terrorism and radical groups as well as those who stand behind
Newsletter
Get top stories and blog posts emailed to you each day.