You are here
Civil society activists endorse recommendations to ensure women empowerment
By Rana Husseini - May 11,2016 - Last updated at May 11,2016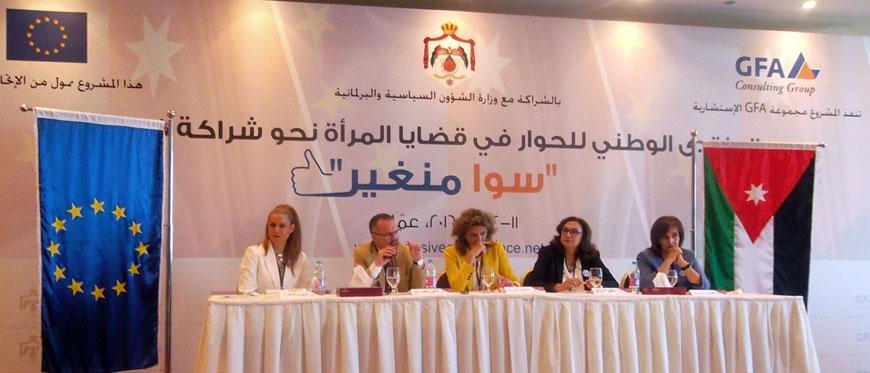 Activists attend a meeting at the Dead Sea on Wednesday to come up with recommendations to promote women empowerment in Jordan (Petra photo)
DEAD SEA — Women groups and civil society representatives gathered on Wednesday to prepare a list of priorities and demands to present to government officials for adoption.
The participants agreed on several recommendations that would enhance women's participation in the labour market, and their political empowerment and social protection, in addition to ensuring educational reform.
Their recommendations, approved during a two-day conference at the Dead Sea, will be presented on Thursday to senior government officials for discussion and adoption.
Titled "Support to Civil Society, Dialogue and Participation in Jordan", the meeting was supported by the EU and held in cooperation with the Ministry of Political and Parliamentary Affairs, and the Jordanian National Commission for Women (JNCW).
The recommendations focus on amending school textbooks, which the activists say have a male-oriented tone, do not encourage creativity and critical thinking, and are filled with religion-inspired examples that are meant to terrify students.
They also called for training and rehabilitating teachers.
Moreover, the recommendations suggest separating religion from politics "because religion is used in a wrong way to hinder women's progress in society".
The participants called for reviewing all economy-related laws to encourage the private sector to become "a more friendly environment for women and to boost their participation in the labour market."
Turning to social protection, the participants said the government should assume a more visible role by providing better services and guidance to abused women and children "and not depend on civil society to take on this responsibility".
The activists also called for introducing clearer laws "that would protect sexual harassment victims and reinforce the Family Protection Law that was passed nine years ago, but was never implemented by Jordanian courts, the judiciary or the police."
Moreover, they touched on the 2030 Sustainable Development Goals, adopted by UN member states, and what should be done to integrate gender in the government's policies.
They stressed the need to add the word gender to Article 6 of the Constitution to ban any discrimination on that basis. In its current form, the provision bans discrimination on the basis of language, religion, and race.
The exclusion of the word "gender", activists say, means that Jordanian women cannot file lawsuits at the projected constitutional court to demand their full citizenship rights.
The Dead Sea meeting is within a project to empower civil society and the women's movement in Jordan to be part of the decision making process, Suheir Azzouni, one of several gender experts who organised the event, said.
"We hope that decision makers would support the women's movement's visions and demands and include it in the Jordanian national strategy to better empower women so that we can reach equality among citizens," Azzouni told The Jordan Times.
During a panel discussion earlier in the day, activist and academic Wafa Alkhadra discussed a study on school textbooks from kindergarten to grade six, saying they were found to be "male-oriented in content and dialect".
"The heroes, the scientists and the inventors are all men. Women are absent in these fields and excluded from any positive historical models in the textbooks examined in the study," Alkhadra told the gathering.
JNCW Secretary General Salma Nims said the meeting is an important opportunity to "achieve more sustainable development and encourage decision makers to support our demands".
"Our problem is not the women's movement but the civil society that is not united. We cannot convince the government to address our demands if we are not united or do not have sufficient support groups that would lobby for our demands," Nims said.
She stressed that the women's movement should combine efforts to work on a unified goal that will be convincing and applicable.
Ahmed Jazouli, the team leader of the EU's Support to Parliament and Civil Society Organisations project in Jordan, who is from Morocco, gave an overview of the changes that occurred in his country regarding women's rights in recent years.
One of the most important changes, according to Jazouli, was amending the constitution to stipulate that both men and women are equal in all fields and to establish a committee to combat all forms of discrimination.
Another important achievement, he added, was amending the "family personal code" to raise the legal age of marriage to 18 for men and women and impose strict rules on men wishing to take more than one wife.
"We had to work hard to make these gains because there were always movements that were pushing women back and trying to keep them at home, [in addition to] some women who were against women's rights, and I consider this a dangerous phenomenon," Jazouli told the gathering.
Related Articles
May 12,2016
DEAD SEA — Women groups and government officials on Thursday discussed a list of priorities and demands by rights activists and civil societ
Mar 24,2016
AMMAN — Participants in a study on the Euro-Med Ministerial Conclusions on Strengthening the Role of Women in Society and its impact on Jord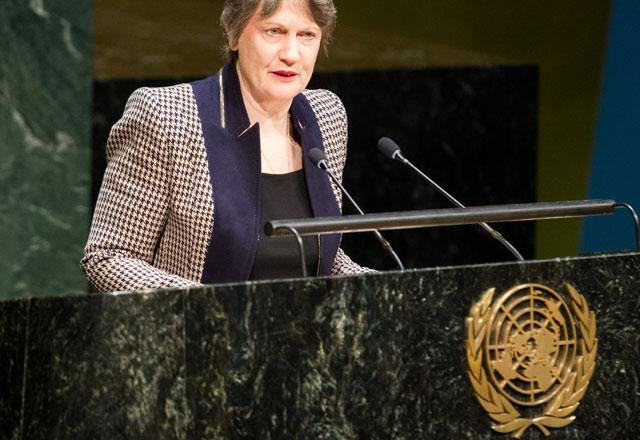 Apr 01,2015
The Jordanian National Commission for Women (JNCW) on Wednesday reiterated its commitment to lobbying for women's rights in cooperation with civil society.
Newsletter
Get top stories and blog posts emailed to you each day.