You are here
Clean-up drive to begin around Kingdom Saturday
By Hana Namrouqa - Apr 07,2017 - Last updated at Apr 07,2017
An Environment Ministry poster for the clean-up campaign reads: 'I will participate on the 8th of April. And you?'
AMMAN — Thousands of people are expected to participate in Jordan's biggest clean-up action on Saturday, which will target over 60 public and touristic locations, Minister of Environment Yaseen Khayyat announced on Thursday.
The national clean-up day, organised by the Ministry of Environment, is mobilising ministries, civil society institutions, sports clubs, cooperatives and environmental NGOs in every part of the Kingdom, Khayyat said.
"Saturday's clean-up campaign is unprecedented; it will be the largest ever. It seeks to end this alien, prevailing state of carelessness towards the cleanliness of the surroundings. It also aims to turn every citizen into a guardian that protects our forests, parks, streets, markets, universities and schools from litter," Khayyat told The Jordan Times.
The Cabinet approved the national clean-up campaign recently, the minister explained, saying a "great turnout" is expected.
"We expect that 20,000-30,000 will show up on Saturday. Residents of every governorate will clean-up their city's public locations," Khayyat noted.
Some 2,000 people are expected to converge on Amman's sports city forest, while another 2,000 people are heading to Dibbeen forest to clear it of waste, according to the ministry.
The ministry's spokesperson Issa Shboul said that a centre has been set up in Dibbeen forest for the press, especially social media journalists.
"We don't want the campaign to be a one-day event that happens and then everyone forgets about it. We want it to be a platform from which messages about the protection of our environment will be launched," Shboul told The Jordan Times.
Dubbed "Our Environment is our Life", the campaign will target all of the governorates; parks, main streets, touristic sites, forests and nature reserves.
The ministry launched a similar campaign on a smaller scale, in August last year, when municipalities, civil society organisations and schools cleaned up public areas and raised environmental awareness.
Forests are a major attraction for visitors during summer, particularly on weekends, which results in rubbish piling up at the sites and occasional fires being started due to the improper and negligent use of barbeques, according to the Ministry of Agriculture.
Related Articles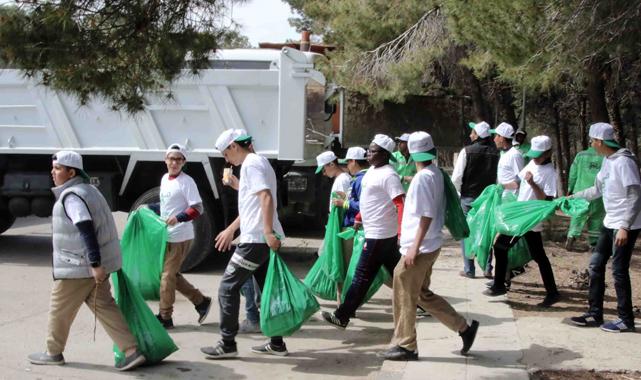 Apr 09,2017
AMMAN – The Kingdom on Saturday witnessed the largest ever clean-up campaign targeting dozens of public and tourist sites across the country
Mar 30,2017
AMMAN — Sixty locations across the Kingdom will be cleaned up next week in a one-day national campaign to remove litter, a government offici
Apr 02,2018
AMMAN — The Ministry of Environment has announced plans to turn the Kingdom's largest ever clean-up campaign into an annual effort to rid pa
Newsletter
Get top stories and blog posts emailed to you each day.