You are here
'Climate change impact on Jordan an opportunity in disguise'
By Dana Al Emam - Jun 02,2016 - Last updated at Jun 02,2016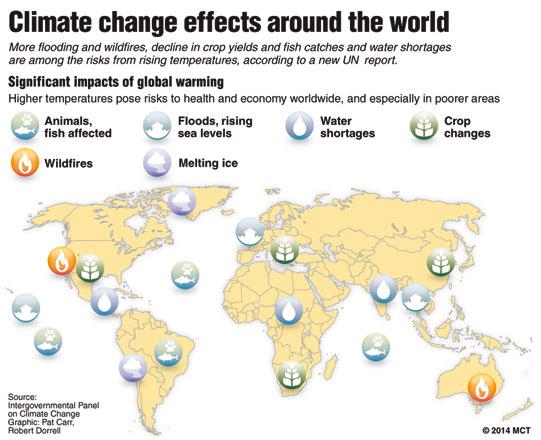 AMMAN — Dealing with the impact of climate change on Jordan offers opportunities for further investments in green economy, according to experts.
Raouf Dabbas, senior adviser to the minister of environment, said Jordan has the option of proposing projects that build a green economy based on the capacities of fresh graduates, while the other option would be doing nothing to mitigate the impact of climate change.
"It is for the benefit of Jordan to enter the battle of green economy," he said on Wednesday at a conference on climate change, citing the fields of water, energy, waste management, agriculture, tourism and transportation as the ones directly affecting and affected by the climate change.
Already a victim to the climate change, Jordan will witness a 15-60 per cent decrease in precipitation and a 1-4°C increase in temperatures, which will in turn have serious potential impacts on its natural ecosystems, river basins, watersheds and bio-diversity, as the 2013-2020 Jordan Climate Change Policy has suggested.
Climate change over the past two decades has also caused a drastic drop in rainfall and prolonged dry spells in the Kingdom, according to a study issued by the Water Ministry.
Dabbas gave an example on the industry of water-saving devices as well as electric cars and their charging stations as promising sectors for investment projects.
While the Ghabawi Landfill is the only landfill with lining, the remaining 23 landfills lack an isolation layer, according to the conservationist, who added that the recycling field could also provide a large number of job opportunities.
Furthermore, cultivating plants with resistance to dehydration and setting up environmental tourism projects are two other possible fields, he added.
He noted that green businesses can be small- and medium-sized enterprises, adding that the ministry is setting up a green investment bureau that will help small businesses access finance.
Speaking at the conference, Anders Levermann, from the Potsdam Institute for Climate Change Impact Research in Germany, said the planet will sooner or later depend on renewable energy, but it is only a matter of time.
"The world is becoming more vulnerable to climate change," he said, highlighting the issue as a global one affecting countries' imports and exports, which means that it will impact on countries even if they were far from the most affected areas.
With over 190 countries agreeing in the 2015 Paris Climate Change Conference to reduce carbon dioxide emissions to keep global warming below 2°C, there is a "huge" business opportunity for low-tech devices and inventions that can help in achieving this aim, Levermann added.
The conference marked the conclusion of a three-day training course for journalists on the coverage of climate change issues that was held by the German embassy in Amman, Deutche Welle and the German Development Cooperation.
Related Articles
Aug 04,2015
WASHINGTON — President Barack Obama framed climate change as the toughest and most pressing challenge of our time Monday, as he unveiled the
Jan 14,2016
BARCELONA — The erosion of wealth among the world's middle class due to climate change is a threat to economic and social stability which co
Jun 02,2016
AMMAN — Further partnerships between conservationists and journalists are needed to increase environmental awareness among the public, parti
Newsletter
Get top stories and blog posts emailed to you each day.