You are here
Closing ceremony held for EU-funded project to support livelihoods in Mafraq
By JT - May 28,2021 - Last updated at May 28,2021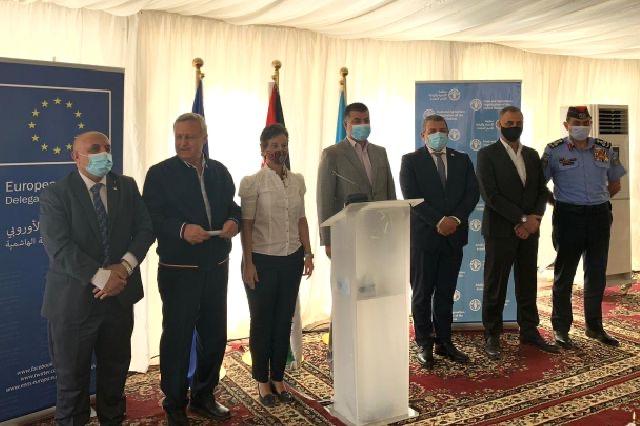 AMMAN — The Food and Agriculture Organisation of the United Nations (FAO) hosted a closing ceremony to celebrate the conclusion of the EU-funded project supporting livelihoods in Mafraq Governorate, particularly in the Zaatari refugee camp, with a focus on environmental best practices in solid waste management and waste water management.
Launched in Mafraq Governorate in January 2016 and implemented in collaboration with the Ministry of Agriculture, the project pursues an innovative livelihood improvement aid delivery through a waste-energy-environment platform, according to a FAO statement.
Moreover, it enhances the Humanitarian-Development nexus in the Zaatari refugee camp.
Minister of Agriculture Khaled Hunaifat, EU Ambassador to Jordan Maria Hadjitheodosiou, Minister of Water and Irrigation Mohammad Al Najjar, Minister of Environment Nabil Masarweh, FAO Representative in Jordan Nabil Assaf and a group of high-level partners and stakeholders attended the event.
Hadjitheodosiou noted that "this project has demonstrated the importance of combining national development needs with refugees' needs. We should build on the success of projects like this that can serve as examples of developing exit strategies and opportunities, from pilot projects addressing refugee and local community needs, to comprehensive national projects that can meet the ambitions and expectations of all communities across Jordan."
"This project aims to promote an economic growth of the local economy of Mafraq Governorate and particularly of Zaatari municipality and Zaatari Syrian Refugee Camp through an innovative intervention that stimulates decent green-jobs creation in an environmentally sustainable manner," said Assaf.
Meanwhile, Masarweh said: "This project is in line with the national efforts for the transition into green economy, as it addresses an environmental hot issue and converts it from a challenge into an opportunity for more sustainable agriculture and water sectors in an Environment-Water-Agriculture/Food-Waste nexus".
"The pandemic has constituted a social and economic shock to all countries of the world in general, and to Jordan in particular. The agricultural sector is facing many challenges, the most important of which are water scarcity, climate change and population growth resulting from successive waves of refugees, high demand for food and malnutrition," said Hunaifat.
The project supported the creation of green-jobs through the generation of renewable energy and production of compost from waste in a refugee camp environment, read the statement.
It has enhanced the economic growth of the local economy in the Mafraq Governorate through private sector enterprise development, improved livelihoods and promotion of environmental sustainability and green jobs opportunities.
The optimisation of residue use from treated wastewater and organic solids allows for the generation of renewable energy and compost and, simultaneously, provides opportunities for at least 60 vulnerable households that can secure a regular income from the biogas, solid waste separation and the compost plants.
In conjunction with the National Energy Research Centre (NERC), which is a local research institution that is part of the Royal Scientific Society (RSS), and which provided technical supervision, the project completed the installation of the pilot-biogas based electricity generation unit in the Zaatari camp, read the statement.
Under this component, 25 young Jordanian engineers received training on this technology.
FAO has also designed a full-scale plant where liquid and wet waste are co-digested to produce biogas. The EU has already committed the funds for the establishment of this facility, which will be built and used to produce electricity to subsidise profoundly needed energy along the waste value chain.
FAO introduced a COVID-19 response activity aiming at increasing the resilience of the project beneficiaries through a group savings and loans mechanism.
Jordan is one of most heavily affected countries by the Syrian crisis.
It is estimated that more than three million tonnes of waste, of which half is organic, are generated annually in Jordan. This has also increased proportionately with the inflow of refugees. Addressing the Syrian refugee crisis requires a comprehensive approach that not only focuses on humanitarian elements, but also the environmental dimensions, concluded the statement.
Newsletter
Get top stories and blog posts emailed to you each day.