You are here
Coalition of organisations planned to create enabling environment for young people
By Laila Azzeh - Mar 29,2016 - Last updated at Mar 29,2016
AMMAN — Work is under way to group organisations working with young people in a national coalition, creating a collective environment that actively serves youths.
The coalition will be initiated by the Jordanian Hashemite Fund for Human Development (JOHUD) in cooperation with UNESCO and the support of the EU.
"The global trend for donors and UN agencies now is to support projects of institutions working through a coalition on joint ventures," said Dareen Abu Lail, who is in charge of UNESCO youth programmes in Jordan.
At a press conference on Tuesday to announce the establishment of the coalition, she noted that UNESCO will build the capacity of organisations that are part of the alliance.
The main aim is to "create an enabling environment in which young men and women can develop their competencies, exercise their rights and meaningfully engage their communities as active citizens", according to the organisers.
Official figures show that there are 5,251 youth organisations operating in Jordan.
"The efforts are scattered, and while it is a good thing to have this huge number of institutions working with youths, there is a need to create a body that unites their efforts to better serve youngsters," said Mohammad Omoush, JOHUD deputy director for youth leaders and innovation.
He noted that the coalition will include 60 institutions that represent all 12 governorates.
"The entities will be selected according to their performance and programmes, and they will be announced in June," he added.
The organisations will be reached through JOHUD community development centres that exist across Jordan, while the coalition will include an ad hoc committee consisting of member of NGOs, universities and government institutions.
"The committee will be in charge of organising the work of the coalition," highlighted Omoush.
The alliance is being established under the framework of the EU-funded Networks of Mediterranean Youth Programme.
Related Articles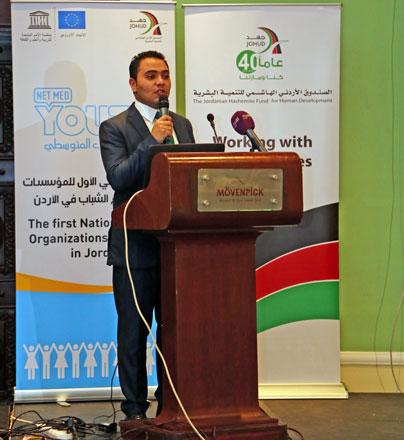 Sep 30,2017
AMMAN — The Jordanian Hashemite Fund for Human Development (JOHUD) has established the first National Youth Organisations Coalition in partn
Feb 27,2017
AMMAN — The Jordanian Hashemite Fund for Human Development (JOHUD), Princess Basma Youth Resource Centre and the Talal Abu Ghazaleh Organisa
Feb 22,2017
AMMAN — The Jordanian Hashemite Fund for Human Development (JOHUD), in partnership with UNESCO in Amman, on Wednesday started a consultative
Newsletter
Get top stories and blog posts emailed to you each day.