You are here
Compensations of JD3m for downtown flooding damages
Deal between GAM, ACC sets mechanism for reimbursing 229 victims based on damage value
By Bahaa Al Deen Al Nawas - Aug 17,2019 - Last updated at Aug 17,2019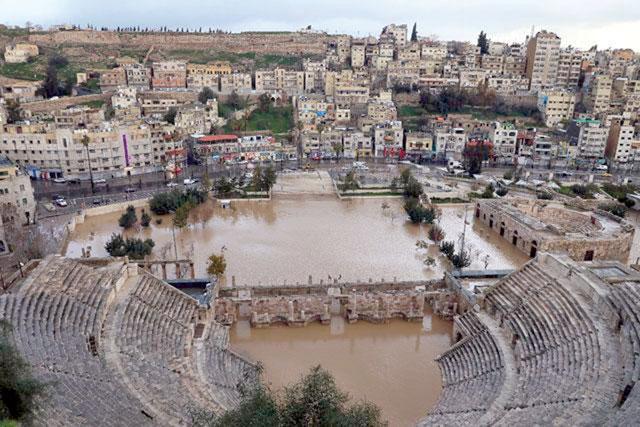 In this photo taken on February 27, the Roman Theatre in Amman can be seen after heavy rainfall flooded parts of the city (JT file photo)
AMMAN — The Greater Amman Municipality (GAM) and the Amman Chamber of Commerce (ACC) will reimburse traders who incurred damages due to heavy rainfall that flooded the shops of downtown Amman last winter with JD3 million, GAM and ACC announced on Saturday.
During a press conference held on Saturday by Minister of Industry, Trade and Supply Tareq Hammouri, Amman Mayor Yousef Shawarbeh and ACC President Khalil Hajj Tawfiq, stakeholders noted that JD2 million of the total amount would be supplied from GAM, while ACC will contribute JD1 million.
Shawarbeh told the press that an agreement was reached for the two sides to contribute the JD3 million, under which compensations would be distributed to traders based on a set mechanism that takes into account the size and value of the damage incurred by each trader or shop owner.
"Today we close the file on this case," Amman's mayor said, affirming the municipality's commitment to fulfilling its responsibilities and performing its duties towards "citizens, traders and industrialists, and all those in Amman".
"Throughout this week and until this Thursday, we will contact the 229 traders who incurred damages and prepare their files," Tawfiq said, noting that next Saturday, the files will be presented to GAM for study, which would take 15 days, while the process of distributing compensations will take from three weeks to a month.
In March, heavy rain flooded downtown Amman and caused "extensive damage", prompting citizens to express their frustration over the country's "poor" infrastructure.
Several committees were formed in response to investigate the causes of the flooding and shortcomings that may have lead to the losses.
Shawarbeh stressed GAM's seriousness in dealing with the effects of climate change and extreme weather conditions through improving the city's infrastructure and managing crises.
Moreover, he highlighted the importance of spreading legal awareness in regards to insuring facilities.
At the time of the depression, GAM said that the "unprecedented" rainfall had led to soil erosion in the capital's Jabal Al Joufeh area and manhole closures on Quraish Street in downtown Amman.
However, a report by an objective technical company tasked with investigating the incident said that Jordan sees similar rainfall every two to five years, citing data issued by the Ministry of Water and Irrigation, noting that the grids should not have flooded.
The report claimed there was a problem in the drainage system coinciding with the rainfall, which extended over a relatively long period.
Tawfiq has said that downtown businesses incurred losses allegedly estimated at millions of dinars as a result of their shops flooding, an absence of customers and the return of cheques.
Newsletter
Get top stories and blog posts emailed to you each day.